I've signed up to do the April A to Z Challenge to post every day of April! Back in the day (2007-2010), Blogathon was a big thing. They still are I suppose, I've just fallen off that track and community for a few years now. It's essentially a marathon of blog posts, usually meaning that you post EVERY SINGLE DAY.
It's a great exercise and I remember enjoying it immensely. It ups your writing discipline, exercises your writing muscle, the words flow free-er with time, you get to churn out some content, and good content too if you plan it well, plus you build a relationship with your community.
Back then, it was just really about writing. I still think it's about writing more than anything else, but social media and content creation has now evolved to add more dimensions to a post. There is the visual medium, there is the imperative need to tag and be allowed to come up in searches, and then there is the distribution over various social mediums, and so on. All things being equal, if a 500-word post took me 20 minutes to churn in 2010, now it takes a good 45, coz visual and prettiness and what not!
Anyhow, here I am, attempting this coz I fell upon it on Instagram yesterday and I felt that familiar urge and tinge of the excitement of writing again, and as I always have been the impulsive kind, I have now decided to jump right in.
A to Z Challenge
The good folks at A to Z challenge are the ones behind this and am just following what they've announced on their blog. It helps to have a theme as they've rightly pointed out for a couple of reasons my head thinks right:
From the blogger/writer's perspective: It's easier to plan and guidelines help narrow down your wandering monkey mind. It helps grow as a leader/subject matter guide on that topic. I use it loosely here, but you get the drift am sure. It is the added challenge for the writing brain, apart from churning every day for the disciplined one.
From the reader's perspective: Expectations are set and while there is still an element of surprise on what the next day's post would bring, plus so much know-how coming out consistently only makes for a rewarding learning experience.
My two cents at least.
My Challenge Theme
Fitness: Mind and Body. 
This has pretty much been what I've been writing on in recent times and is a topic close to my heart and it's best to write about things that you are most passionate about.
What can you expect:
There will be a post every day starting April 1st (apart from Sundays)
Posts will be on Recipes (Low-Fat/Keto predominantly) Menu Plans, Habits and Discipline, Exercise for the body, Fashion and the Power of Positive Thinking
This is the letter schedule through which I will dance through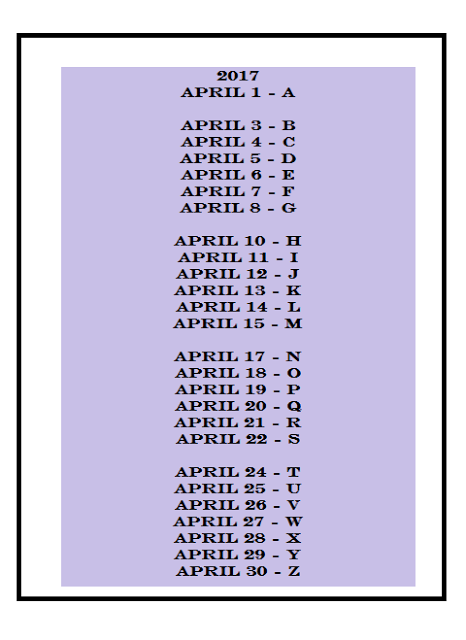 I think I've set myself up for quite the challenge to be able to deliver according to the letter and within the confines of the theme, but I have faith. So, wish me luck! 🙂
Great! If you like it so far, pick a channel and follow:
Subscribe to the blog
Networked blogs (I had a good one ages ago but I lost it, so restarting again, click on the widget on the side bar?)
Participating?
If you are a participating blogger, please comment below so I can stop by and read you as well. If you are a blogger who just got aware, please do consider jumping in and doing as much as you can. No pressure to complete, but I do know the value of being consistent. If you are a reader, please consider making your presence felt, coz it only makes a blogger want to deliver better content. Win-Win yes?
Good Luck to all competing in this blogathon and A to Z challenge!