Creamed mushroom was one super easy and delicious brunch I made one day. I woke up with wanting to eat something creamy and I also realized there were a few mushrooms in the refrigerator that were at the end of their life, and I had to use them up. Then I realized I was out of heavy cream and with time running out, I begged the daughter to run over and pick some up for me before she left for college, even before she had breakfast! Yeah, that kinda craving!
Mushrooms are super low carb and keto friendly and cook so fast and maintain a meaty texture so it stays hardy despite cooking fast! Here's the nutrition value.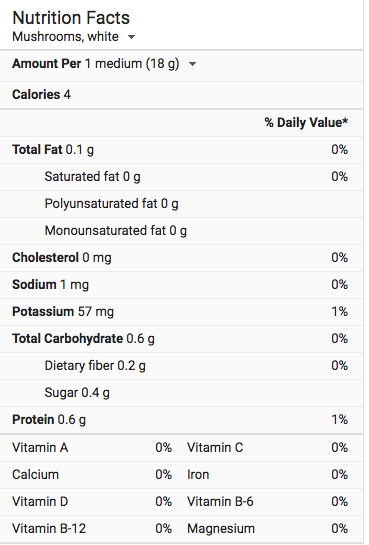 This dish takes anywhere between 12-15 minutes and is pretty foolproof. I even have a non-keto version below, so keep reading below.
KETO RECIPE FOR CREAMED MUSHROOM AND SPINACH
Round white button mushrooms – 8-10
Spinach – 1 cup
5 cloves of garlic OR 1 slice of onion
1 cup of heavy whipping cream
2 tbsps Parmesan cheese
Butter/Coconut Oil
Red chilli flakes
Pinch of salt

PROCEDURE
Heat some butter/coconut oil. Add chopped garlic and chilli flakes. After a minute, add the mushrooms and spinach and saute for a few minutes.
Add the cup of heavy whipping cream and mix it well. Add a PINCH of salt, and some black pepper if need be. Keep stirring the pan and the cream on medium high heat till the cream comes together and starts to thicken.
Add the parmesan cheese and mix it together. Remove from flame.
Serve with some coriander leaves on top. (I know, I can't resist the Indian spice and touch:-) )
NON- KETO VERSION
SUBSTITUTE:
Use Olive oil instead of butter/coconut oil
Use 1./2 cup of heavy whipping cream and the rest water or milk.
Reduce the cheese to 1 tbsp of parmesan
Creamed mushroom and spinach can be eaten as is, coz it's just incredibly tasty! But for non-keto folks, you could eat it with some bread or bread crumbs on top and even perhaps a tortilla.
What I liked about the dish was that it came together real fast, and I didn't need too many ingredients. I can't stress enough on how simple and easy I like keeping my cooking, so less things to put together, the better. Also, I believe it retains the value of the taste when too many spices and a deluge of tastes converge and try to overpower each other.
Here's the Instagram link for the dish. 
I had this at 10.00 am and I wasn't really hungry up until 2 pm, when I had a coffee and then I had some eggplant chips at 4.30 pm. So, the fat really does stay with you long and leaves you quite satiated, which is the whole essence of Keto.
Let me know what you think? 🙂