South Indian kitchens are always stock full of various spice powders that complement certain vegetables that go with rice, the staple.
I grew up on a couple, thanks to my grandmom. Mom made a bunch and the same ones, but I somehow associate these with my grandma. She was this petite barely 5″ frail lady with steel nerves and will power. She also was amazingly smart and economical about how she cooked and what she ut together to feed a large family with the barest of resources. This she learnt to adapt as she saw how the family's well to do reserves went down slowly during the independence struggle. A necessary frugal lifestyle that then became conditioned to pass through the genes to my father and well, I'd say to an extent to me too.
In any case, what was interesting was how one vegetable served a lot of purpose, and nothing went waste. Mostly.
I liked the Ridge Gourd, I liked the quick curry it makes, and the fairly bland nature it added to the daals we made. I also liked the chutney that's made of it. My more scarred memories are that tricky moment when mom or grandma would cut this open and yank one of us unsuspecting kids to their corner and hand them a piece to taste!
Gourds had the notorious habit of suddenly turning bitter while looking fresh and innocent on the outside. Many a meal had gotten spoilt when the bitter vegetable got added in without a pre-taste test! 😉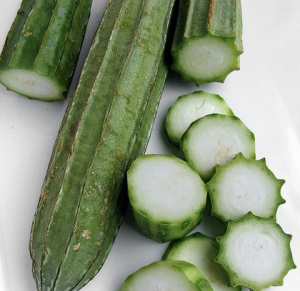 One could do so much with this gourd:
Daal, curry, a few types, chutney.
We do scrape the skin though, coz its hard and well ridge-y!
Large families required large quantities of this vegetable to be sliced and diced. That means there was tons of peeling. That also means there was a fair amount of skin that got collected. My maternal great grandma comes to mind now. I remember her collecting these and telling me to specifically place these on a straw basket in the porch in the backyard.
Andhra summers need no introduction, and the scorching heat just baked these stringy peels into dry twigs. Quickly! They were to be made into a powder, I was told! So barely within a day, the moisture was all gone, and the dried skin was ready.
I remembered all this, and I went ahead and placed the plate of peeled skin on the deck outside one hot sunny day. By evening, just before the thunderstorms rolled in, I checked and yep, they looked like so: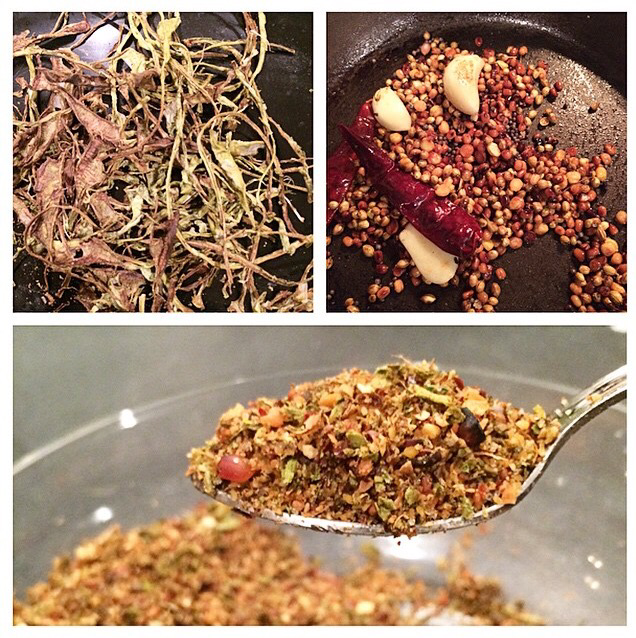 So, I did a circular flashback (like good old b&w movie style) and went ahead and made this powder that's just short of amazing!
Dry roast (or add a wee bit of oil if you want, coz the taste does differ slightly) 2 teaspoons of channa dal, 1 tsp of urad dal, 1 tsp id coriander seeds, 3 red chillies (or 2 or 4 depending on your heat levels). At the end, add a few garlic pods and let it sit on the heat awhile.
Once cooled, powder the mix coarsely.
Then add the dried peels and grind them all together with a wee ball of softened tamarind.
Add salt to taste.
It goes amazingly with some hot rice and maybe a guilty pleasure of indulgent ghee or oil 🙂
This also goes well as a curry or spice powder. Roast potatoes(any root vegetable) and sprinkle some of this on top. Also, stores well during winters. Summers, you may want to store in the refrigerator if you've made a large batch and you aren't running through it quickly within a week 🙂
Healthy twists:
Throw in some chia seeds with the garlic pods and grind it all together. No difference in taste, but some Omega3 goes in!