Made this for dinner last night, for me. In an effort to get some rein on the bulges that threaten to round me off (no pun intended) Ive given up on rice, which has always contributed significantly to the lethargy and the girth. A necessary lifestyle change, coz apparently we need switch gears from this to moderation every once a while.
Ok, so twitter helps in a few ways, and yesterday I posed a random question out. Bored out of my summer mind on what to feed the masses and myself and make it all palatable at once. A friend said she made Tofu Bhurji and flashbacks went off in my head on how much I used the very versatile tofu once and forgotten all about it. So yep, stole her idea and here is the pretty post, all dedicated to twitter and riffy 🙂
It's really simple and quick, so read on.
Most cooking is just thinking that you are pretending. Pretending one ingredient is like another, when your knowledge and taste buds are already aligning them close. So, in this case, thats what you do. You pretend Tofu is Egg. 🙂
Get yourself some Tofu. I would recommend the extra firm variety as it holds its shape nicely once cooked and mushy. I had the firm and it wasn't bad, but just so you know.
Chop onions. I like red onions anyday.
Chop a tomato fine.
Chop green chillies.
My measurements were half of each fairly large sized vegetables for 1/2 pound of Tofu. Used 3 green chillies or thai peppers, but I like mine spicy.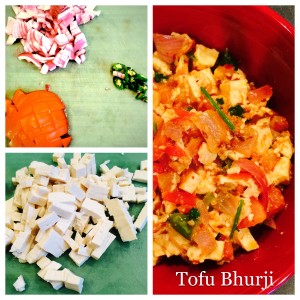 Oil and add some tadka (or not). Jeera and mustard is plenty.
Add green chillies.
Add onions and fry away.
Once they are done, add your tomatoes, a bit of salt and let it all mush together.
Then add your finely chopped tofu to the pan.
Add some salt and a bit of garam masala (if u want) and let it all cook together. Max 10 minutes, not more.
Remove, add some coriander if you like that and serve with your choice of carbs 🙂
I ate it with quinoa, but rice, and rotis and or tortillas will work.
Tada!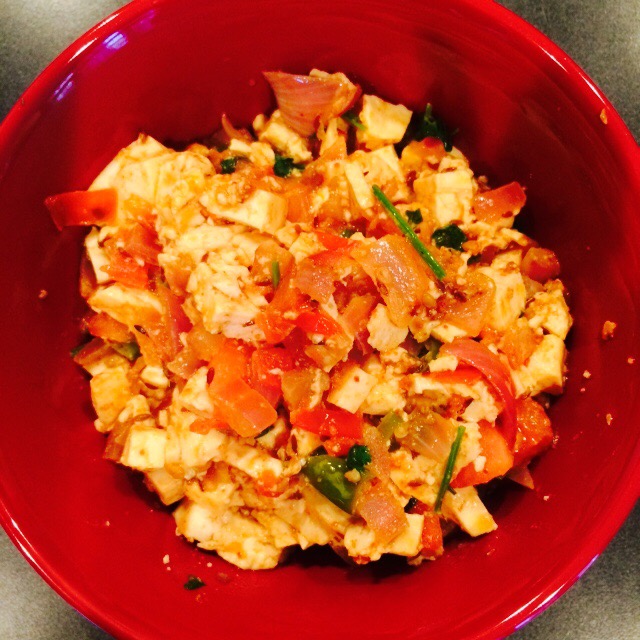 Nice no? Lazy cook's quick protein fix for a meal!