Sometimes, I do all out and do the nine yards when I make idlis or dosa. Yeah, I do the potato curry and sambar and chutney or the peanut/molagha podi etc. Some days, I duck out and do this.
It's called the Bombay chutney in my house. Am sure it's called something else in your place or your neighbors' and am sure as hell they aren't calling it that in Bombay! 😉
I learnt this from my aunt in Hyderabad.
I vaguely remember my grandma and mom do it too, but I wasn't paying attention most likely. Also, mom preferred the quick magayi perugu pachadi (telugu). I'll make that one day and post.
So, what is this you ask?
Well, it's besan or senegapindi, or gram flour.
You are home, tired and u spy an instant Rava Idli pack. You *want* to eat in 30 minutes. Less if you can. Then yes, this is it. So this is what you do:
Oil, urad dal or skip, jeera and mustard. splutter. Add onions, thinly sliced. Shape certainly doesnt matter! Add green chillies. If you don't, then do red chillies. Slightly different taste, but you already knew that. Roast away.
Nuke some water in a bowl. Hot enough. Add 1/4 teaspoon of salt, 2 teaspoons of besan/gram flour, and mix well. Hot water helps with mixing as opposed to cold water. If need be, use those fingers. Once its mixed in, reduce the stove heat, and add this liquid in.
Stir like that's your only job. No distractions, twitter can wait, this chutney won't. Stir and mix well, and keep doing so for about 2 minutes, and the consistency becomes custardy/pudding sorts. Remove from stove.
I have a nice video going in that lower left quadrant, check IG for it if you'd like.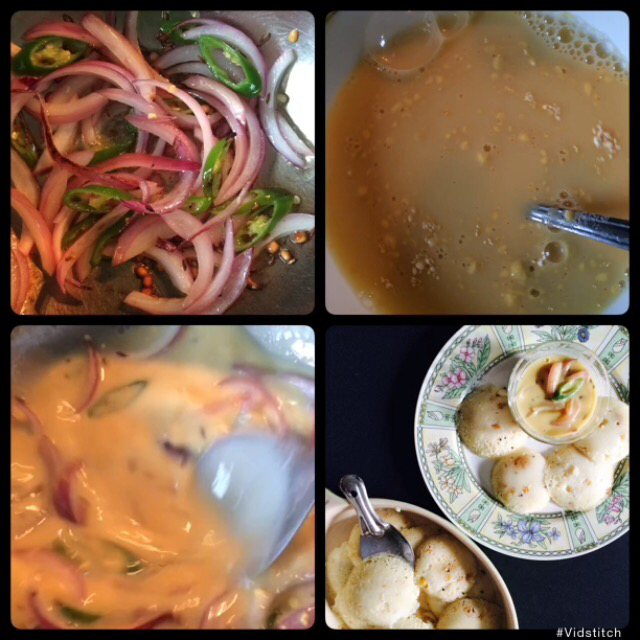 Add in lemon juice if you like the tang.
Coriander leaves if that catches your fancy too 🙂
Done, done-a done! I am told it goes well with puris too, and yes, of course goes just fine with dosas!
Enjoy!