I say Cabbage and your spicy Indian tongue says ugh, nooo! But yes, it's possible. There exists an Indian Cabbage salad and it's also vegan! But first, a small story.
It's been off keel for the first 6 months of the year and my diet and my journey has been rocky. A lot chugged along on reflex, but then when you aren't watching and paying attention, the wagon hops along and skews off track every so slightly but surely and by the time you realize, you are a few dozen miles from your path.
That's exactly what happened with me and over the past couple of days, I've been re-assessing and taking stock. Now I have a plan and am determined to find my way back to health and fitness in mind and body. Especially the darn knees!
Without dawdling further, here is something I made this afternoon for my dinner. I rummaged around my refrigerator and found a nice head of cabbage and thought I'll make coleslaw. But since am just now weaning off carbs entirely and my tongue is still reeling from the amazing spicy foods from the wedding festivities over last week, I wanted something tangy and spicy. I like weaning (off spices) and it is also a sure way of sticking with a plan, at least that's my experience.
Indian Spiced Cabbage Salad
I like raw cabbage. I kinda like it in other forms, but raw is best, I like the crunch and the incredibly calming way it makes me feel like a bovine while I chew it feeling satiety crop in like an unwelcome visitor while we aren't really dressed yet for them. That said if you want to adopt a low carb lifestyle, start to love cabbage. It's got some great stuff going for it and one cup takes you a long way.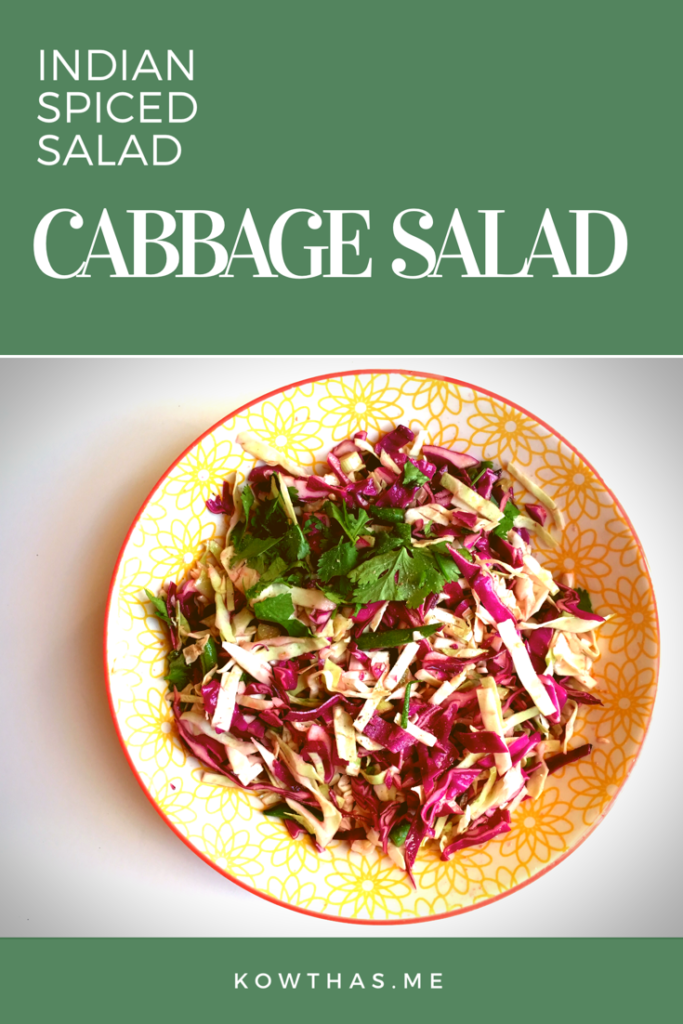 Recipe for Cabbage Salad
Just because you want color in your bowl, you may want a cup each of the red and white cabbage. The red cabbage tends to stain, so just watch out. You could grate some carrots in, but it isn't true Keto or a Low Carb, so I would add some fresh green beans (crunch factor!) or some Kohlrabi (it pops a different taste on your tongue) and you should be fine. I've added green beans, coz – color!
Grate or chop cabbage long and fine, and mix in a bowl. Or you could just grab a coleslaw pack from your nearest grocers.
Add 1 inch sized chopped fresh green beans (or you can blanch them if you have the time and can, I did not)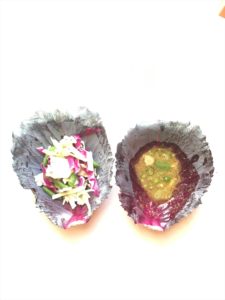 Dressing:
2 tbsp of lemon juice
2 tbsp of olive oil
1 tsp of cumin powder (Jeera powder or Dhania-Jeera powder)
1/2 tsp of chaat masala
1 Thai pepper chopped really tiny (add one more if you like the sharpness of it)
a pinch of salt
1 spring onion chopped
Mix and blend all the ingredients for the dressing with a whisk or in a blender.
Pour over the shredded cabbage and mix well. Add coriander leaves for garnish (or taste).
Here's a pro-tip: If you mix the dressing in and allow it to sit for 15 minutes before you serve/eat, the taste simply explodes in your mouth. The accidental discoveries of the best kind <3
Serve this spiced cabbage salad chilled along with your other Indian entrees. While the rest of the family eats the carbs, you pick up a large bowl, fill it with this and chomp away!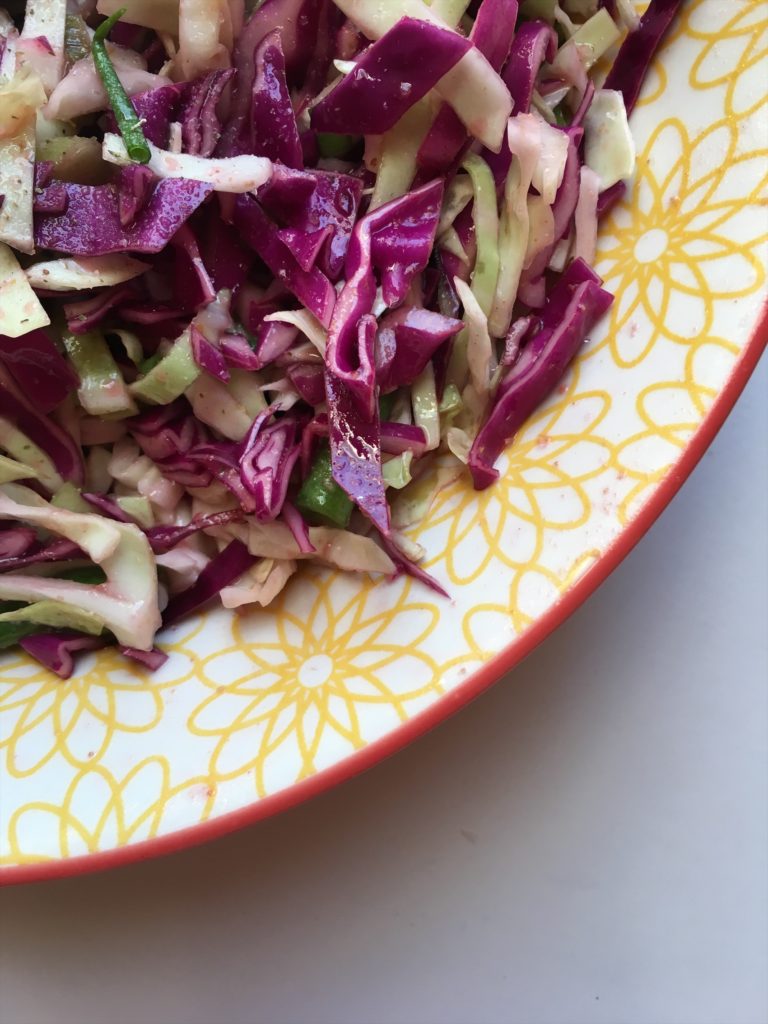 ***
Just realized I haven't updated the blog with my other Cabbage recipes, and so one must fix that. In the meanwhile, if you would like a Goat cheese Spinach Salad, click here