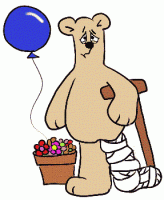 Alright people, am off for a few days. I won't be answering comments and I won't be visiting blogs either.
Unless you've been completely tuned out of whatever I write here, you must know by now that am making a huge hue and cry over something that's really small and miniscule. 1st year med school dropout could probably just prop open the bible (Henry Gray's Anatomy, no not the soap, it's actually an anatomy textbook at med school!) and just dive right in. Heck, he could be drunk too, and yet cannot mess up even if he didn't know the medial from the lateral. Actually, I'll take that back. Knowing his rights from lefts and knowing which part of the organ's medial and which side's the lateral is sorta crucial. Maybe I should just use a marker and draw a huge red circle on my right knee, and then do an 'X' marks the spot kinda thing on where the tear is!
Now there's a thought. hmm.. . Anyways, am such a drama queen right?! *rolling eyes at me* …and no, that was a rhetorical question! bah.
Don't mind me, and no am not knocked out on painkillers yet to prattle on like this, but I tell ya, those drugs, some potency they hold. Makes one feel like they are in a confession box pumped up on truth serum.
Since I had promised some of you hearty entertainment as I lay with my leg strapped in gauze over the next few days, I was racking my brains to see how I'd go about doing it. Sometimes in my profound concern for all you wonderful people not having 'updates' on my life, I tend to jump ahead with my promises. Thus I land myself flat on my bottom in a thick vat of boiling soup. Then again, nature, if left alone, has its meandering ways of fixing things by itself, for which I shall always be eternally grateful. Over the next couple of days, I hope to bail myself out of that soup, unscathed. Or so I'd like to think. Please affirm.
Ok. I should stop now. Bye now. Be good. Feel free to play. Oh yes, most importantly, puhleasee comment!? I get them as emails on my iPhone! hehe. Make my day? Ok, my week? No, don't say 'aw', 'take care' or 'get well soon', in fact just don't mention the knee, nor the surgery, nor the hospital, nor the doctor, nothing. All such comments will be promptly ignored after reading 😉
Instead, do this: make me laugh? I could use some smiles.
If you are reading this and today's not September 18th, please scroll down. There's fresh scoop below.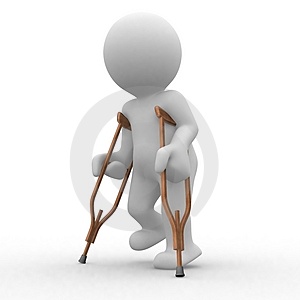 I shall be playing hobbit mid-week, and that's when all comments shall be answered with much cheer and joy. Until then, toodles.