So Yes, I did it. I walked, shuffled, jogged, cried, whimpered, pushed myself through the 3.14. It was awful as much as it was awesome. My shins hurt within a mile and they hurt so much that I contemplated sitting down right there on the sidewalk, especially when my heart sank as I saw one little track kid come the opposite direction. He was completing the race and here I was, just within half a mile of starting point. I dragged step after step. No one cheered me along the way, coz there was no one left on the way, except for the random flaggers at corners and the cops directing traffic, who politely and cautiously observed me in case I fall flat on the ground.
I was one of the last ones to finish it. It mattered to an extent. To a fairly large extent when I did take the blinders off me.
However, I gently reminded myself of me and my situation of last Fall.
I did not have the physical energy to do this.
My knee and the sciatic nerve together had me prisoner at home.
I did not have the mental energy to want to get better. I loved me whining in the hole that I was in.
Personally, It was a huge success. It *is* all in the mind.
This race or walk was not my goal anyway. May is when I shall do the 5K and I will better my time and march on steadier, coz am working on speed and the stretching of the shins.
I must say, am real proud of my husband who ran the distance without prep and as a last minute entrant and clocked in 34 minutes!
So yes, this is a personal achievement and am not letting anyone tell me otherwise. The rest of you athletes and the me of 2010 can all just please leave if you aren't cheering me that is. 🙂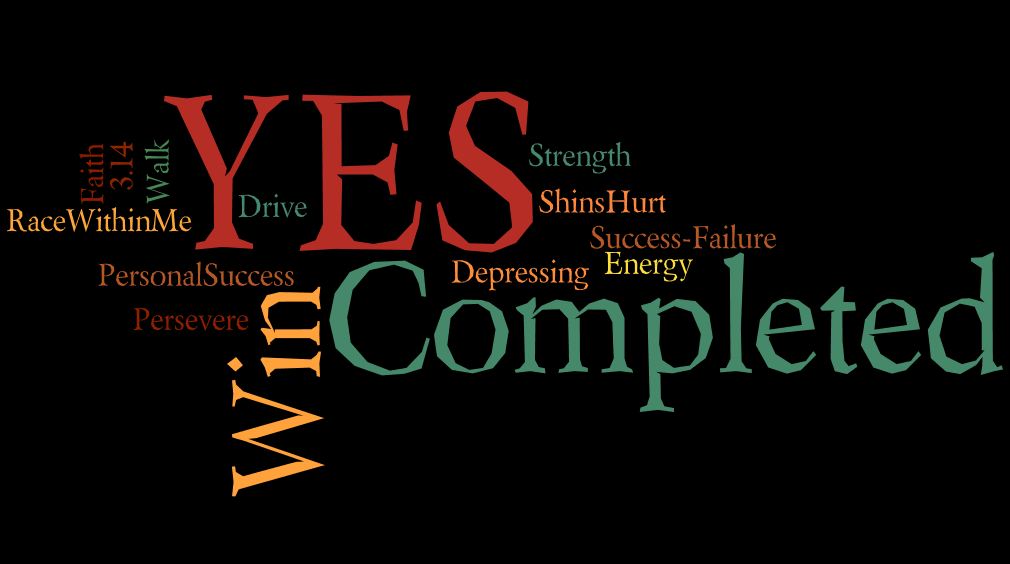 In other news, have you checked out articles that I have been writing for other online magazines? Here are the links:
Texting for parents on Banyan Trees 
Relationship Stories at Bedtime with your child
Not all get linked to this blog, so if you would like to keep track, please subscribe to my page on Facebook, which is really just a feed of all things I write on the interwebs.