Alright, I donno about any of you, but am sick of seeing me mope around like this. Nothing's changed with respect to the conditions, except my attitude. What shall happen will happen. Why spoil the present too right? Right.
So yea, was in NYC over the weekend, and no, didn't do much, and I even dragged the rest of them down with me. In my defense, I did ask for the husband to go on ahead without me as I was walking at a pace that so was not suited for the city, but no, he whined and pouted and as expected I succumbed. I mean, when someone just so studiously makes a scene of wanting your company, the least honorable thing is to go with it. The reasons behind the whines for the said company: Those, we shall not get into.
At the Empire State building, one toddler walked past me looking up at me very bewildered. Thought getting down the 6 floors would be relatively easy, but after the 2nd flight down I was quite miserable and then basically I was stuck between the rock and the hard place. That's when the toddlers and tons of old desi parents raced past me and I marveled at how times could and will change.
In any case, I did do the OakTree round Sunday evening. Not flattering at all. Ate bhel poori. Not appetising at all. I am in the danger of getting a really big fat head if someone doesn't feed me some killer bhels quickly. 😐 Seriously speaking though, am gonna continue in the crusade for that perfect commercial bhel. So all you NJites better start listing me the places quickly to save your state, coz it's in the danger of going down Rads' list of places to revisit. ;-p
What particularly caught my fancy was this.
Sitafal Ice Cream as in Custard Apple ice cream.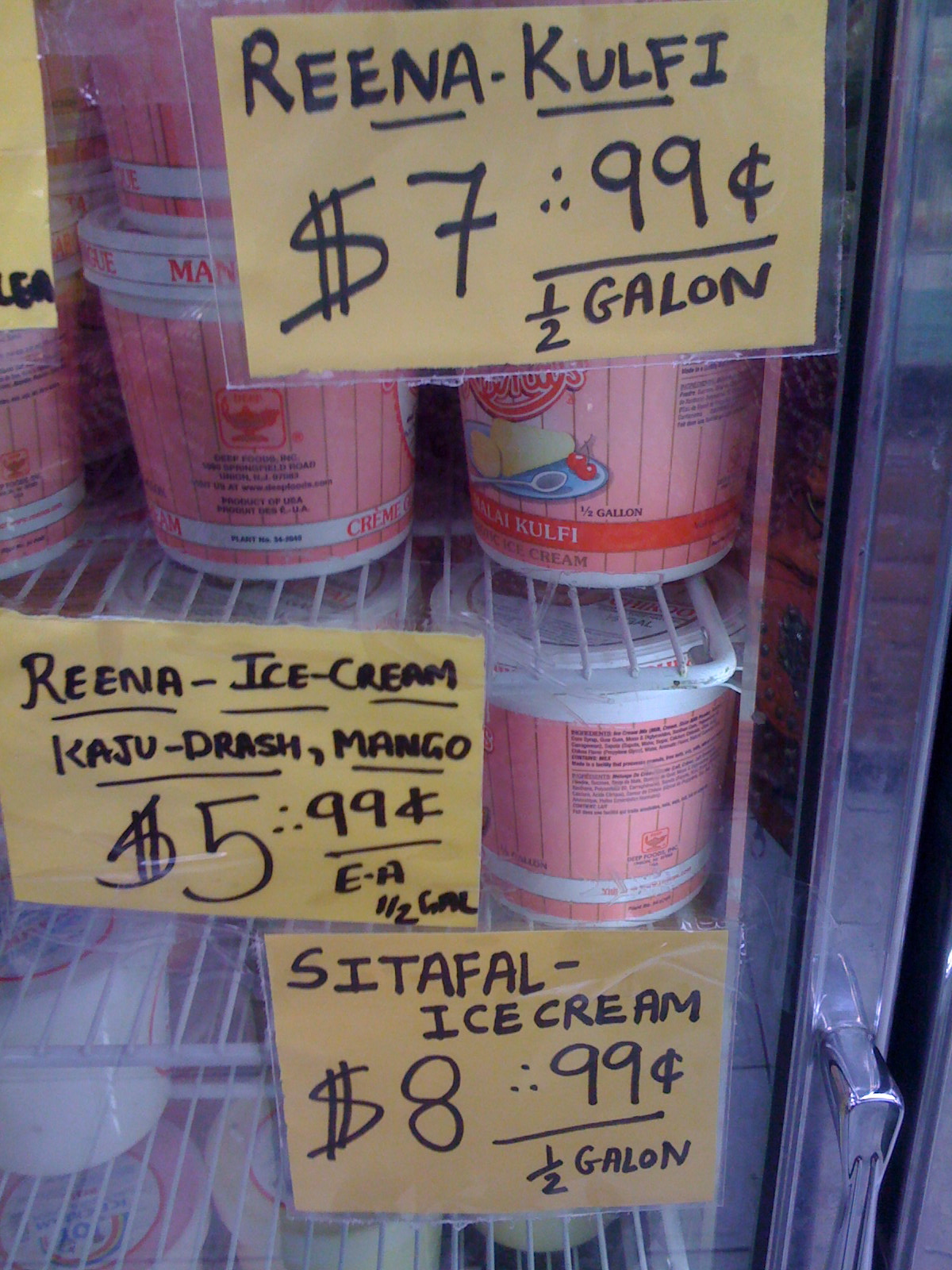 You wondering what's the deal? Let me explain.
This is a custard apple.
This is how it looks when you open it.
I like the taste of it. Especially, if someone peeled it for me, and popped the seeds out. No, am not a pampered brat, but seriously though, think about it. You pop it in your mouth, and just as the taste tingles its way up for you to go "oooh" , there's a darned seed needling its way down your throat and if you aren't careful would quickly go bye-bye down. How annoying is that?
Primary reason for not eating this nice fruit: Seeds.
Now reflect on this. If this lovely fruit is filled to the brim with black seeds, imagine how much of the fruit actually has pulp. I am going to throw a number in and say 30%. How many custard apples would go into a scoop?
O wait. All you need is a drop of the essence and the flavor's made. Yeah?
Either way, completely popped my eyes off its dark miserable self-pitying sockets.