Am going to let you in on a secret. It's almost like a dirty little secret. Once it's out, some of you would go doing this
and then some of you would just plain laugh at me.
It's okay. Ive braced myself. I shall not hold it against you. Here it is. For all the circus I do on how much of a bookworm I am like here,
Up until a month ago, I had not read Jhumpa Lahiri.

There. Now that it's out, here are my impressions on:
Interpreter of Maladies: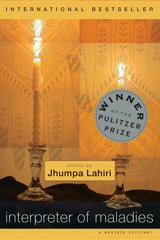 A collection of short stories worked perfectly for me as my attention span was very short during the bad knee post-op period. I absolutely loved her style. The word play, the descriptions of characters, the settings and the smooth flow of events. What occasionally my poor brain was left stumped was the storyline or why the characters did what they did, or what they left ignored. That pretty much takes care of the fact that the author isn't an easy read. There is a certain subtlety in the plot mainly entrenched in human emotions. Something that leaves the reader to want to reach out and fix them.
One thing that did get difficult as I went through the nine stories was the setting. Mostly set in around Boston/NY area (that's where Jhumpa grew up) and on Bengalis of different generations, it was an overdose of it imho. I understand as a beginning writer, or anyone who dares to call themselves as writers, usually almost always delve into their own lives and surroundings for material to write upon. It is natural. You write best on what you know best. Somehow stretching it on through every short story seemed to get to me by the time I arrived at the last one.
Short stories:
1. A Temporary Matter: Tangible falling apart of marriage after the stillborn infant. There was a point where I actually felt sorry for the guy. Ending as sensitive and expected.
2. When Mr. Pirzada came to Dine: This somehow didn't do much for me as far as story was concerned. There was extensive descriptions, overlapping between stories on Bengalis and food and customs, along with historical references to partition of Pakistan. I suppose that's what the story was al about.
3. Interpreter of maladies: Good one. Descriptions, characters, storyline, all were in perfect sync. The best of the lot.
4. Real Durwan: Tragically read, this could be the story of any of the huge number of older women living off charity back in India. Brings tears to your eyes if you could let yourself get involved in the sentiment between the words.
5. Sexy: This is a bit freaky, creepy and scary rolled into one. You'd imagien the little boy at the end is somehow connected to this two-timing fellow, but he isn't. Which is the twist, but the way her wheels turn in her head to actually move away, I didn't get that part. Maybe am dumb.
6. Mrs. Sen: You feel for Mrs. Sen, you goad her, you root for her and you laugh with her. Lovely story.
7. Blessed House: Another freak tale. What is wrong with the wife, what's wrong with the guy, and why does he have such an aversion to discoveries in his new house. What the hell is wrong with him at the end? See, I missed it all. Personally, I think the wife's obsessed and she needed a strong thwack on her bottom.
I am so into this story now aren't I?
8. Treatment of Bibi Haldar: Oh boy, doesn't everyone everywhere around the world know a Bibi? Nicely done.
9. The Third and Final Continent: Poignant and well written. Liked it.
If I were to read the book again, I'd ignore the continuous Bengali influences, and lifestyles that tie them all and focus on the words. (No offense to Bengalis of any kind, I'd probably say the same if the author was Iyer and every story had pretty much the same kind of descriptive narratives.)
Story? Story will come if you want it to.