or Kolam as they say in Tamil, or Rangoli in Hindi.
My mom has and still am sure has a large collection of different kinds muggulu (kolams/rangolis) back home. Every year, as the festive season approached, she'd open her book up and brush up on them. Practicing on stolen sheets of notebook paper from our books. I remember her being very possessive about her collection. Not sharing much with anyone, and neither allowing us to flip the pages without her permission.
There were all kinds.
Dots circled by squiggles and dots connected by lines.
There were no dot ones too.
Then there were the even number of dots and the odd numbers. Some went all the way to one, while some stopped short at 3. Some had a pattern to them.
15, 13(2) 11, 9(2), 7, 5- she'd pencil the top of the page.
There was an order to all those squiggles that wound serpentine in and out and dodged the little islands of rice flour. Yes, there would be a once a month purchase of Kolamaavu or Muggupindi – a mixture of calcium and /or chalk. It was heavy in texture, and fell thickly across the wet earth. There was a knack of letting the flour flow smooth and even as one drew lines and curves in the wee hours. It was a special treat when my mother would allow me to try my hand at it. The smaller tinier lesser traffic doorways was given to me. To practice. I would.
It was a special joy to see the white powder fall ever so gently as my index finger and thumb would clasp a tiny bit and move within half an inch over the wet floor, leaving a white trail behind. The one that would form boundaries and create mazes for the ants. The ones that the ants would feed on eventually to make their way across.
Am sure there's an interesting history to why this little art started and how it evolved. I should perhaps go read up on it.
In the meanwhile, I wanted to ask this. How many really serious muggu/kolam/rangoli folks are out there today? No, am not talking about competitions and filling the boundaries of these shapes with colors and flowers alone, but some serious pattern drawing? This day and age when nights and mornings have merged to one with busy schedules and the space that's reserved for this artwork has been taken over by cycles parked outside, or the narrow alleys that have been created by apartments spilling over? The last time I was over, I saw little hurried dashes in place of beautiful intricate sparkling art. It was disappointing.
On special occasions such as Diwali, Navaratri, Ganesh Puja, or Varalakshmi Vratam day, or Ugadi, I try and do a small colorful muggu outside our front door. It's with colored sidewalk chalk, not rice flour. Sidealk art at its best.
I use whatever colors I can salvage from the tub from munchkin's corner in the garage. It feels good. It feels like a home when I have that spread outside. People who come home have always remarked (and some with an amused snicker) on how I can remember and continue to keep up a failing tradition, here outside India.
I shock folks occasionally and invariably get a kick out of it. It's entertaining, correct? How else does one spice up a suburbian life, with three kids (I'd love to say a dog, but if I do, that would make me husband-less, so I refrain) doing the mundane soccer mom thing?
So my quick to pull out of the chalkbox, apart from drawing a padma: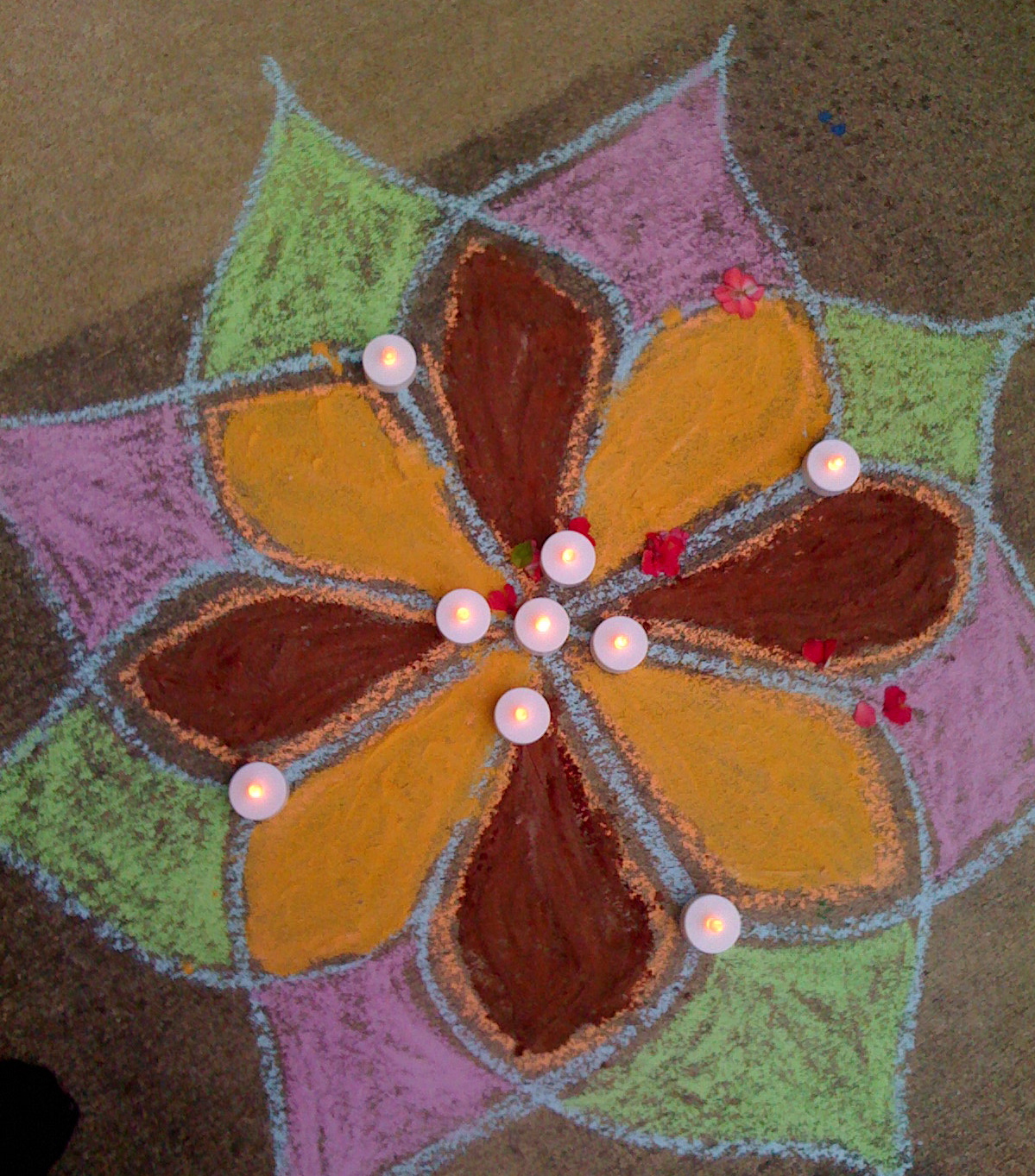 is this squiggly one: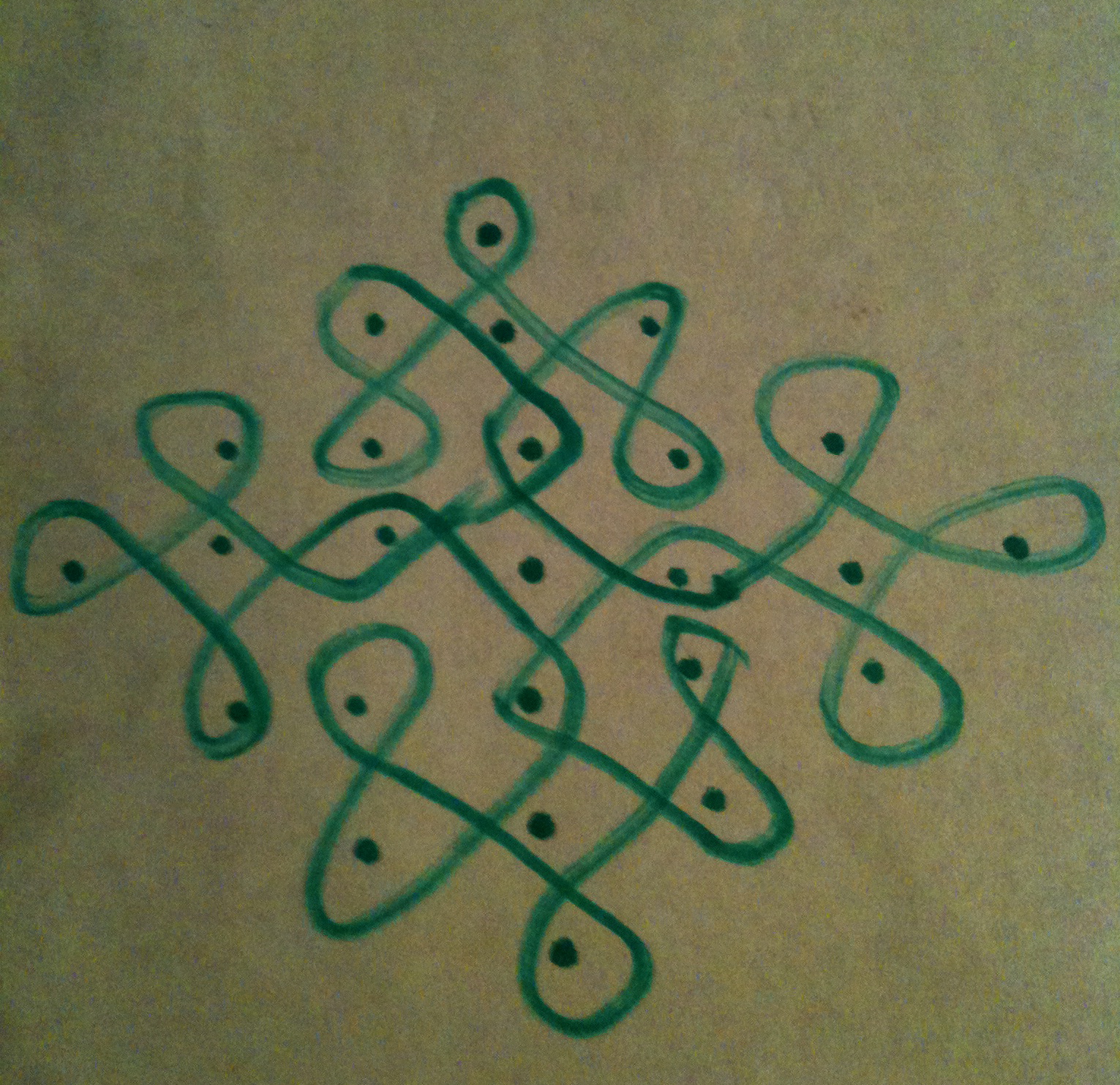 It's 7-5-3-1 and it's really very simple.
So you tell me, do you do an occasional Kolam/Muggu/rangoli outside your home? Special occasions? Do you personally know how to draw a couple? From memory? Is there favorite? Have you stopped doing it? Why?
Am gonna tag a few of you from various parts of the world to tell me about your Muggu/Rangoli/Kolam experience.
Sands, Keerthi, My3, ajcl, Maami, Sree , Mystic , Archana and anyone else who wants to do this. Would love to hear your thoughts. Add a picture if you can. Should be interesting? What do you think?
Now that I think about it, men can add in their 2 cents too. I know my dad enjoyed seeing my mom work herself up into a frenzy over getting it "perfect" – especially the one she;d do on rathasapthami (incidentally it was my birthday too) – the huge muggu, with a chariot and wheels and the flag that would fly "uptil the corner of the street, so I had to go pick your mom up on the scooter and bring her home" – Dad's favorite, never tiring joke every year.