Ever slapped someone? Like giving them one resounding thappad? A tight slap. Kinda icky right? I mean, I can't take violence of any sort, but there are times when I have felt a slap is well deserved.
I've elbowed and stamped and kicked shins onto overbearing middle-aged creeps and the romeos alike, in buses and crowded areas back in India, but slap, now that somehow I haven't. Though was quite tempted after seeing one too many bollywood movies showing the satisfaction on a woman's face when she does. Of course the repercussions are horrid and let's not even go there!
The very first time I saw a slap in real life was a maid who lived in the backyard of our neighbor's getting one from her husband first thing in the morning. I think I was busily trying learn some physics laws by rote. It's a vivid scene etched in my mind. Mom said it was the jerk who abused her after coming home drunk. No surprise there right? For anyone raised in India, this doesn't come as a shocker. For a fairly long time I stood on the terrace at home and balled my fists, wishing she'd kick him back. She wouldn't. She'd shout back but wouldn't raise a hand. This went on for awhile.
One fine dusky evening, the guy walked in hurling abuses at her, obviously quite drunk. She was sitting there feeding the kids. Guy kicks her. She gets back, asks for her kids to go in, takes the broom next to her and thwacks the living daylights out of him. I had a smile on my face. I can't imagine I smiled and felt happy, but I did.
When one has lived a considerable time outside of India, there are many distasteful scenes, habits and visuals that one lets fade into the background. It goes so far back into the recesses of your brain, that when one does encounter them again, it brings with it a strong reaction. So strongly allergic that it could even border on being alien in how it is perceived.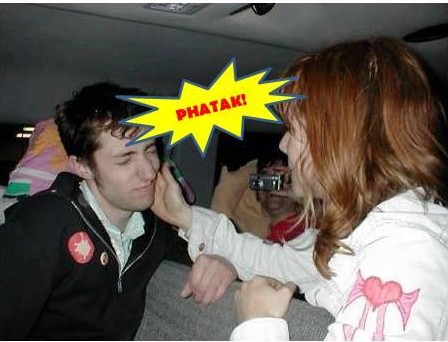 For example, last week I saw a slap and I laughed. As in guffawed, loudly. It was just supremely funny. I know, am so bad. I then chided myself for that and said a little prayer for the fellow.
A few days ago, I was driving along my favorite parkway to work. I hate driving behind large trucks and pretty much anything big enough to block my view. A curse being a "soccer mom" with a large rumbling Honda Odyssey that Ive driven for a good many years. Now stuck on the ground feeling like a rat between the elephants charging alongside of me in my Acura, am always skirting around, between trying very hard to get ahead, and cursing my lilliput self every now and then.
I turn my head to change lanes, and I see a slower moving jazzy BMW. I say 'ooh' and I catch sight of the guy. ooo, candy alert! So I slow down as I have to wait for him to get ahead of me. He has a hot looking blonde babe next to him. She's got a paper in her hand and was looking down intently. I look ahead and just as they catch up alongside of me, I look again.
Phatak.
Just like that! She slaps him right there! On his left cheek, across the seats, with her right hand flying, turned to his side. I couldn't see her face, but I saw his. He said 'fcuk' – I could read his lips and expression and with one hand on his cheek and the other on the wheel screeched onto the left lane and braked.
I looked on shocked. As I sped past crossing the lights, I burst into a giggling fit. Like I'd just seen a flying pink baby elephant in a tutu. I think back and I can laugh yet again.
I do feel a bit sorry for the guy, but I sure hope for his sakes, he deserved it. If not, me laughing would just make me cruel.
Gradwolf later reminded me of SRK and Preity Zinta's slap in KANK. I can't find the video online, but I remember that slap. O boy, wasn't it awesome? SRK's character so sucked, he totally deserved it! Anyone recollect any other fine slappings in Bollywood/movies? It don't matter who got slapped, but more like 'was it a deserving slap' ?
Added on for effect: I truly have endearing, supportive readers. Baphomet sends me this link! Enjoy some fine slaps!
The sound of a slap! 
[youtube=http://in.youtube.com/watch?v=DwxvWS-_kZw]