Jicama is a root vegetable. It has a nutty flavor to it and is firm and very cheap. It is a tuber, originally from South America/Mexico regions but unlike the other tubers (potato, carrot, and beets) it has very little starch. It is filled with fiber and makes for a great low carb vegetable. Not only is it good on the inside, but it also cooks great! It tastes a bit like a potato, and bakes, fries and even tastes great raw! The possibilities in the kitchen are plenty.
I've made jicama fries/chips earlier a few times and we've all loved them. I especially liked them with Mayo, but they taste great with any cheesy dip, mayonnaise, and ketchup or hot sauce. The kids had no clue that they were not eating the more popular potato either! So there's a win right there for all you mothers looking to try and cut some carbs and starch for the kids.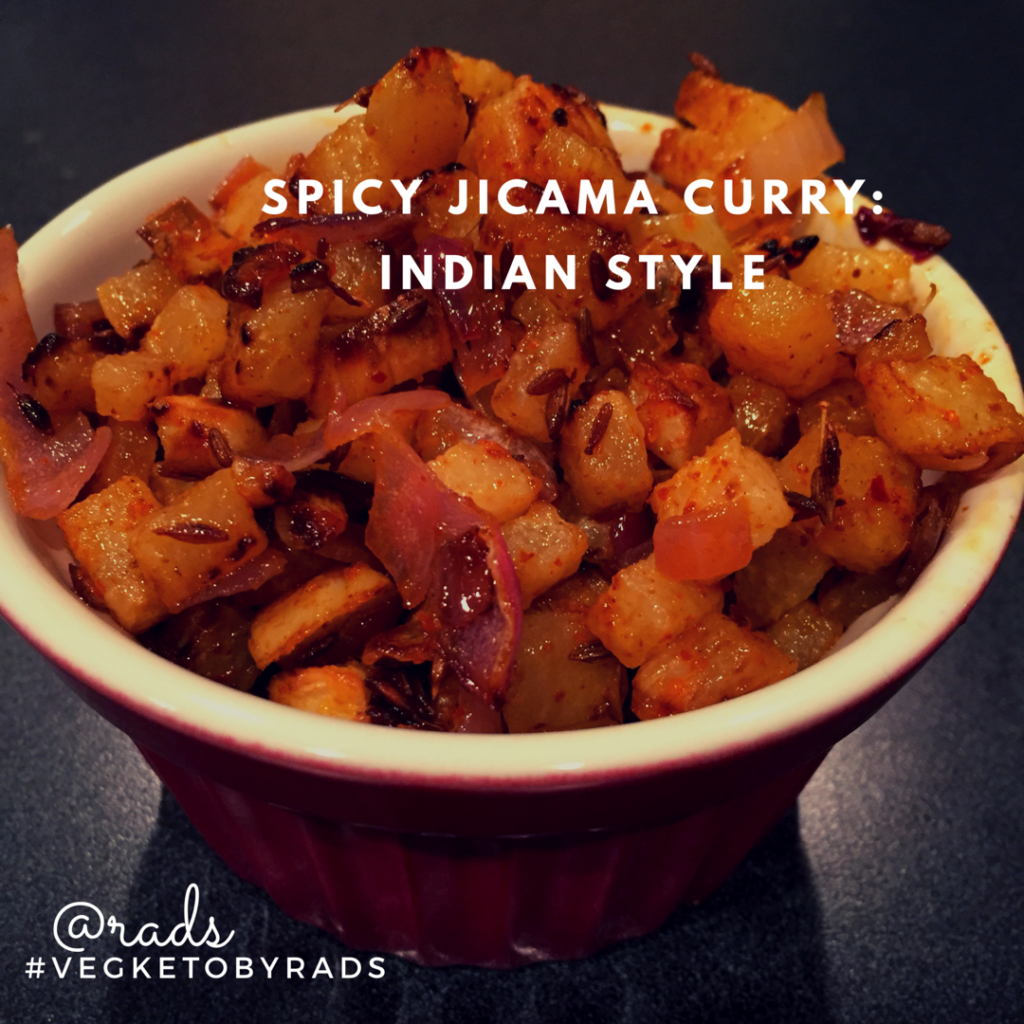 This vegetable has some serious perks to it from a nutritional standpoint. It's less starchy, has a low glycemic index (great for diabetics), aids digestion as it has all that fiber, has a ton of vitamin B and C, potassium, copper, and iron! Just google if you don't believe me. Here are the nutritional facts: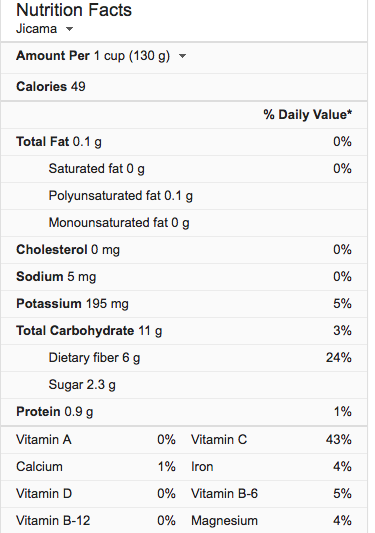 Here's a quick recipe to make Jicama fries – in the oven and also a way to make the Indian style curry.
Jicama Fries

The tuber tends to be more sweet than bland and the taste stays despite cooking, so you may want to offset it with spicy dip. On the flip side, this could very well hit a diabetic's sweet tooth and satisfy those cravings.
Recipe:
Peel and cut the root into small thin slices. You could either make them thin and long sticks or cut them into rounds, but the point is they need to be thin enough and evenly thin enough.
in a bowl, add 2 tbps of coconut oil (olive oil for non-keto-ers) in a bowl, add salt, black pepper and mix well.
Pour over the slices and mix well.
Bake in a 325 deg oven for 20 minutes.
Eat with hot sauce or guacamole or a cheesy dip. YUM!
Jicama Curry (Indian Style)

Looks like your typical potato fry done south indian style but it has a crunch to it, that's just so unique. The kid loved it. It also has that typical sweet taste to it that really won't go, so it really is a mesh of fine tastes all together. Pretty unique thing this vegetable.
Recipe:
Peel and cut the vegetable into small blocks and pieces just like you would do with a potato or a potato hash. Put them in salted cold water. They do not turn black or brown, but this helps with some crispness to the curry
Add some oil in a pan, add jeera (cumin) and hing (asafoetida) and let it heat.
Add the Jicama pieces and fry on medium-high heat.
Once they are half-cooked, add some chopped onions and cook it all together for another 10 minutes.
Add salt and some chilli powder, mix it all together.
Can be had with rice or plain. (Yes, you can eat a bowl of this plain and top it with some yogurt and it would taste great, I promise)
So, what do you think? Make it and come back and tell me? I'd love to hear from you!
I can think of a few other ways one could use Jicama ("Hicama" is how it's pronounced, coz it's originally from South America and Spanish language doesn't do J, but instead pronounce it as H)
Shall update as I go along on the blog and also on Instagram. Subscribe either here, on the blog or on instagram or even on Pinterest.
Thank you!