As part of "kids say the darnest things" I fell upon this little anecdote on an 8 year who said this sagely, as she mixed brownie batter purposefully. She was hearing her mom talk about their dog and then the neighbors and all through the chatter and silence, she had looked up and said those words below.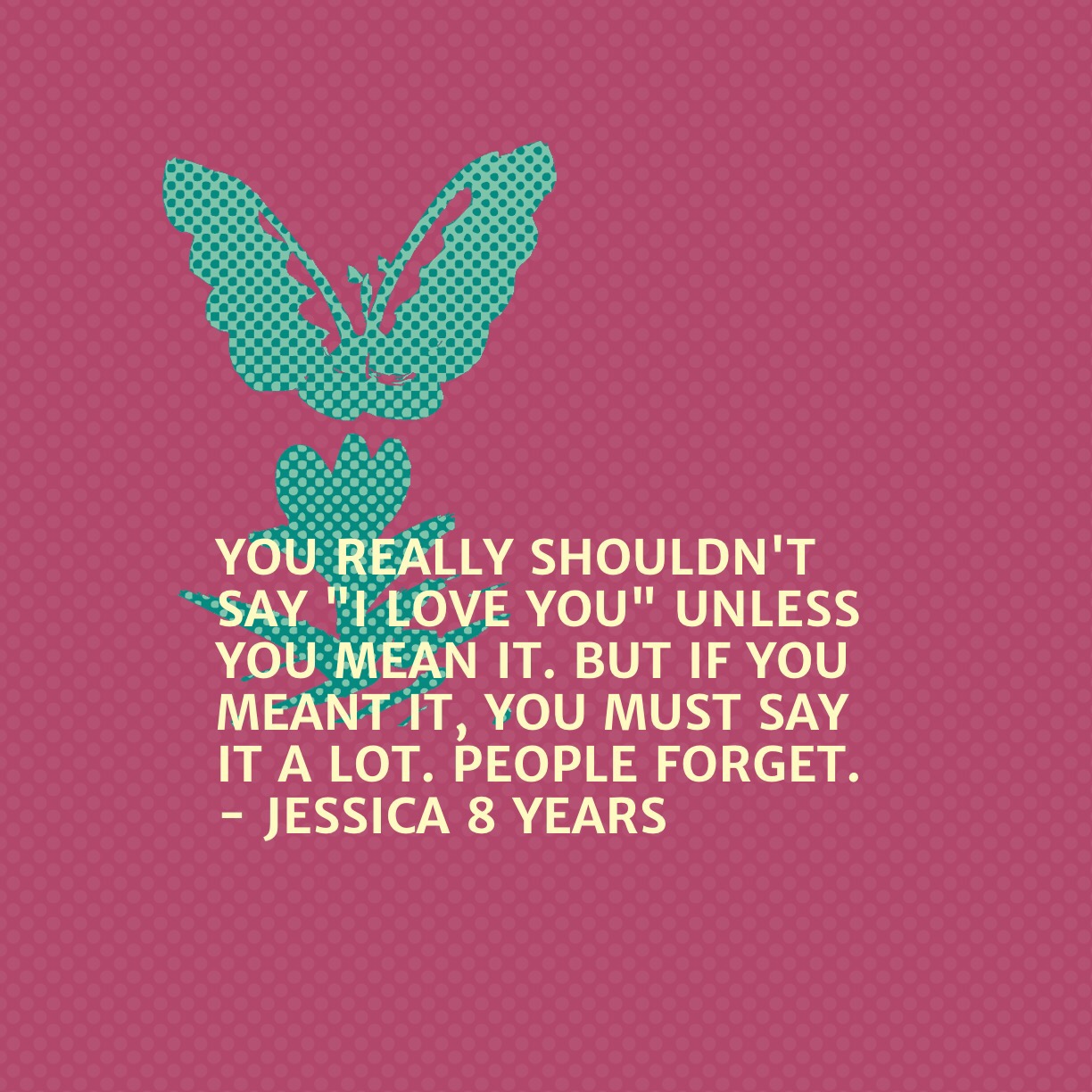 Think about it.
"I love you" seems to be the most commonly used phrase within the family, between friends, romantic partners, and husband and wife and so on. It's a relationship bound for the most part. We hear it at least once every day, either being told to us, or we say it to someone or we overhear.
Almost akin to breathing.
'love you honey"
"love you babe"
"aw baby, I love you!"
"you know I love you right?"
and I could go on, but you get the point.
I love how she points out that you must never really say it as a habit, but more of a conscious declaration of what you deeply feel within you towards this person you feel it for.
Purposefully, with complete mindfulness that you declare your love and affection. Not as a statement to be acted upon, and to dwell on, as a barter as a deal or as a sword held precariously, to be wanted to reciprocate.
It's as sacred as it is common. So, be warned to not be glib about saying it.
I love the way the frail mind is referenced here.
We forget.
We all forget.
We forget the past, the fleeting present and we forget the preciousness in a relationship. We forget our promises, we forget our kindness and we forget the pleasure of feeling.
It's human nature.
Not me. Not you. No one's fault. It's the way it is.
Some people forget that they are loved.
They need reminders.
Not just in those 3 words, but in the affirmations that do not require those words to be spoken. Yet, there is magic in saying them. With conviction, with depth as you look into their eyes, and to get to a point that you feel they are inadequate.
It happens when you love a person so.
Saying "i love you" just doesn't cut it. You feel that?
Our mind is distracted, and succumbs to many an event, the present day engulfs us, and we forget.
It's okay to repeat those words again and again and again.
Some of us thrive on them. It's like the air we breathe. The food we need and the drop of water that we crave. We aren't needy, we just thrive on love. Flourish on it.
Grow in it.
Bloom in the presence and affirmations of love.
It's okay to rinse and repeat.
It is not boring. Not if you meant it in the first place anyway.
So next time, someone throws a fit at you, or they weep in insecurity, or they act up, Just stop them, look into their eyes and tell them you love them. Only if you mean it though. Then tell them.
You never would understand the value of that pause and the reboot their delicate heart gets when you take that moment to tell them that you love them.
Consider it a jumpstart to a slowly beating heart.
It's a rescue mission at times.
So rinse and repeat and start all over again.
Flat lines are no good for anyone.