Last Thursday – January 5th I had posted on my ambitious 10K goal. As an aside I found this neat little site –  that does some number crunching for you. That's how I found out that I had 144 days to get myself ready to do a 10K and also that I now have 137 days left to get to speed. 
So much fun.
Here's a weekly update that I promised:
Exercise:
I started off with walking the dog a few days around the block. It's really just a mile, but that was good coz my dog goes nuts outside and I had nearly my arm pulled off the socket one day, and I got all mad at her. The poor thing. I digress, but by that I meant that I walked at a faster pace than I'd usually allow myself.
Joined the gym- Lifetime Fitness, coz I also need the water (pool)as opposed to the Women's club around the corner. Water treading,walking, or attempting to swim helps with the joint situation. Reminded me of how much of a gym rat I was in 2001-2003 when I practically lived there!
I love the dry heat sauna at 160 F. Helps with stretching and warming the muscles before I hit the stationary bike.
Stationary bike at level 4 and then 5 for 3.8 – 4miles alternate days. Usually 20-25 minutes.
Yoga on Wednesdays is quite awesome. I went from not able to do a single set of Suryanamaskar in September to now doing 4-5 continuously without stopping.
Runkeeper.com is quite nice to track, and works great as an app.
I had invested in some good shoes at Comfort One over the holidays. Paid a neat penny for inserts for my New Balance ones. Makes a huge difference now. Will work with these for now and see how it goes
Diet:
Breakfast is now a must
Increased milk for those bones/calcium part of diet
Rice is now just once a day if even
Swallowing a multivitamin everyday
Greek yogurt is now staple
Thought for the week: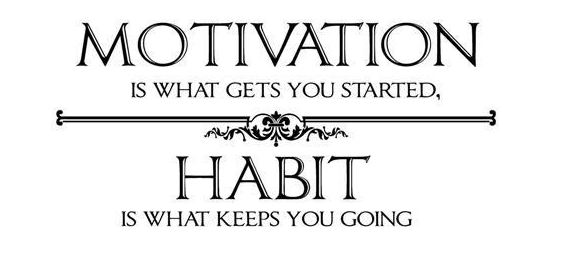 Verdict:
I feel good. I feel limber. The stretches and the conscious walking with my back straight and wearing the comfort shoes every time I step out, has helped most definitely. So yes, I feel good. I am tired, but I feel good.