I never particularly cared for Mahesh Babu until I saw Athadu when I was visiting India. First day, first show and I was bowled. They say it's chemistry, and there are different factors at play when one decides to flip over – either way. Since then I like the guy. There is a certain charm to his brusque dialog delivery, the rarely there smile and the body language with which he plays the angry young man with such elan.
I watched Pokiri and I was completely smitten. He *was* what the telugu industry really needed. A handsome hot hero, who will not mince words, or look like he was acting when he looked hot on screen.
Last night, I skipped dinner and made the 8 pm show with a couple of friends. Walked in just as the movie was starting, and almost swooned into my seat seeing our man's serious profile on the big screen. I whooped,much to the embarrassment of my friends, and fished out my phone, took a picture and tweeted it out. (Occasionally I stray from that level headed woman I claim to be in real life)
I liked the movie in its entirety. If I may be bold as to draw a parallel, I'd compare it to a stypical ARR song. His ongs dont do much for you on the first go, and thenthey grow on you. This movie, and Mahesh's character grown on you, and as Nasseer puts it much into the movie "The more I hear and spend time with you, the more I am becoming fond of you. You have your ideals alright, just wish you were on this side of the track"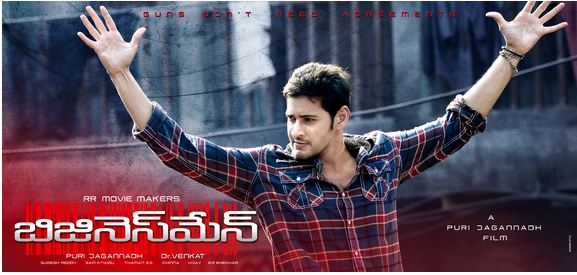 Story:
There really isn't much of a story, just small details and mafia and a story of one man's crusade in outwitting a bunch of bigwigs to prove a point. The story's backbone are the words. It's like reading a play like Seinfeld. The dialogs are the story. Without them, there isn't much to hold it all together.
Mahesh's character was full of analogies. Some worked, a few didn't. Too caught up in the arrogance of it all, and it did come across like he was preaching.
There is some element of romance in the story, but even that is skewed coz of the character being so strong in his vision, it doesn't seem right and even hollow when he claims he is in love with her. At least it did to me.
The plot weakened even more and quickly in the last 20 minutes. A few loose ends, and am usually okay with that, coz I do not believe in handing things on a platter to the viewer, but some things didn't gel.
Language and Action:
Got to know that the language was bad in the movie, so was bracing myself for it. However, I was pleasantly (and thankfully) surprised that all of those words got bleeped out! Really. Every single word that Mahesh uttered that wasn't right was canceled out by white noise. I think that makes a *huge* difference in the overall effect of the movie. Of course I could guess what he was saying, but not hearing it loud, helps. I came out of the theater pleased and I am positive I wouldn't have enjoyed it very much otherwise. As in, am no prude and I can cuss when you catch me at a bad time, but free flowing cuss words as part of normal speech is not polished. I like my men (actors) polished.
What did not make sense was his continuous usage of the telugu equivalent of the word b*tch when he referred to this girl he was in love with. See, that didnt make sense to me. The character was not blue collar, he knew what he was doing. When you love someone, you don't throw cuss at them. That was a serious character flaw, that am pretty sure most self-respecting women would not appreciate. In that regard, I just didn't get the girl's character. Heck, regardless of who the guy is, he doesn't treat me right, he will be kicked out. That's basic self-respect for you. This is what we teach our girls. So that was not right. Use language elsewhere, why towards this girl, and for no good reason?
Action sequences were intense, and I liked them.
It's our superhero with everyone else being cardboard effigies scenario. As an afterthought, I'd like to see our "heros" get hurt occasionally. Unless he is wearing his underpants over skinny pants, am losing the super hero charm ever so slightly.
Songs:
Bhaag saala – is arrogant and angry. I guess it was to set the tone of the movie.
Pilla Chao – I don't remember much of it, but am sure Kajal Agarwal looked all cute.
Sir Osthara – Loved the visuals. The beach and that fancy round medallion all were on.
Chandamama Navve – is sexy and the chemistry between the two is bang on. The infamous kiss they share was really a sorry excuse for one. Raj Kapoor would roll in his grave, the man got this kind of  kiss passed by censors back in 1978. That was disappointing for all that hype.
Bad Boys – No idea what or who the heck that was.
Dance:
I had to put this in, coz I love watching dance choreographs. Not all are graceful, yet they all look great on screen. It's the duty of the choreographer to fine tune a move to make the guy look good. Mahesh is graceful for his height, but he is tall and lanky and moving that length around requires some thought and skill. I have to look up who the dance master was, but I liked the routines. Simple enough, but different.
Actors:
Mahesh Babu: He's grown into this angry young man mold so well. Such maturity, control and confidence. He must have believed in the script completely for him to feel, breathe his character in his sleep. One can tell when an actor ceases to be on and becomes his character. Absolutely loved his portrayal of this young man simmering with rage and anger and one that keeps you guessing on his motives till the end. We thought he's going to turn into an undercover cop at the end, but that would have been too predictable.   A fiery glint in eyes and a smile that bordered on creepy, he played a borderline OCD psycho. Kept himself grounded in some, and let it go in some others. His character sketching alone was commendable.
Kajal Agarwal: She was cute and all that. Showed some sense of brains and rebeled against him. Just wish she was fleshed out more. Girls and women need to be shown a lot more stronger than they are  – especially in Tollywood. I loved her outfits. very chic and cool.
Ayesha Sinha – what was the film maker thinking? No, seriously? I write stories, and a ton of you around do too. When we write stories, we bring in characters for a purpose. They serve a small or large enough purpose. When you edit, you scrutinize and you edit so you make your script/story as crisp as you can. If she was brought in for comic relief, well, I'll grudgingly accept it. Her accent was ridiculous. Really. I live away from desh, and I rarely meet a young second generation Telugu girl with as heavy an accent as she did. Yes, some accent, not the kind that this "dumb blonde" portrayed. The theater laughed every time she came on, regardless of whether we understood what she was saying or not.
Nasser and Prakash Raj: I respect these two men. They are amazingly real when they take on a character, and really, that is all that needs to be said.
Message:
The movie has been written off as useless. I however, don't think it can be so easily dismissed. There was a message in there. The film maker got this slightly offbeat thoughts on the ill-society and how it could be fixed. There are always two sides to a coin. It takes some effort to take the quirky, un-used take and see where it takes you. I know, Ive been there many times, and it is most definitely not a conscious act. Mine I mean, not the movie's.
The dialogs are to the point, no mincing with extras and even the analogies used were (from his point) right on. When he describes society's hypocritical methods and the touted honesty and purity in ways, they do ring true. Am not commending the thought, but it is a valid thought. One that does hold water. As he also says – You see it one way, I see it the other way, we both are correct in our own ways, but what works for that situation holds and will triumph.
That's the film maker's message to his audience. Mahesh delivers it excellently. That said, there were two places where the flow and the transition of message didn't go smooth. It seemed cliched to have Mahesh become this "lets turn the society around" guy coz of a personal vendetta. That again, could be rationalized, with his dialog as he fights Prakash Raj.
"It's not just you, You are not the entire reason of me being this way. You also played a role, there were others too. This place needs to be fixed.."
However, after all this, Mahesh comes back witha  steely glint in his eyes, boring through your head, gripping your soul in his gaze and gives you a stern lecture on capitalizing your potential. Have a dream. Achieve it. Live it. Ace the 11th mile, why stop with 10th.
As noble and necessary that message is to the present society, I didn't get how he arrived there. During the entire movie, it was him, his role, his money, his "bhai" status, his anger. When did the switch flip to him actually taking the effort to motivate the rest of us?
I didn't get it. Treat them separately, and not as a contiguous cause and effect, it's all good. Mahesh is effective. Just hope someone is listening.
Rating:
3.5 /5 (I didn't come out with a headache, and the movie jogged along just fine.)
Final Call:
Can someone please pass a law or something to not have frikkin' romantic songs in an action movie! Seriously.
Mahesh Babu is a cutie. He's gotten more angular in his face, but boy, is he hot and cute and all that rolled into one eye candy or what?