Am on a roll these days after getting a posh fancy Blendtec for a whopping $400, and since am worried I'd quickly lose interest in this fantabulous machine that apparently everyone in the world owned (and didnt breathe a word about it!) I use it on a daily.
That combined with this renewed interest infeeding the kids healthy and keeping up with the demands that their body needs, am really working those brain cells to come up with slightly new variations to standard foods.
Today I made Methi (fresh) rotis, Mushroom-lentil curry and added a side of carrots (pickled in lime juice, salt and pepper)
Yesterday I added a tablespoon of ragi flour for every cup of wheat flour.
The day before I crushed zuchhini into pulp and made rotis with that.
Did I say I was on a roll? Yeah that.
So just to show off,I twitpic'd my dinner plate and tweeted it.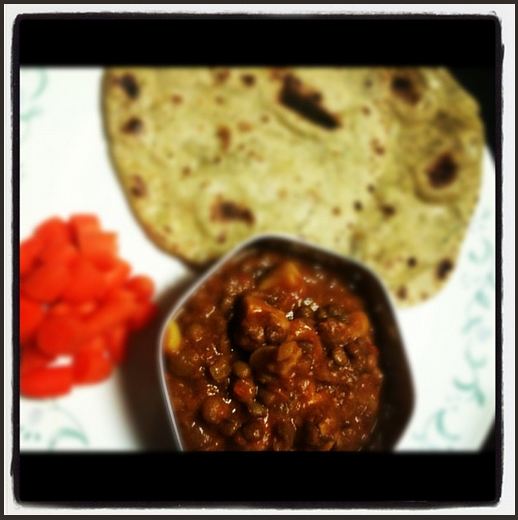 So the details:
Rotis:
Loaded half a bunch of washed methi leaves into the blender. Pulsed it thrice. Pulp happened. I added 3 cupsof flour to it along with some salt. Pulsed it a bit, added some water, pulsed more and it became one big blob. Removed it, kneaded it like I was really pissed off with the UPS delivery guy (or you could imagine your spouse, works wonderfully too!), rolled them out and that was that.
Curry:
I soaked the lentils in teh afternoon. They are brown lentils. Called by that very same name at the grocers. They look like this: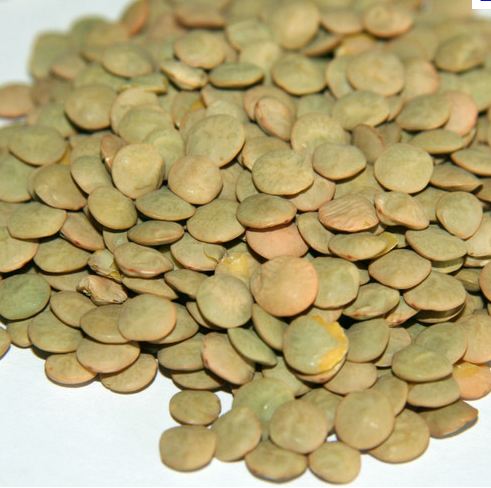 Cute? I think so at least. They the brown masoor variety. They cook easy and don't need too long a soak. I was making a large batch and I wanted to feel useful at 3 pm, so I soaked them.
At 6 pm, I pressure cooked them for about 4-5 whistles.
In the pan, I added jeera and saunf to the oil, and then fried onion, garlic and green chillies (no ginger). Then I looked around the refrig, and instead of potato, I decided I'd use button mushrooms. So removed stalks, wiped them down, cut into quarters, and threw them into the pan. Roasted them all together. Then added tomatoes (i used 1/4 can of crushed tomatoes) and let it cook for a good ten minutes covered. Nice paste happens. Add your cooked lentils. Add salt. A little bit of sugar if the tomatoes are too sour, garama masala, (or use any of the bhaia-jeera powders) some chilli powder and mixed it all in. Cooked a few more minutes till it bubbled happily away. I then added a teeny bit of whipping cream. I like the flavor it's adding and also it brings the dish together so nicely. Just a teeny bit though. Any more and it messes the color and the taste up. Add coriander leaves, and bring it down.
Salad:
I like to call it pickled salad, but really they are not pickled in the true sense. I usually mix in couple of veggies, like tomato-cucumber, carrot-cucumber, tomato-onion, cucumber-onion – you get teh point. Veggies must go in. Today, I went solo. Cut them, added liberal dose of lemon juice, salt, pepper and let it sit for 20 minutes before dinner. Goes well with rotis.
That's it! Tada. No one knew there were methi leaves in the roti, and the kids liked it. That's a win in a mom's book! 🙂