I've always walked past this vegetable at the grocery coz I had no clue what this was. Then again, I probably know only 40% of the vegetables that my local Asian grocery store stocks! I seriously feel so challenged and stifled what with the various kinds of greens and vegetables the Asians use and well, we don't. I would latch on to the closest stocker or customer (Asian nevertheless) and ask them what they would do with any particular green or vegetable. Sometimes I would come back happy, sometimes not so much, like the time I tried out a bitter mustard and then threw the whole thing out coz I cooked it differently. Kohlrabi (knol kohl as I later discovered) is one such pleasant discovery.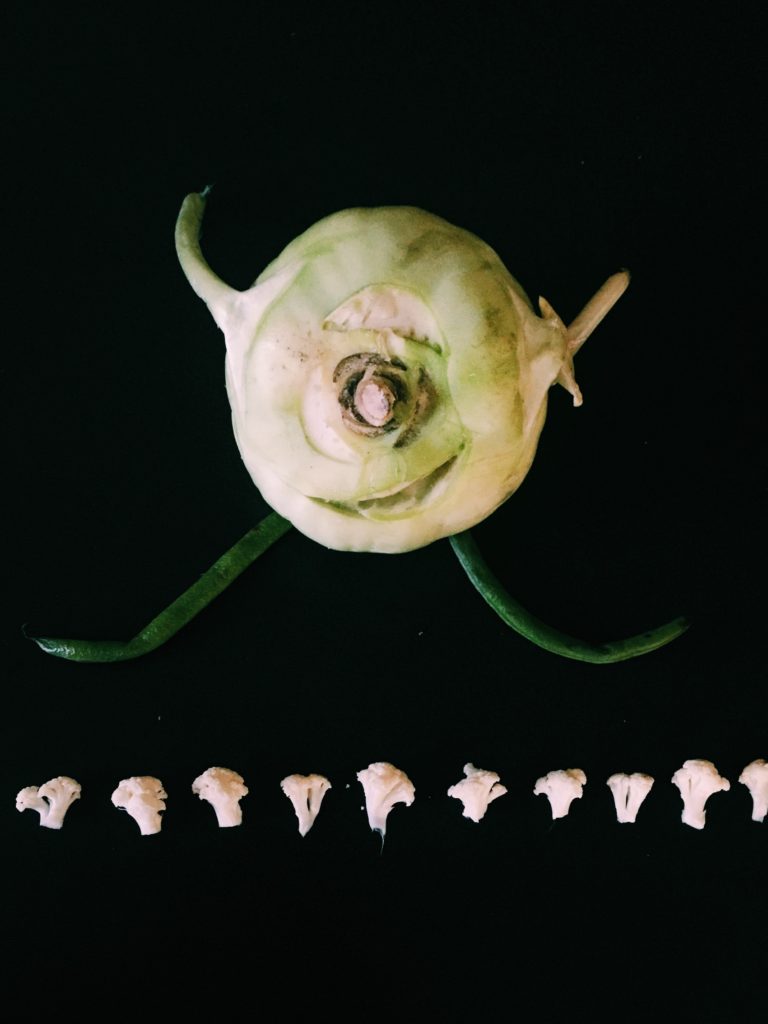 Kohlarbi – Knol Kohl is a low-carb and low-calorie vegetable and has been one of my super finds since winter. Check the nutrition out below. Again, tons of Vitamin C and Potassium and half the carbs are from fiber, so yay indeed!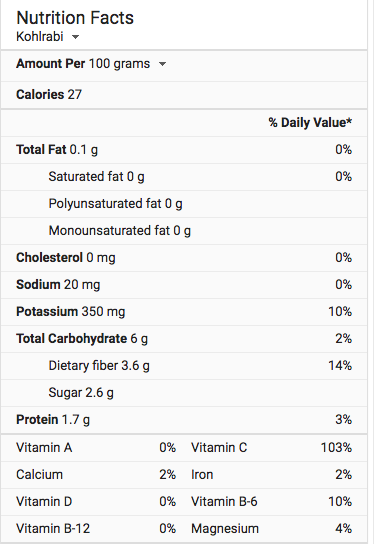 Mom tells me we get this back home in India. I had no clue, then again, as a 20-year-old all I could care for was the exotic Apple cake and the Navratan pulav from Tarla Dala's book!
I have been using this vegetable in my Indian dishes and also steamed. This  massively removes the strong flavor and makes it more palatable and easy to use along with other vegetables. I've made simple steamed and seasoned to eat with rice and also made a batch of chips/fries. Never tried in a salad as the taste is a bit strong for my liking.
This recipe below is the absolute low-carb version of your basic South-Indian style kurma. One that we eat with chapathi/roti, and predominantly a South-Indian version.  The original one has potato-carrot-peas, and all with high carb content. The version below is using low-carb and high-fat and can be eaten with low-carb tortillas or cauliflower rice or as is.
RECIPE FOR KOHLRABI KURMA
1/2 medium cauliflower
1 green pepper
3-4 ounces of green beans (fistful)
1 kohlrabi
Chop into medium sized pieces and steam all the above veg just right. Not mushy though.
In a pan, add coconut oil, and add the steamed and drained vegetable pieces. Mix well.
Coarsely grind 3-4 green chilies, 1-inch piece of ginger and 4 garlic pods. Add to the vegetables along with 1/2 tsp of salt and turmeric.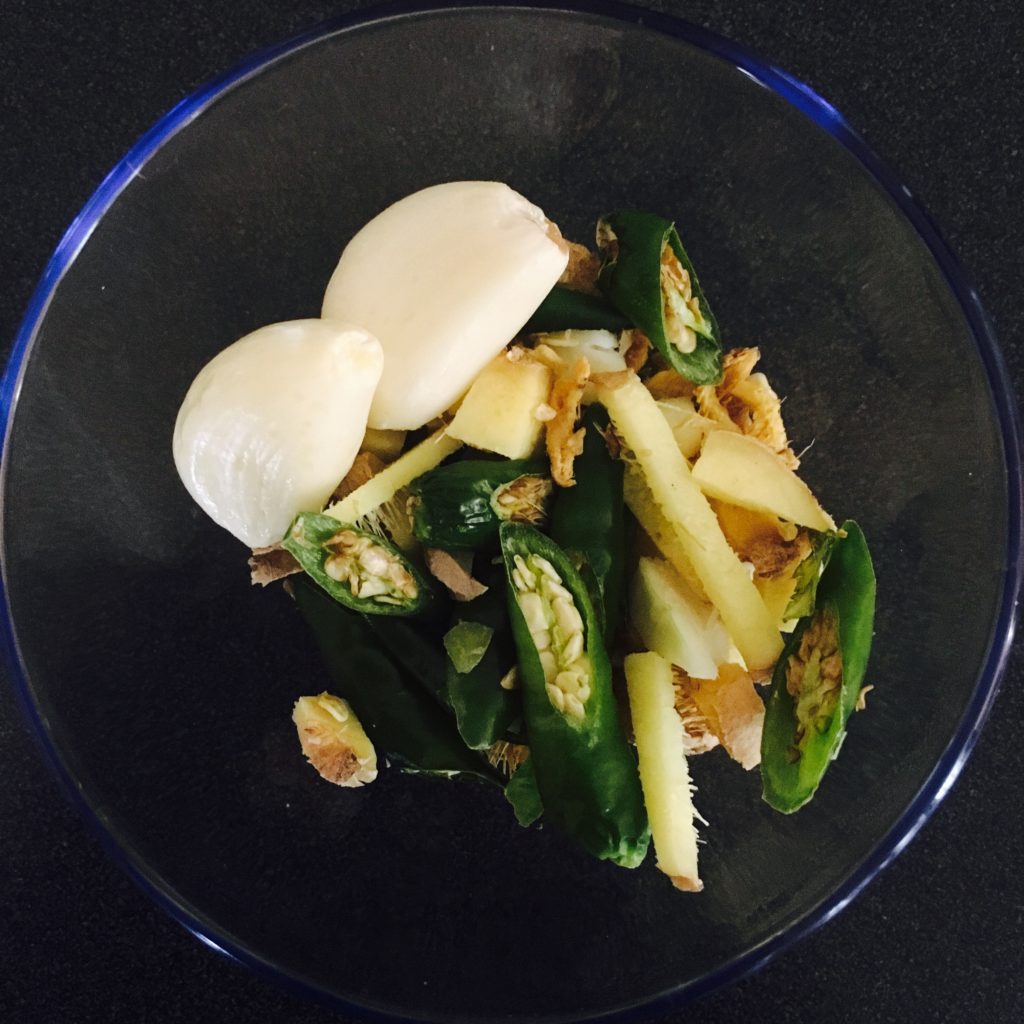 Let it all cook together a bit.
Now dry grind and powder coarsely 7-8 cloves, 2 bay leaves and 1 tbsp of fennel seeds. This gives a deeper heat to the dish and will stay with you long, as opposed to the immediate spice attack on your tongue from the green chilies and ginger. You may change the amount depending on how much heat you could take but the fennel and the bay leaf does give it the authentic aroma and flavor of the dish.
Add this powder to the vegetables in the pan.
Next,  add 1/2 can of coconut milk. Traditionally you would grind the second set of spices with fresh coconut, but I duck out and do this. Plus this also acts as a thickening agent and brings the dish together nicely.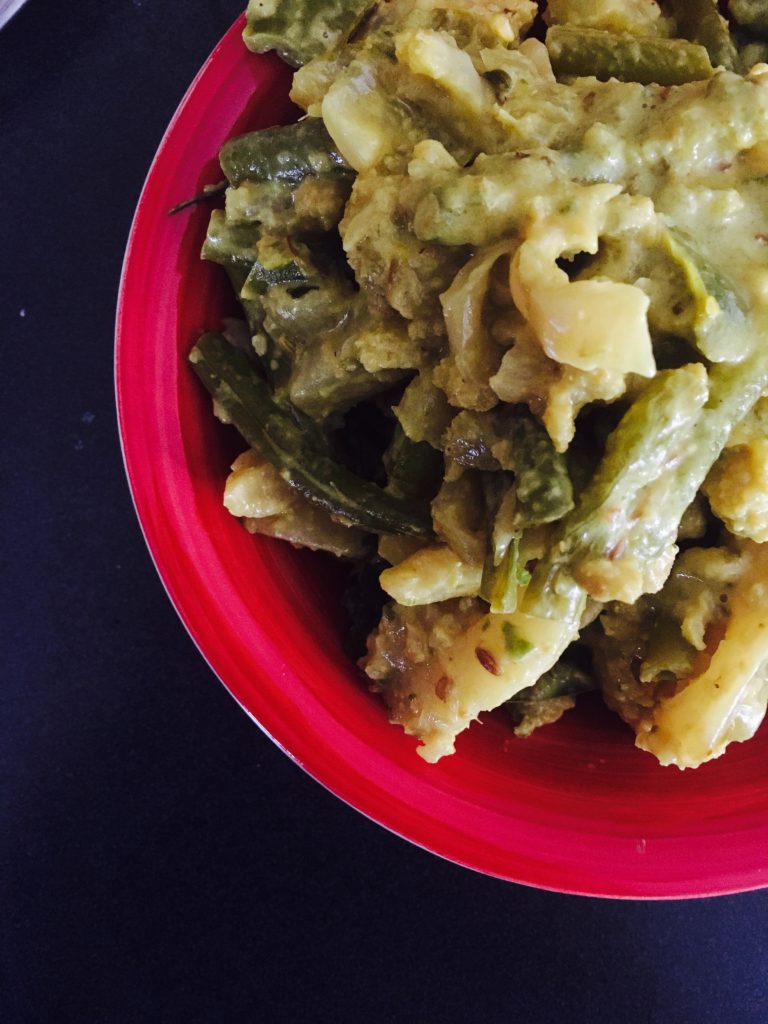 After another 5-6 minutes and when it's thickened nicely, remove from stove and serve with any flatbread or cauliflower rice (if doing keto) if not, dig in either way! 🙂
How do you make yours? Do you have any other way of making kohlrabi? Drop me a comment!
***
If you like this recipe and you'd like to check out the other low-carb recipes I have, click the link below. This is part of the #AtoZChallenge that's running around blog circles this month and I've been making my way through the alphabet.
Other Low-Carb Recipes and The Alphabet ones
***