Alright, so I am at the last week and with just 4 more days to go, this is what the graph looks like.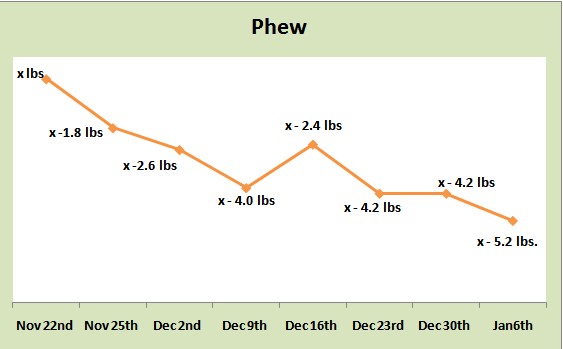 Since last Tuesday, I have lost:
ONE whole huge heavy fat pound.
A grand 1.5 inches (1 inch + 1/2 inch)
Down by 1.5 pant sizes at New York & Co, and yes, I splurged on three lovely pieces. Of course I had to, I mean, they were on sale for $20-$15 a pair and mine were threatening to fall off me! 😉
Am tethering myself to the chair to prevent me dancing with joy, lest I hurt that knee once and for all. Yay!
The countdown stops Sunday morning, so shall do a final weigh-in on Saturday, not that I expect a difference at all, but still, I'd like to wrap it the way I meant it to.
So as far of food, I've been eating, well. Yes. Ive been cooking large amounts over the last two weeks, and feeding folks, but have only been eating whenever I was hungry. I have noticed my portion sizes have gone down probably 20% sub-consciously. I don't drink as much coffee, for other reasons of course, and I've stopped loading sugar in my tea. yeah, don't ask, I like sugared desi chai. No, I don't use Splenda anymore. It was a bridge for a week or two, now am this close to drinking bitter. It's alright I suppose. Everything's an acquired taste right?
I invested in an Omron Fat monitor. I hate that thing. It says am borderline fat. I don't think so. It doesn't deserve to be spoken about till it behaves. Maybe next week. 
Exercise?
Zip. Nada. Haven't seen the gym at all the last week, except when I went in for Pilates yesterday. Which btw is one heck of a serious session. Not the happy cherubic large woman on Thursdays who makes us memorize names and their favorite movies or singers! This girl's slightly pregnant and by that I mean she has a small doughnut sized little bump, but the girl can bend, walk, coach, push and is frikkin flexible. In fact I think I was the only one who couldn't do the stretches as much as the rest could do. I was this close to tears when I couldn't do the 'stretch' or bend down and touch the ground with my palms. 4 years ago, I could do a range of twisted contorted movements, and then up until 6 months ago, I could bend down and touch the ground with my palms. Now, my fingers barely graze, no, not because I have a large tummy(I wish I did, I'd have a decent enough excuse!), it's the darned tight hamstrings, and the knee that refuses to straighten up, coz it's all drunk and bloated. 😐
In any case, I am loving Monday class, so I've decided I'd just go do two sessions a week, and drag the daughter with me for the Thursday one. She doesn't really need it for the reasons I do, but Pilates and dance fuel each other (posture, flex, strenth) and it would be fun going with her for me. (not for her most definitely!)
I have been dancing over the weekend a bit more, and wearing the knee brace, and the support has helped. It still hurts and swells up, but at least I am doing some damage control as far as symptoms are concerned. Frankly, that's about the only exercise that's happened.
Here's a sudden enlightening discovery that I have made on the application of HIIT. 
[youtube=http://www.youtube.com/watch?v=UbTrh3RjL6Q]
See how there are words, where the dancers stands, walks around and is "acting" and then she suddenly picks up pace and does strenuous-looking hand and feet movements? That's jathis for you. That's high intensity heart racing aerobics. There's alternating of exertion levels and well, that in a nutshell is HIIT for you. 
This girl is a 10 year old Aussie and learnt Bhama Kalapam from a noted top dance guru, Vedantam Mastergaru. I liked her same performance in Cuttack (the video was refusing to load) better than this one, but she's expressive and that accounts for a lot!