As expected, with the hectic schedules, missing TWO days of gym and the nibbling of the desserts on Saturday, when I stepped on the scale this morning, the numbers weren't a surprise or a shock.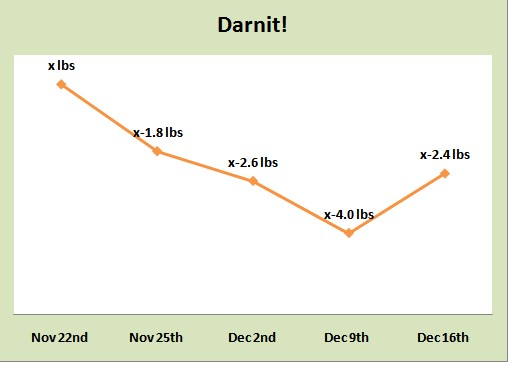 Measurements remained more or less the same with a 1/2 inch loss since last week, which says something?!
After sufficiently whining and cursing the numbers, and the initial vent ran through the system, I looked at the diet and workout again. Conclusions drawn in my little oea-brain: 
1. The peanut sized desserts really did manage to squeeze themselves in and have lodged well enough to record the gain. 
OR 
2. Since I am exercising, watching diet fairly okay and have lost a 1/2 inch, the gain is the muscle gain. 
I am tending to want to believe the 2nd optionapart from feel-good reasons
My cothes fit looser than last week, people are actually observing and telling me so – over the weekend dinners, and I myself feel fitter while I move around. Machine weights from last week seemed easier to do, and I have 4  days ago upped the lbs by 10 all around. There is a challenge in what am lifting and I feel it in my muscles and my heart (as in not the poetic heart but the actual organ!). The biking and ellipse also have been upped and as I said, yesterday my heart rate went up much higher (140-145) than the last weeks, and I felt the "pain" pleasantly. 🙂 
Changes I'd like to bring in:
Get control of the kitchen! *starting Thursday dinner* 
Eat less white rice and more whole grains 
Eat more veggies/fruits 
Stay on workout and increase resistance every two weeks.
Stay on Pilates and swimming. 
Stern warning to self: This week better be good.