So with great trepidation, I stepped on the scales this morning before hitting the shower. I liked the numbers. 🙂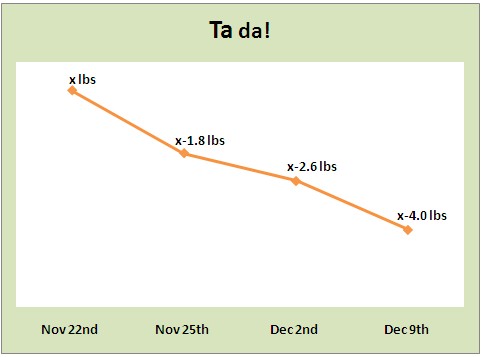 From the numbers, it looks like I average 1.4 lbs per week. That is perfect for what am doing, considering my workouts are really quite simple and am hardly breaking a sweat and am not exactly starving either. I have 4 more weeks to go, and if I can maintain this, I'd lose 6 more lbs, which would add up well, to 10. I frankly, would be thrilled if I make 8 lbs and drop a dress size. Easy does it. I have always believed in doing things slowly and making smaller changes than drastically killing myself at the gym or not eating and becoming size 2 or 4! 
Regarding inches: I almost graphed out measurements but am thinking that would presumably border on "baring-all" and provide un-necessary visuals of various kinds and hence I shall just say "5 inches " . Yes, I have lost 5 INCHES overall!! Am excited enough to make a feast of the Holiday Luncheon spread the office building's catering to us! 🙂
So what changes do I see?
All that water drinking's actually made my skin less dry and perhaps dare I say, soft too. Of course this is purely my own opinion, and I can very well be imagining it all 😉 
Clothes are sitting on me looser, as in no, they aren't falling off or anything, but they just slip on easier with comfortably more room, the snug ones especially. 
I feel lighter. It's a hard thing to explain, but it's like getting a haircut. You know, when your hair's all grown out and is long and then you go get a trim, cut and walk out feeling very light? It's that kind. 
My energy levels have remained the same. I don't feel a particular lowness or lethargy, and neither am I feeling hungry all the time. Though definitely there is the presence of 'food' on the mind most of the time. Frankly, I' have a feeling am snacking more now than I used to, primarily coz am thinking in my head "Oh, it's an hour, I should be drinking water" , or "I need to eat a snack now" and am consciously looking for healthy choices. I normally wouldn't eat much of a breakfast and would grab an early lunch by 12 and then of course evenings, am nibbling things once I reach home and then it's dinner. Now, it's spread out all day. Will hope that this constant imaging in my head will fade eventually, and the mind will tune itself. 
I am not hugely stressed or wrung out except for my weak right leg. The knee area is still swollen, the calf muscles feel tight and the there is a tightness around it. Rest of the body's doing just fine, no aches, pains, soreness with the weights or Pilates. 
So there, onward I go!