while sick can get quite frustrating not to mention quite long and lip smacking. 
I rarely fall sick.
Am one of those blessed with good health for the most part. As in strong as an ox. The ox part was supposed to be funny, but does'nt sound funny. anyways, will leave it in, no strength for edits. So sickness is according to me like really sick, as in weak in the legs, back hurts, head feels like a ton kinda sick. Everyone around me can be coughing on my face and here I would be running around like a Nightingale flitting around with medicines and spoon in hand shoving copious amounts of syrup to all mouths that deserved it.
I don't get the flu and I don't get the sniffles. Sinusitis is a different story. It's a pal that visits me every time the season changes and I the good host will serve the usual – Claritin – and some hot raspberry tea and it stays its time and goes away happily. All's well. 
I got the Jaundice once in 11th grade. Horrid thing. Lost considerable weight much to the annoyance of my mom who thought I was quite bony to begin with anyways. Missed Quarterly exams and though my friends were jealous that I did, I secretly was feeling sad that I couldn't show off my Zoo and Botany fundas and couldn't neatly dissect the frog and lay its insides open to ace the 50 for the lab part. I deserve a a good student medal for such noble thoughts.
Since folks make you starve while you are yellow in the face and liver, I remember sitting in bed watching through the window and writing down a whole long list of what I wanted to eat once I got better. It was long. Very long. Very specific. I amazed myself that I actually paid attention to what I ate. Latent talent indeed. My sister snickered at the list, mom laughed, and dad promised he'd get me all of that. Being sick was a little fun. 
The next time was a few years ago when I got the C Pox. Drasted ugly little red sore spots all over my upper body. Horrible.  The son had it and since I was assured I'd already apparently gotten it as a child, I happily cuddled the kid and did the usual mom thing. Bam! 10 days after I was bestowed with the spots.It couldn't have come in at a more worse time. I'd graduated from school, landing a job, became a citizen and then this. Eventful Summer indeed. So there I was completely drained out as Virals do to you and the pain was excruciating for the next week. It could have very well been the shingles. I could have stayed in the tub all day if I were allowed to. 
The food list came up again.  Simple stuff I had on it. Like good old andhra food, but since dear mom came over to help for a couple of days [she was in the country helping sister with her newborn], and she insisted on a diet, no such mom's spicy good soul food happened. After I got better, I tried making it myself, but it wasn't the same.
One thing I did notice though. BhelPuri remained on top of both lists. aha!
Now comes the present. Since 2 weeks, the viral's doing its rounds at home kid to kid and despite Vitamin C dosages, Multivitamin, Echinacea, and Purell, I have it. In all fairness, the duration seems to have lessened with the subsequent kid but it does take its toll.
When it finally hit me, boy what a force that was! Last evening was quite horrible. I had the whole enchilada. Shivers, fever, itchy throat, cough, headache, legs went jelly. I had some plans for these 2 days and it was like forces were acting against it. Disappointing as hell is putting it mildly. 
 You ask list? Yes. I want this.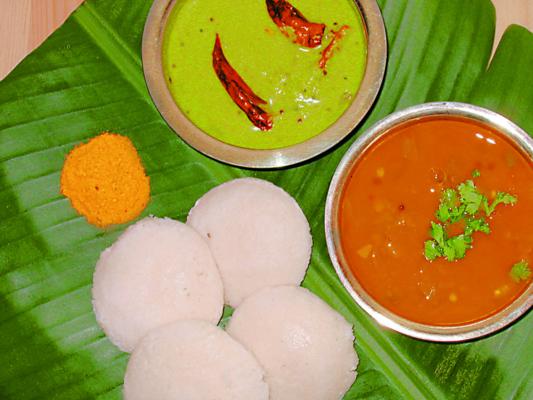 Thats it. Thats all I want.
Can't make it at home, no one to get me some, and I don't trust my legs to drive me out lest I land a traffic ticket.
I suffer in silence. The OM factor at play.  
* Oh well, Drama Queen has used all the energy a chocolate chip waffle at breakfast gave her, now she retires to mope, sulk and sob *