I just came back from laughing my heart out, watching this movie Ashta Chemma – Telugu, and since I enjoyed it so much, am doing the next best thing that comes to mind. Of course write a post about it!
I originally thought I'd just write it in telugu, but then since I have a grand total of a maximum of FIVE telugu readers, I figured I'd just do this in English. It's fun enough, why not share with all eh?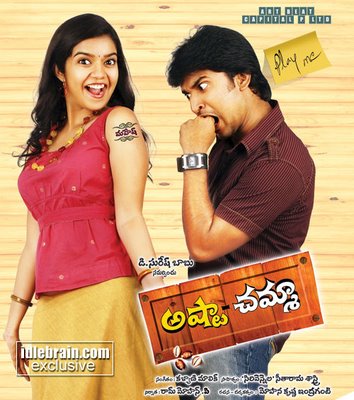 So yes, the movie. It stars the next cute thing on telugu screen – Swati. She's not only cute and vivacious, but pretty, has a lovely smile and is completely at ease in front of the camera. The rest I have o clue who they are, but they all came together well.
Story goes like this: Pay special attention, if you miss a line, you're lost.
Lavanya is a cheerful young thing who's a huge fan of Mahesh Babu, the telugu onscreen movie star (incidentally, am in love with him too:-)) She loves the dude so much, she's now obsessed with the name – Mahesh. She lives with her aunt. The aunt has a good friend called Amritha. Then there's an extremely tall fellow called Anand who is friends with her and the family.
Anand gets bugged with her constant Mahesh-japams and decides in a freak sense of humor introduce her to his friend Mahesh. Lavanya and Mahesh eventually fall in love. She with his name and then him. He for her. One day as you can see in the picture above, she fesses to him that she loves him because his name is Mahesh and shows off her tattoo.
The guy freaks.
He tells Anand that his name is not Mahesh but Rambabu.
That scene is spectacularly done. They make it sound like Rambabu is a Venkatappiah, or Muniyandi or even a Bhikharilal.
Rambabu (who was once Mahesh) says some sob story about how he hated being in a village and so came up with this alter ego who lived in the city and changed his name to Mahesh and created this so-called fun character (mahesh) that he visits in the city to his sister – Varalakshmi.
Secretly Varalakshmi starts imagining Mahesh and is falling head over heels in love with the vision of him.
Our hero tries fessing up to the heroine and she balks at the name 'Rambabu' and makes a huge scene of how ugly the name is, and how romantic Mahesh sounds. The hero by now knows he's completely done and is in a soup.
Rambabu is forced (who is still mahesh acc to lavanya) to meet with the aunt who grills him, and makes a kabob out of his very fishy behavior.
Anand in a devilish plan decides he ought go visit Rambabu's village, Lakkampudi. Varalakshmi sees Anand and thinks he is Mahesh. Anand is incredibly thrilled and proceeds to romance the girl he now fondly calls as Lucky.
Rambabu hears this and lands back in his village to protect his sister. Lavanya follows suit. She and Lucky get into a catfight when they realize they both are getting hitched to "mahesh". The two heros land and each girl clings to a different guy. The guys are now complete suckers. The girls hate them and love each other and find solace in each other's arms. (as in comforting girl talk)
Since the two girls are hung up n the name 'Mahesh' each of the boy's individually bribe the local purohit to do a naamakaranam and change their respective names to Mahesh. The boys fight over who has more rights to the name. Anand in another freak narad muni act, decides to call the aunt. The aunt comes and falls in love with the riches and insists Lavanya get married with Rambabu. Lavanya continues to pout and is creating a big drama around the haystacks.
In the meanwhile, the purohit and a lady called 'Ammaji' who helps raise Rambabu are in lurve. For unfathomable only a director would know reason, they can't/won't/don't get married.
Aunt recognizes Ammaji and insists she tell her flashback story. 25 years ago, Ammaji was then Anasuya and lost a little baby while she went to greet her celluloid hero (Mahesh Babu's father Krishna). She wails more on the loss of her pink turkish towel that she had rolled the baby in, than the baby itself. Rambabu darts off suddenly into a flashback, and brings his treasured souvenir chest (one that has all our secrets locked away and have hidden under our bed) out which has the prized pink turkish towel.
Rambabu is thrilled he met his real birth mother.
Purohit declares that his love for her will not vanish with this new discovery. Aunt steps in and relieves everyone of the burden of being magnanimous and large-hearted and declares that the boy is indeed her friend Amritha's son. Amritha lands soon after and there is a nice complete reunion of mom and son.
Our girl is still sulking about her hero cheating her of the fancy name.
Amritha gets a baby picture of the lost son out and shows her the name that's written behind.
Her lost son who became Rambabu was originally named Mahesh.
Everyone lives happily ever after.
***
Telugu teluste maatram tappakunda choodandi. Chaala, simplega, low-budget movie ayina dialogs baguntayi, nenayite padi padi navvanu. Naku chaala baga nachindi. 🙂