There's a saying that I first heard when I volunteered at the kids' school many years ago:
Want something done, give it to the most busiest mom and she'd get it done.
It really is true, from my experience being one and being active in the community, the most work that gets accomplished is the one that are indeed actually juggling quite a bit already. Of course there's the breaking point and all that, but for the most part, things just get done.That said, I rely heavily on my to-do lists that I carry around, stuck on refrigerator, or on my iPhone and check things off as I get it done. For some strange unfathomable reason, God has blessed (read: cursed) me with a photographic memory. I remember visually, and I can't forget even if I'd like to. I know, huge overhead if you ask me, but it's a cross I bear grudgingly.
Yesterday, as I assessed the next few weeks, it hit me that am under severe attack. From my own to-do list. These tasks not only have to get done but also have threatening deadlines that are looming larger by the minute. It's like am stuck in a bad remake of Jurassic Park. The T-rexes are thundering down on me, the raptors are sneaking in behind in biting my behind, and then we have the spitteroons (whatchamacallit?) that are hissing acid on my face as I dart along. Of course there's a huge ditch in front that am skettering on in dangerous gravity-defying motions. Then again, am noted for living dangerously and all, considering am a brave, albeit occasionally foolhardy, yet resilient mom of three, with each kid sapping different levels of energy as each have different needs to fulfill.
Interestingly, what I've noticed is that the more you give, there is more to give. So, I chug along, not once looking behind me coz once I do, I falter in my step ahead, and we surely don't want a few thousand things flying in different directions just because I skipped and tripped with my eyes focused in the past, now do we?
The last time I published my to-do list was in August 2007.  I read it now, and it's mostly filled with social obligations, which we were steeped in back then. Things are different now, the social obligations are a piece o cake, there's lots more brain work, strategizing, planning, delegating, plotting and thinking ahead that's making life interesting and quite the challenge.
Want to know? Here's a peek at a sample of a partial to-do list.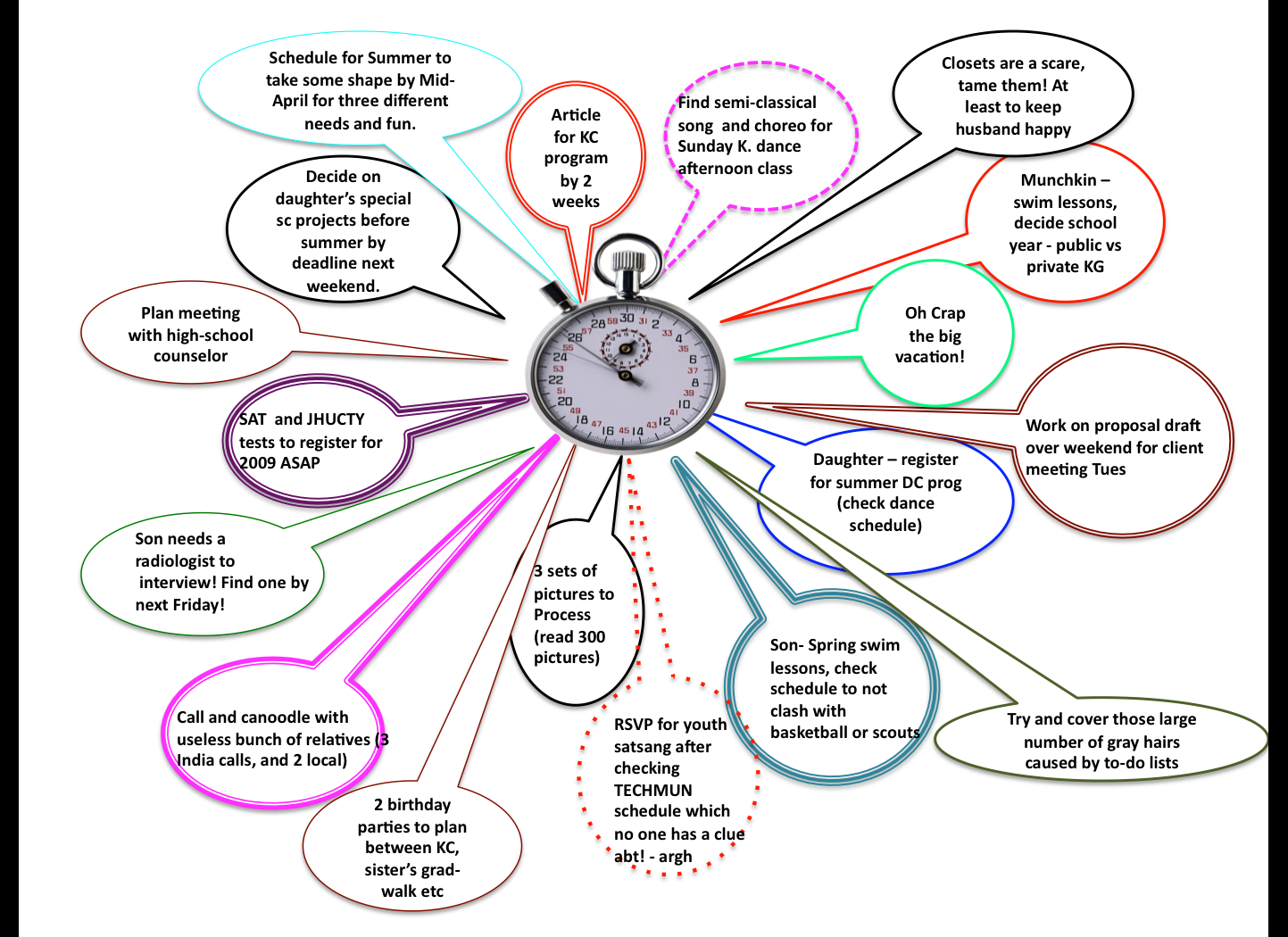 Now, be nice, say a prayer for me and then go green with envy! Coz honestly, as crazy as it may be, this is one heck of a life I and many other moms in my stage lead no?