It's been 18 years since Ive set foot in this country and adopted it as my home. Ive always wanted to be here, so my mind was open to its customs and traditions and holidays and along with the society and friends we made, celebrating and observing these along with our Hindu/Indian customs came easily.
Come Fall, it's a mad rush to go through the motions.
Alternately flipping between the Indian calendar and the Roman, me and my family along with many other Indian-American families across the nation juggle our days, evenings between the various foods and ways of celebrations.
Thanksgiving is one such non-religious celebration that focuses so much on well, Thanks and Gratitude, which has become so much of a cognizant part of my thoughts and way of life these days, but also about some specific foods. Foods that we, cursed with the tongue that craves spices and scoffs on the bland fare that we grudgingly chow down coz of our kids, adapt to our palate.
Dishes like Asparagus curry, Red Chard stew, Dill Pulav, Tomatillo chutney, Quinoa pudding (payasam) and the Thanksgiving special, the Cranberry Chutney.
Most of it is really pretense. You taste a fruit or vegetable that is non-native to your land, close your eyes and parallel it nice and close to a fruit or vegetable from India. Then you tweak things a bit and go cook it pretty much like how you would the native dish!
Cranberries are tart. Sour and tart and cook really quick and easy. When I first tasted them, they reminded me of  Green Tamarind/Mango. Once I saw them go mush within minutes in teh pan, and knowing my love for all things spice and chutney, coming up with this was a no-brainer.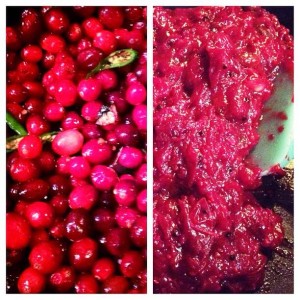 Here is how I made cranberry chutney, one that can go well with white rice and a dollop of ghee, or use it as a spread on some thick sandwich bread with cucumbers and tomato, or even with hot rotis.
Recipe:
Wash and clean cranberries. I use a 1 pound bag that's normally sold during this time of the year.

In a pan, take 2 tsp of oil. Add Hing, mustard seeds  and let it splutter.

Add cranberries, 1/2 tsp of salt, 1/4 tsp sugar, 2 green chillies sliced and add a wee bit of water, reduce flame, shut it and let it cook a few minutes.

Check and all the berries should be squished and you'll see a pretty mess in the pan.

Open and cook till most water and juices are absorbed.

Once it's thick and come together, take off pan and let cool.
In a separate pan, roast 1 tablespoon of mustard seeds, 1/2 tsp methi seeds and 3 red chillies. I like things hot, and also the spice goes down after a day, so it's okay to go a bit extra on the heat. Once this is cooled, dry grind them into a fine powder. Mix this powder to the cranberry mush nicely, and taste. It usually could use some salt at this point, so add a little more.
Done!
This is how I make cranberries for Thanksgiving. Indian style. Coz a blend of what we are and what we have adopted must come together in a fine delicious mix and we cannot have it any other way!
Enjoy and hope you make it. Come back and let me know! 🙂