Mango Pickle – Mukkala Pachadi (Telugu)
My comfort food is what reminds me of home. The warmth that floats in to every cell and breath as you take a sniff and let the taste buds savor the food as it touches your tongue. I have a few, but this Mango Pickle is at the top of the list.
When we started getting mangoes all year round at the local Asian store, this was even more easier to make and missing home was not always that dreary or sad.
This is the green mango pickle, that one can make within a few minutes and it comes so close to the tastes and the smell of the original mango pickle of Andhra Pradesh. Of course the original calls for soaking and lots of oil and some drying etc, but there is this quick raw version which satiates just as awesome.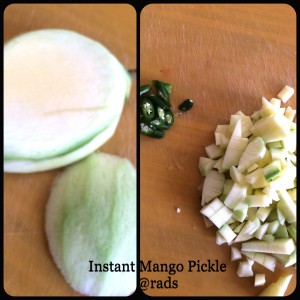 How do I do it?
Well, get the firmest green mango you can lay your hands on. Peel and chop it into small pieces.
Chop a couple of green chillies as well. This is for the extra zing that your spice craving tongue needs. Skip if you don't care for it.
In a pan, dry roast equal quantity (1/.2 tsp each) of Mustard seeds and Methi seeds. Cool and then powder and keep aside.
Add 1 tsp of salt (or to taste) and also 1 tsp of red chilli powder to the cut mango pieces and mix well.
Then add 1/2 of that powdered mixture to the mango pieces and mix again.
In 3 tsp of oil (use any oilive/vegetable oil, but for best taste, use gingelly/sesame seed oil) – add Hing, and some mustard seeds and let it splutter.
Add the oil to the mango pieces and mix it all together.
Taste and adjust spices accordingly. The powdered mustard and methi seeds combo will have a strong pungent aftertaste, which is how it's supposed to be. In 24 hours, the taste settles in well, but it's good to go right from when you mix it. However, this powder can be skipped if you don't feel up to it. It just authenticates the pickle a wee bit more closer home for me.
Done!
Mix it with rice and some ghee and you, I promise will be in heaven.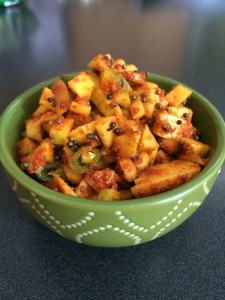 Enjoy!