Remember her?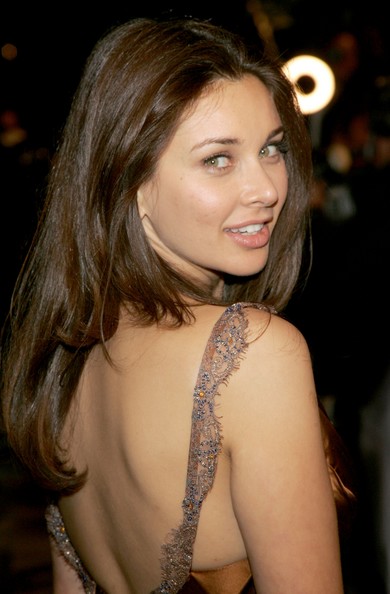 Yes, the very same Lisa Ray, the green eyed actress with a  pizzazz about her that one would find very appealing if one would allow it and not get blown away by the eyes or the attitude that she carries. Very un-bollywood-ish, I might add. The one that's classy and seductive. Of course I speak of her performance in Bollywood Hollywood along with Rahul Khanna.
I fell in love with Rahul just like I think his brother – Akshaye – of Taal fame's quite cool (yes, he held his own despite Aishwarya) but what totally threw me off was the girl in the film. I distinctly remember a few scenes, the one where she climbs a window of her parents' home, the talk near the swimming pool at Rahul's house, the bar scene and then the sweet romantic song that was as bollywoode-sque as it wasn't. Don't ask me to expain that, coz I am having difficulty articulating the effect of Rang Rang Mein on me.
[youtube=http://www.youtube.com/watch?v=vH1qfK2n_nE&feature=related]
Another spunky dance number and a favorite of mine – Sona Sona Roop Hai – one that I mixed into a Decade themed dance number and choreographed for my older kids in 2003 continues to be a favorite with the kids themselves and the ones who remember.
I haven't seen her in any other movie or videos, though I believe she quite catches the eye for many others for various other reasons. It doesn't matter to me. What however struck me since I've laid my eyes on her was that she was most definitely made of different material. She surely didn't seem to be there for just the fame or  creating a niche as an actress, she may disagree and that's fine, but this is my opinion while I saw her in the above mentioned movie.
I recently discovered her blog and have been reading her thoughts in words. Articulate, whimsical and humorous, without a trace of pity, dejection or might I even daresay self-effacing to an extent, she writes about her daily life and the changes that she is being forced to make as cancerous cells eat away at her body.
This line jumped at me. The way it seeped into her post a few times. The same words, the same thought and the same spunk that would see her be the foundation and see her through this.
– Lisa Ray
Support I am told comes in different ways and am hoping she's drawing from all that she can find and chance her way out of this unlucky draw of cards she's dealt with.
What amazes me is blogging about one's own personal life (as I do and have done in the past) requires a certain amount of laissez-faire, a certain firewall, the kind that protects oneself from others thoughts and one that would comfort more than make vulnerable. I have been there. To lay bare one's most personal details and of the journey that's most definitely not pleasant for a reader, but something that's got to be done, I would imagine takes a higher level of thinking. Especially if one does it for the true sakes of cleansing. Therapeutic too.
As I read the few admirably optimistic and reflective long posts she's churned out,  I feel a sisterhood in a bizarre way. She is all of 37 years old. I am 37 years old. That can't be it. Our lives are very different, yet I see little overlapping circles. Maybe it's the woman thing. Perhaps it's not Lisa Ray that I feel this with, but more for what she represents at this point in time. The fiercely strong young woman with a zeal to live.
..and then an inevitable selfish thought enters my head.
What if I was the one with the Myeloma? What if I were faced with what she is battling through? Would I break down and give up hope and let the cells take over or would I stretch the energy to the last drop and perhaps go down with a smile; not losing cheer.
That brings me to the place I've always believed. One never knows.
I really wouldn't know, and I am not quite sure if there's a part of me that wants to know either. ..but yet, if there's a credibility in history, I think I know how I'd go.