Continuing on with the geeky med series, here's one on Migraine. I've seen my mom suffer through them, and as a child, seeing someone suffer makes us not just horrified but in complete fear of this person they've transformed into. No one knew when she'd get an attack of those "one-sided heacahes". She'd scream at all, shut herself in her room, pull the curtains, wear a bandana tight around her forehead and lay there moaning and groaning. Nothing worked. She'd throw up all what she dared eat, and the retching, the pain she complained of everywhere was enough to want us siblings to pray we'd never have what she had. 
Sadly, migraine continues to be a mystery in many ways. It's a sneaky little thing that one can hope doesn't sneak up on you one day, coz ultimately, I am told once it does, it stays as an unwelcome guest showing up at the worst times as most guests do. 
Here's more from our fortnightly guest: Schmetterling: 
***
The Sunny Side of Migraine – myths, mysteries and more..
I was often told not to be a spoilt child, and to brave it all and conquer the world – inspite of the godawful headache that bothered me. I let my imagination run wild with the pain, thinking that my jaw and the lymph nodes behind my ear were throbbing and went numb with pain, and the same pain radiated all the way back in to the nape of my neck with fangs and bit and chewed on every small cell in there. It turned out that I was partially right with my childhood fantasies, when the doctor said: "I think you're having migraine incidents. You should stop eating sugar and chocolates." That was without doubt precisely what EVERY fourteen year old wanted to hear.
"Migraines are just really bad headaches, deal with it": I was told, by people that had NEVER had a migraine headache. I couldn't explain then, what it was like – but I can now, and on that note, I am going to launch into a lengthy explanation of why a migraine is what it is – A BIG DEAL, common myths associated with migraines and treatment options and their flipsides.
The triggers of migraine are varied for each individual, and epidemiological studies have shown that they occur three times more frequently in women than in men, between the ages of 15 and 55. Migraines are strongly hereditary issues. If your mom had them, and your grandmother had them, chances are that you might have them too. (a sore heirloom to inherit, I must say)
Diagnosis & Definitions: 

A migraine is diagnosed solely based on the description of symptoms by the patients, and is described by the New England Journal of Medicine as "severe, unilateral, pulsating, aggravated by physical activity, and accompanied by nausea, vomiting, photophobia (hypersensitivity to light), and phonophobia (hypersensitivity to sound)".
Aura was thought to be the principal symptom of migraine, although it's been recently shown that a lot of people don't actually experience aura. Impairing visual abilities, aura is caused by brief changes in sensory nerve activity making a person see polka dots or spots floating around. No amounts of functional MRI or CT scans can diagnose a migraine because there is no definite patho-physiological problem associated with this particular kind of headache. The usefulness of these techniques, however, is to eliminate the other symptomatic causes of headaches like tumors, ischemia, etc.
A blood vessel view of a typical migraine episode
It was traditionally believed that migraines (word origin: Greek "hemicrania", literally meaning half head) occurred owing to contraction of the blood vessels, impeding blood flow and causing pain.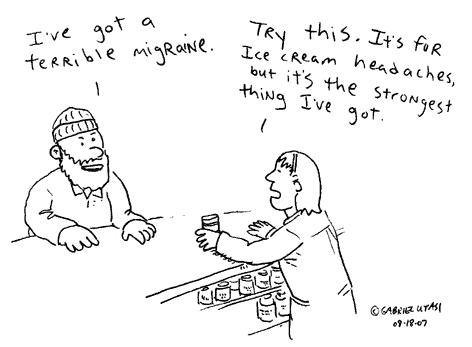 It was once thought to be triggered by high sugar levels. Science has come a long way since then; migraine episodes are now known to show genetic disposition, having no real proven connection to how much ice-cream I ingest. Although there is more clinical research on migraines than basic science research – specific mutations in mitochondrial DNA (which is the DNA you only get from your mother) with respect to their calcium channel proteins (that are responsible for certain communications between nerve and cell) have been shown to cause migraines.
 Although that statement sounded complex, what happens on a macro-level in a migraine is fairly simple: The artery just under the temple is called the temporal artery. Any kind of enlargement on this artery will cause the sensory nerves around it (this area is fairly rich in nerves) to stretch. Activation of these nerves will cause release of neuro peptides like CGRP (Calcitonin-gene related peptide) – or little protein masses. These masses now accumulate around this artery causing more inflammation and related pain that is essentially magnifying in nature. A vicious cycle follows ensuring of more pain, tenderness and pain again.
 The body responds to this pain through the nervous system which then goes overkill in different parts of the body. Nausea in the GI tract is the primary sign. The modulation of the nervous activity in the stomach causes delayed emptying of ingested food/oral medication into the intestine, therefore rendering the medication in itself ineffective because it cannot be absorbed in to the blood stream from the intestines.
 As a drug, what can I do to help?
Drugs for the treatment of migraines have thus far focused on eliminating the symptoms of vasodilation (expansion of the blood vessels), and thereby relieving pain: 
FDA approved three non-steroidal anti-inflammatory drugs (NSAIDs) for over the counter use (OTC) to treat mild-moderate migraine symptoms –
1.    Excedrin (a combination of aspirin, acetaminophen and caffeine),
2.    Motrin (ibuprofen)
3.    Advil (naproxen).
 Other FDA approved treatment options for migraine are available as nasal sprays and readily absorbable/dissolvable tablets to enhance the easier uptake into the blood stream to work faster and better. Some of these drugs act on the pain receptors in the brain, to numb them and relieve the pain, and some others reduce inflammation. 
Prescription anti-inflammatory agents (also the most widely used for migraine treatment) like Imitrex® (Sumatripan) and Zolmig (zolmitripan) among other versions are 5-HT (serotonin) receptor agonists; 5-HT receptors mediate vasoconstriction (or blood vessel narrowing) in blood cells. They are also the fundamental sensory contraction response receptors in muscle cells. These prescription drugs target 5-HT receptors to reduce the dilation of the blood vessels.
So do they all help always?
A few major disadvantages associated with prescription migraine medication is the associated dizziness, chest congestion, tingling sensations – all attributed to the constriction of blood vessels in un-targeted random parts of the body other than the head. This also renders them extremely useless in the treatment of migraines in people with cardiovascular disease.
In the news now..
Most of the research in migraine disorders is pharmacological and/or pharmaceutical, with clinical drug trials. Newer drugs aim to have faster release and blood stream uptake mechanisms, fewer side-effects and target pain from multiple angles.  A recent drug study published on the 25th of November 2008 by Merck showed a new "promising" drug called Telcagepant (Active Pharmaceutical Ingredients (API) not listed). This is a CGRP class of drugs which acts by reducing the elevated levels of the CGRP protein in a migraine. Merck claims that since Telcagepant produces no vasoconstriction, it provides "for the safe administration in patients with migraine with cardiovascular disease", although "additional studies are also necessary to assess the long-term efficacy and safety profile of Telcagepant in patients treating more than one migraine attack".
 Scientific research focuses on placing the finger exactly on what kind of mutations cause migraines, which is hazy at best currently.
And ancient wisdom sums it all up
Turns out that my patti was right every time she told me to drink coffee while I whined about a headache – caffeine stimulates the serotonin receptors, reducing vasodilation. 10 years later, I needed a doctor in 'America' to tell me to drink more kaapi. So I promptly hunted down my coffee filter, tore open the bag of Coorg coffee and made myself a cuppa.
That's exactly what you should do too. Never mind what happens when you overdose on caffeine. That's a problem we can attack later.
One demon at a time.
***
Authored by : Schmetterling
Minor Edits by: Rads