I post this ONLY for the prime purpose of checking out this "Rating" setting I noticed just this morning in the dashboard. I have been oblivious to it all along and true to my nature, once I see something new, I have this intense desire to try it out. Can't rest or sleep unless I do.
So after bugging Max boy on chat and giving him a gist of the mantra of my life namely: "if theres' sthing new, i gotta try it out i mean.. what a shame otherwise no?" I did. It didn't work. Puzzled and upset on not seeing my enabling not being enabled, I thought perhaps it's one of those mumbo-jumbo technical disadvantages that the feature is 'enabled' only henceforth and cannot go back into the past and enable itself.
No surprise since real world and life is such..and man is after all a lesser God or so I shall continue to believe unless some techy dude's gonna come up with something in the comments.
So anyways, here's a post that I came up with on a jiffy. I was cooking lunch then and instead of just doing  rant post and cribbing as to why the stars weren't showing up, I figured I'd do a recipe post. Befriend-ing foodie bloggers has that kinda effect and now that I've become the martyr and tested it out for you, you know whom to avoid. It's all a big trap. One minute you're drooling at the pictures and second there you are pursing your lips and clicking pictures between stirring chole on one and frying oily puris on the other!
Example in case follows.
Subject: Mint Pulao
Origin: Somewhere in Women's Era or maybe it was Tarla Dalal cookbook, I forget, but now healthily adapted by a good dose of my own imagination.
Cuisine: India. Or mine. Which isn't purely Indian, but who cares.
Ingredients: Loads of carbs. What? Oh okay, I'll give you the list. Basmati Rice, Bunch of mint leaves, Coriander leaves Onions, Tomatoes, Peas, Cardamoms, Bay Leaf, Cloves, Garlic, Cumin Seeds, Cashews, Raisins and Butter (or not) depending on how your last blood work came out.
Anecdote: There's always a story. No recipe is complete without a tale, and I am no less. I have a story.
As a young girl struggling between half-baked dreams of making it to the US and studying and peering into people's eyes, I also occasionally ventured cautiously into the kitchen. Much to my mother's chagrin, I scoffed at the daily rasam, sambar, daals, rice and potato fry. That doesn't mean she let me go and I had to learn them, but more like how one would learn multiplication tables. Early in the morning, and much against our brain's will. Then there's always the Mills and Boons' paperbacks. The mild version graduating to the then hotter Silhouette series. Where the TDH guy went beyond the kiss and you know things went south etc.. but I digress. So no one wants you to raed them. You want to read them. The exotic and forbidden. That's how I learnt Mint Pulav, Matar panneer, Parathas, Banana Bread and Pineapple upside down cake. Yes. These were the ones I was mighty proud about and swore when the day came I shall serve the husband delicious dishes with a flourish and some more.
When the day finally dawned I was left alone in a flathotel in the middle of busy Brussels while the man left me to fend with a coiled electric stove and paltry provisions and some veggies from the Sunday Turkish Market near Gare du Midi which is a DELIGHT; to shop, to gape, to eat, to take pictures and occasionally get looted to from what I hear. (O. M.Y G.O.O.D. L.O.R.D, I actually found the very same place we lived back in 1993! This is too exciting and am gonna take a few moments and then continue! Phew!!)
Over time, we figured if we went there by at noon, there would be parking available as well and also the farmers just give away tender sweet clementines, small firm red apples, juicy cherries and luscious tomatoes and such by the basket for a mere 100 BEF. Those days, that translated to 3 USD.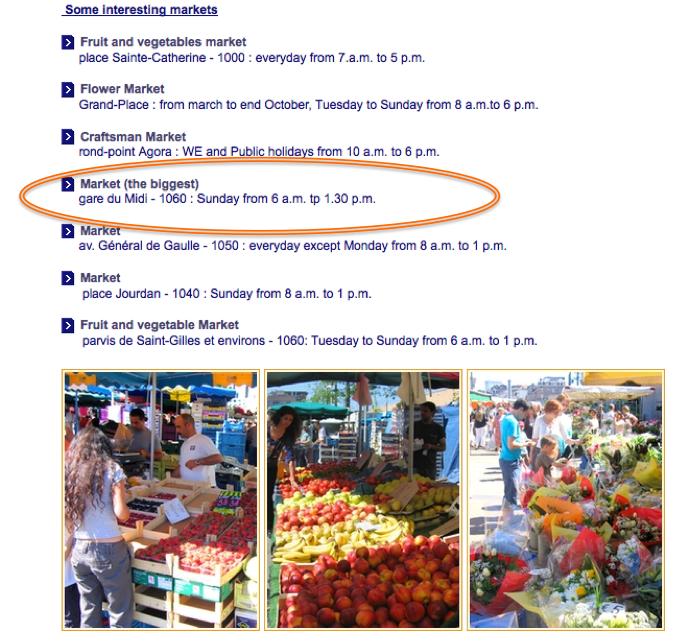 So yes, bunches of coriander and mint leaves were aplenty. The rich beautiful greens were sold for an atrociously small monies, and that's where I developed a taste for the strong flavors. Coriander and mint chutneys became a standard at home eventually, and I realized with glee that mint could be put to use such apart from the only way I knew. Mashing it into a pulav.
The making of the pulao: This is how I make any pulao or biriyani. I cook rice separately and in a large pot, not rice cooker. So I add 1 cup of water less than twice the cups of rice, add some cloves and some turmeric, and a bit of salt and bring it to a boil. Once you see bubbles, I shut it with a good lid, lower it completely, and start the time for 15 minutes (if 3 cups of rice or less) and 20 minutes if more. While that's cooking, I take an onion, a bunch of mint leaves, coriander leaves, garlic, green chillies, cardamom, a pinch of cinnamon and make it into a fine paste.  In a pan, add butter/oil, fry another onion, add roughly diced tomatoes (optional) and let it cook a bit. Add this paste and roast around till the raw taste wears out. Once the timer goes off, shut everything off and go make some raita if you'd like.
After a few minutes of cooling, mix it all together. Garnish away and there's your mint pulao. I add corn, so the colors complement each other, but you could add peas, or vegetables, or potatoes alone.
I like the flavor of mint that comes through when less vegetables are added, so it gets to take center stage.
Ta Da! Add Chole and Puri with it and it was a good Sunday lunch. At least the usually quiet husband grunted a nod at it! So all's well in flavorland I suppose.