…is one big cartoon show. The sidekicks occasionally change depending on situation but no, seriously take a clip at any given moment in time, put it into teeny little boxes and there I have a nice little cartoon strip.
This morning between packing lunches and gulping coffee down, I flipped the paper and pulled the Style section of the Post. I know what you're thinking. Who reads the cartoons first, but then again, answer me if you will, why would anyone want to read morbid, blue tape politics and serious notes of the world first thing? Start pleasant and fun I say.
So yes, I open and I chuckle. I scroll down further and I start laughing. Then down further and I start giggling, and then the irony hit me and oh boy, it all came jiving together. I then did what any self-respecting blogger does. I ran to the system to get online versions of all those strips to take screen shots to post. Only thing is that the toast burnt so I couldn't go further than just saving 'em all and re-do the whole sandwich for brown bag thing.
So before the day slips away figured I'd document on how my life is a potpourri of caricatures:
Where the hey did the first 6 months of this year go? O wait, don't answer, I know. It's been one heck of a roller coaster ride, but hey, it's eventful June already!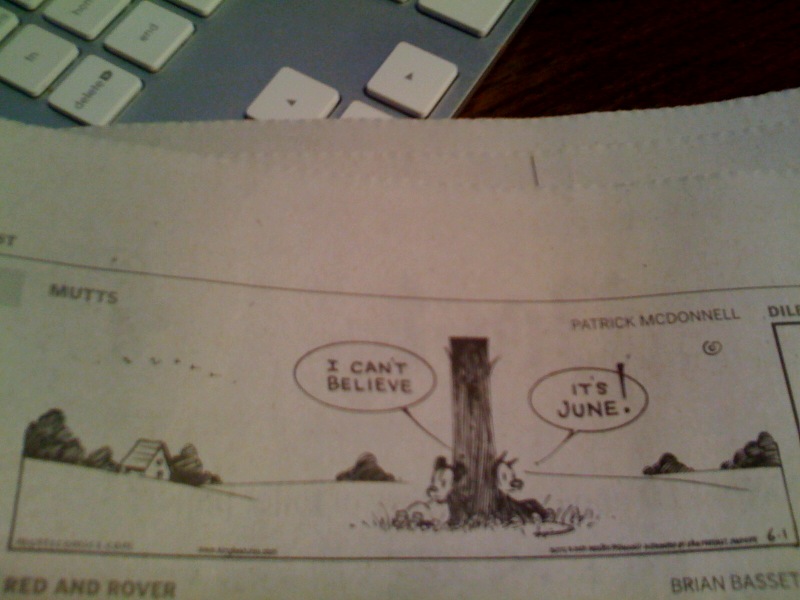 Never a day passes when am not searching for something that should be in its rightful place. It started, oh I donno, maybe 10 years ago, and continues in varying degrees of search and rescue missions. This here has actually happened at home a couple of years ago. The daughter used non-stick cooking spray to spray the patio table to use her marbles, a freak science experiment if you will. Munchkin's usage has exceeded all imaginations and borders.

That is precisely how we welcome the son home. Every time. Interspersed with short, high-pitched whines.

Story of my life at work to the letter, with just a small change. I do work and some more (than my usual hours) and just haven't got paid for it yet, coz well, I haven't billed yet, coz well, there isn't a code in there as yet. Yeah.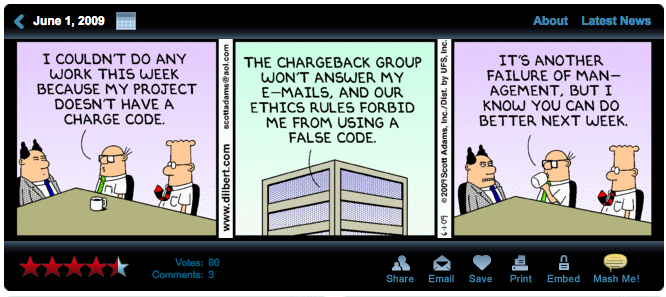 This little brat of a kid at one of those ridiculously insane noisy kid parties, asked me if I needed a tissue to wipe my nose. At least he was polite enough to say "Hey aunty, you have something on your nose!" Then I caught him whispering to a bunch of pint sized specimens. It could very well have been on how to scare the micro-pint sized girls who were behaving like they deserved it, or it could have been a "look-at-that-aunty-who-has-a-shiny-booger-on-her-nose-and-doesn't-know-it!. Go figure.

A conversation between the daughter and son on any typical day. They switch sides according to who is feeling like the boss of themselves at that point in time, but the gist remains. Oh, and of course they aren't deciding what they want to be when they 'grow-up' but more on what's happening in the next few hours in their life. Such far-reaching visions they exhibit at that age. Daughter uses "whatever" and son uses "Talk to the hand" occasionally to replace "dismissed".

Munchkin. Replace 'grampa' with any name. Mom, Dad, Sister, Brother, Granma, Grandpa. Yeah.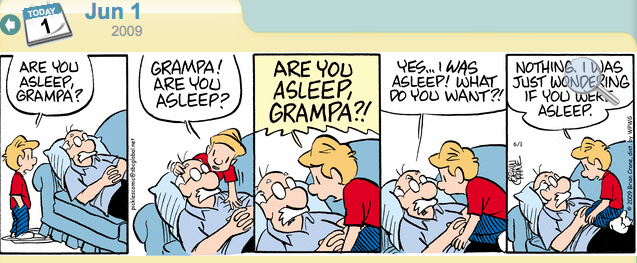 ***
What? This IS a fine post. Yes, it's original, and no, it isn't recycled, and yes, I put some time and thougt into it, and no, I do care for what I write here! Am so swamped, I despair that all my fantastic original post ideas are dying a slow rotting death in my head.
But I still hold hope. Next post, will be a kick -ass review. I promise. O, talking of reviews, I "binged" (tell me it sounds cheesy and not any bit like saying I googled) my site and apart from being disappointed on what it threw up, I found that some kind soul found my review of KKrish charming enough to add it onto Wikipedia. Heh, cool eh? Sweet of them, though, I really had a question. Of all the reviews – KKrish? Seriously? I don't remember the movie, forget the review, except that Hrithik's biceps resembled Sridevi's you-kn0w-what in her pre-bollywood days. He looked like what you'd get if you could mix all of the genes from a very grown up Mowgli, Popeye and Tarzan.Eye-able for a whole 10 seconds before the eyes scream "have mercy"!