My dear sister is a shoe freak. Really. She is a nice size 8, so the choices are humongous. Lucky her.  I don't quite share the same enthusiasm not because I don't fancy them but just because my size is hard to get *sigh
That does not prevent me from oggling at beauties. So the nice girl that she is, decided to gift me with a shoe calendar last Christmas. Yes, it's a calendar of 365 shoes picked from a shoe museum – The Dutch Leather and Shoe Museum, Waalwijk, Netherlands . Showcases the bizarre, the ancient, the incorrigble, the uncomforable and the modern. If not anything it's provided me with entertainment as I look forward to flipping the page to discover what folks once wore or imagined as art pieces.
This workplace is an almost all-girls place, and most are young with a fancy bordering on fetish for some towards shoes, and my calendar has been quite the morning stop for most. It's a conversation starter alright!
So, Ive been meaning to guss up the bare gray walls of my cube for a while now, and it suddenly struck me as to why not use the earlier days shoe pics to do it. So yesterday between shuttling meetings and no work, figured I'd stick some choice ones up. Of course since am cursed with wanting to always climb up a level of thought, I went ahead and decided to make a theme out of it! I mean, you try choosing the cute ones between 100 or so shoes! A theme sounded like a perfect way to be fair to all.
So this is the idea
October – fall colors, and halloween.
The angle at which I get to see some beauties/horrors.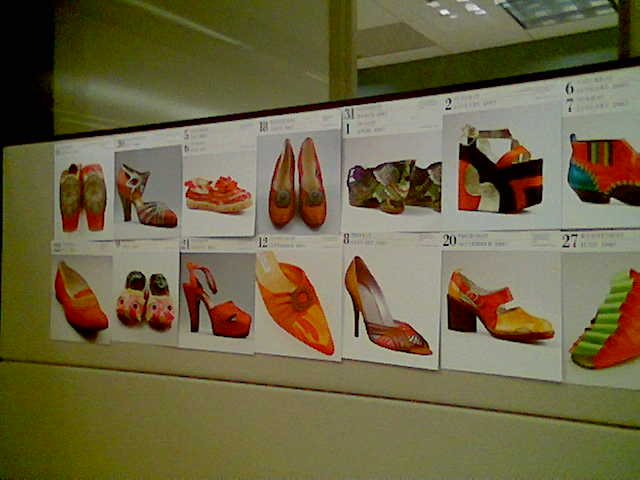 This is what folks see as they walk past and stopover.
: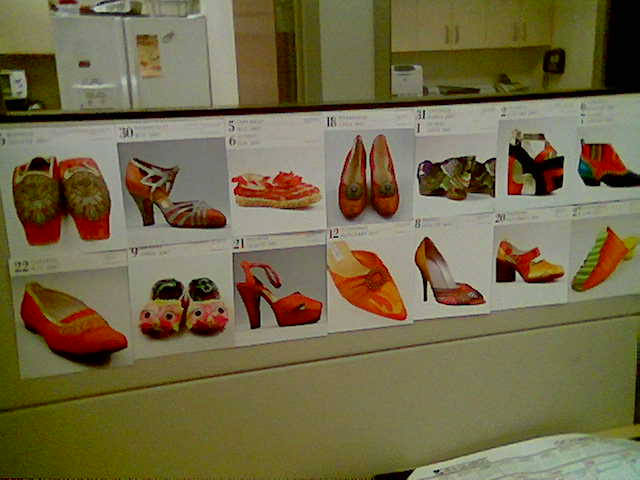 I tell ya, the excitement in our tiny place is tangible and there's laughter in the air! Everyone's now wondering how November would turn out.. am not telling!  
: