Finally got the Netflix thing going and watched Pursuit of HappYness last night.
Brilliant in more ways than one. Will Smith has grown so fabulously over the years and I  still on occasion, manage to catch and enjoy his fun teen years on Fresh Prince of Belair reruns late in the night.  The movie took me to a point where I thought I'd burst with the sadness and the emotion and finally, a ray of sunshine shows up.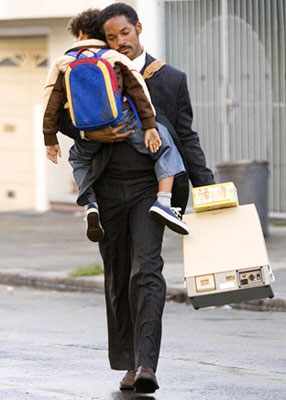 A few of the many scenes that stood out for me.
1. The interview  – coz he made the most out of a bad situation by being honest forthright and continuing to hold on to a sense of humor.
2. The time when the kids loses his little toy as they race to catch the bus, and the look on their faces as they watch the figurine on the concrete. It's heart-wrenching.
3. Will Smith's face as he shows relief, happiness, pride and joy when he gets offered to join the firm.
Very nice.