As a teenager, I was cursed mildly with acne. Not something that overwhelmed my tanned hardly there cheeks, but enough to cause misery. So, as was expected, I was given tons of advice on getting rid of them and preventing them. Right there on top of the very long list was "do not eat oily foods"
Diligently I stayed away from all things submerged in oil. Not sure if it helped in any way with the acne issue, but it sure scarred me from eating or enjoying a hearty piece of a deep fried whatever, without waking up in the middle of the night and half seeing a very red angry eruption right on my bulbous nose. The irony was that I was not one of those beauty-conscious, pretty things as a teenager!
So for the longest of time, I don't recollect eating or even wanting to learn how to make any of those fried dumplings of various kinds, and the only person who sulked was the husband. Coz in the new kitchen I established, I was not making anything that I did not eat. Top 3, include Upma, tamarind Rice and then Vadas.
These days I cook them all, and have begun to enjoy them too. Life I tell you.
The story of Vadas or as my grandma would call Garelu. 
In our family, we just do the flat kinds. No hole in the middle. The hole was added on for just one occasion. The day when we thought of our forefathers and did the Shradh. So, it wasn't such a bad deal when I started attempting it when I started feeling guilty about denying the husband his food. The very first time I made them, he munched and nodded and then asked, why there wasn't a hole in there? Apparently, that's how a vada is done. So I tried. They looked like something you would find while scavenging Moon or Mars. I gave up after I wasted enough Urad dal.
The shapeless blobs of vada-like deep fried richness haunted me awhile. I did try, many times. I even bought that vada maker from Saravana Stores. It was blobby, and I hated standing there with the hot oil heating me up. Ichanged recipe, grinder, mixer, texture, I observed, like a hawk but it eluded me like crazy.
How does one manage the perfect round shapes, evenly browned, with the exact same diameter and with the width of the hole to fit your little pinkie exactly, so when you did, you looked like a triumphant, very sublime Maha Vishnu, who just conquered a demon?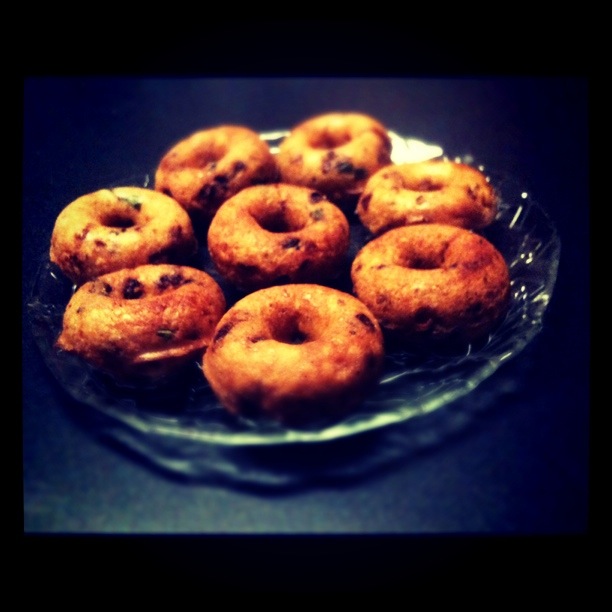 I made these last week. Delish? How?
Like so:
A quick run to pick up some school essentials, I walked  past the kitchen section, and usually I don't look much, but this really cute bright yellow wafflemaker sorts got my attention! So I stopped andlooked again, and this is what I saw.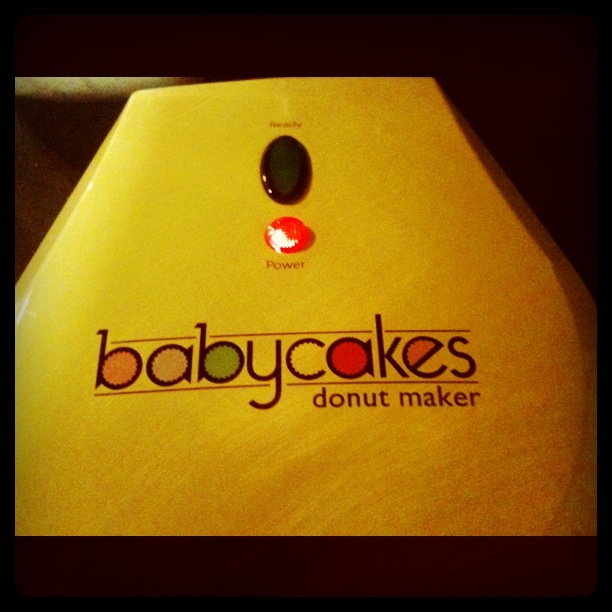 With my daughter's obsession for donuts reaching new heights, a sudden overambitious spark ignited and I peeked in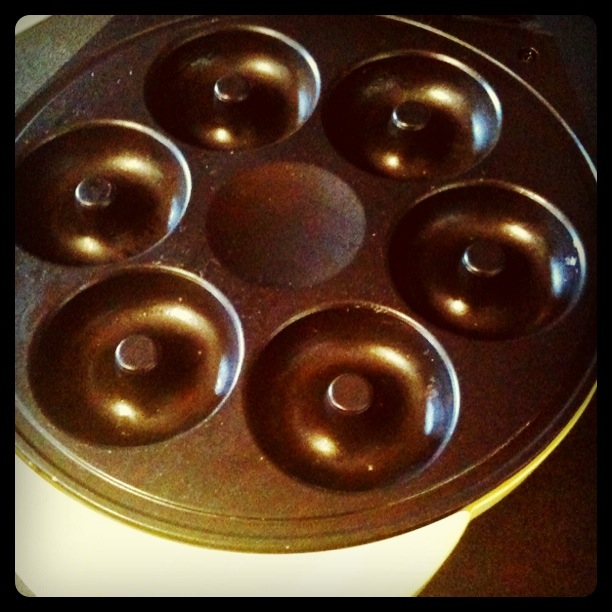 ooo, how cute I thought. Then my head started spinning stranger ideas. Since when did I listen to rules and use a product just for what it was adevertised and meant for? There is a standing joke in our families on how when we did make that trip (ages ago)  home with toddlers in tow, who could eat their vacation on a diet of donuts, and how we'd get some vadas,  dunk it in sugar syrup and give them on a plate. No, we didnt try, but there was a thought.
The reverse worked its way in quickly.
I looked at the price $20. So if I use this machine at least for 10 times, I got my $ worth? I walked out with it.
This is what I tried, since am on a healthy streak:
1 cup channa dal
1 cup urad dal
1/2 cup black eyed peas
1/2 cup brown rice
Soaked overnight. Ground with 3 red chillies and 1 tsp jeera
Add in 1/2 cup of finely chopped onions, some coriander leaves, chopped, 2 tsps of self-rising flour to bind and salt.
Am sneaky these days, and tending to grate in carrots or beets into anything that cane be grated into, so add away if you like.
I turned on the machine, and since it was non-stick anyway, added in the ground paste, like so.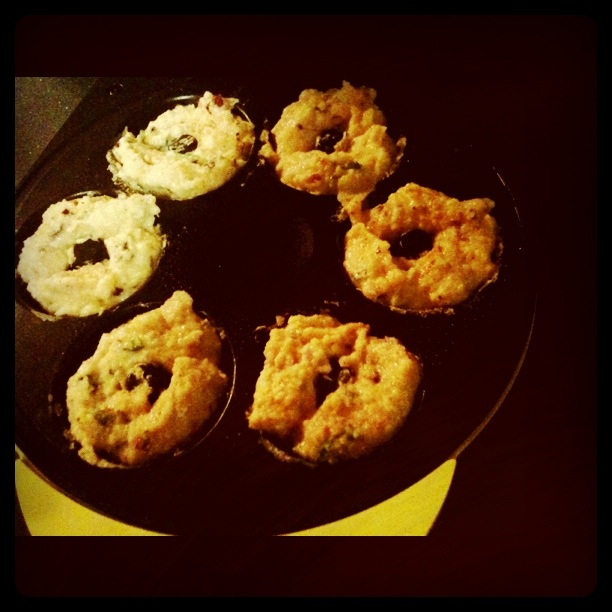 Now, this isn't donut, and not self-rising flour, that paste is not going to bake itself and turn out scrumptious vadas. So I got some oil heating up on the stove. I closed the lid, and as per instructions, let it sit for 3minutes. When I opened, the paste was now congealed (if I can call it that?) and I could pick each up by a fork or a pitchfork sorts that comes with it. I gently dropped it into the oil and within 2 minutes, they'd turned nice and brown and cooked.
It may look like an extra long process, and it could be, but I like it for the reasons below:
1. Any food has two aspects of it. It should taste good, and look good enough for us to want to taste it. The look good factor was addressed. I would never on God's green earth ever be able to get such assembly line production of cloning a vada to its perfection. So bingo.
2. I honestly and truly believe that the vada spends little time fried. I am no nutritionist, but after getting baked for 2 minutes, the vada is already 80% there, and deep frying for a real short time of another 1.5 minutes, than the usual 3-4 or more depending on how thick you got them going, was giving me awesome results.
Husband was super impressed. That's one off the checklist, woe is ours when we continue to look for acceptance and approval from near and dear! Kids loved it, especially munchkin who added in a  dollop of ketchup and seated herself with 6 of them and demanded more.
I bragged by loading it on facebook and got enough and plenty folks to drool over it.
I'd say that $20 is one wise investment in the times we live in for some difficult to get comfort food.
ps: all you established cooks can stop laughing now. 🙂