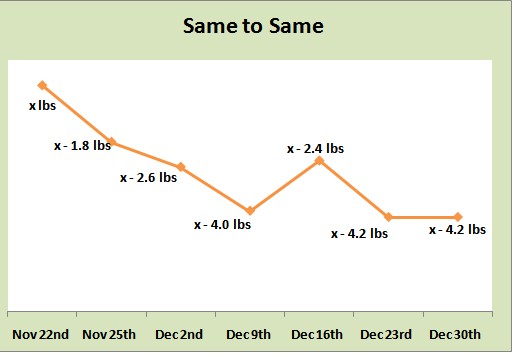 Okay, so no big shakes here as far as weight's concerned. It's actually a miracle that I didn't peak back up considering I've moused on some cheesecake and other similarly fattening goodies over the last few days. The inch tape tells me I've lost 1/2 an inch. Not exactly the place I'd like to lose, but who am I to guide stuff around? It's my body, but the mind is just a casual observer as it gets yanked around correct? 
I went for a grand total of 2 days to the gym. Doing the weights and then the biking's leaving me half dead on the floor. The last two days have been spent doing some hard floor-stamping dance steps. Was sweating buckets (which is fantastic and my heart's singing in some nice ragams), but there's always a flip side to the aerobics. 
The knee has been steadily bloating. Currently it looks like I have a goiter that's lost and slipped down. It hurts bloody hell too. I also remarked to the family in general that I think my leg knee down has become crooked. They all looked at it from various angles and the husband suggested I go check my eyes as I may have some marked astigmatism. Well, if I did, I'd be seeing even traffic poles crooked now won't I? They seem to stand tall and straight to me. 
I should take a picture of me stretched out and then draw simple straight lines on Paint. That would  show them all. 
In any case, the useless year that '08 has been is coming to an end. Finally. Hope all of you will have a fun new start, as I limp myself into a corner and wait and hope that '09 wouldn't suck as much. 
Apologise for the tone, but not feeling particularly cheery. Though I really am (if I can forget my self-pitying flagellation for a moment), a dear friend just told me she got engaged, and I choked back happy tears and hugged her (on chat) on hearing it. She's one heck of an awesome woman and I wish her the very best going forward.
Laters.