Since I had just an hour to *think* of dinner between shuttle service began, I grabbed the first container in the pantry next to the quinoa and it was Toor Daal (kandipappu -Telugu)
Soaked 1/2 cup of quinoa and 1/2 cup of toor daal for 10 minutes or so.
A handful of boiled soya beans (picked up a box in Whole foods, so was conveniently handy) got added in.
2 handfuls of spinach/kale/chard mix went in.
Cooked all together in pressure cooker.
Took some oil in a pan, added chopped onions, jeera and then some tamarind juice and let it boil. Added sambar powder, (some chilli powder as I like my food slightly on the spicy side), salt, some sugar and then added this cooked mix of daal and quinoa.
Cooked a few minutes till it mixed well.
Tasted great. Munchkin ate a smallbowl when I called it the stew. Daughter refused it coz she is smart. Son is not that perceptive,so he ate it when I added a dollop of yogurt on it. Husband claimed it was spicy (which it was, as I added a tsp of chilli powder too, to up the heat) but ate it anyway!
Here is how it looked: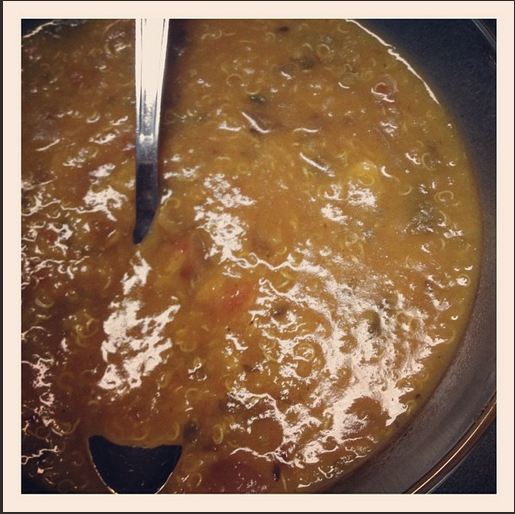 Have just a bowl leftover for lunch tomorrow. Good stuff indeed!