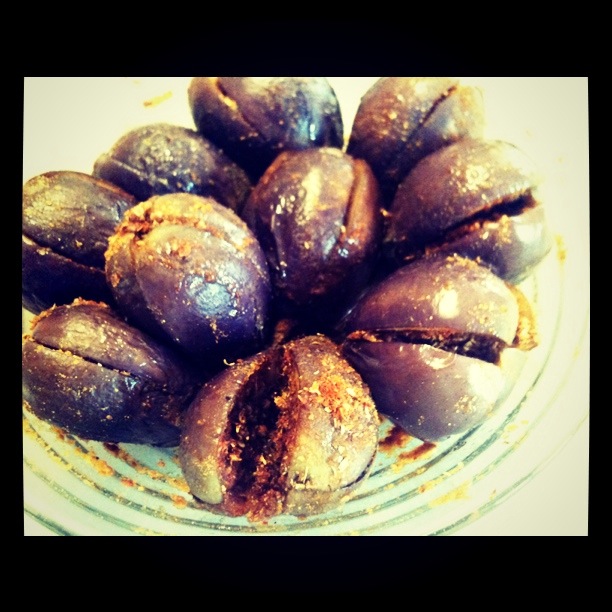 As a child I did not like eggplant/brinjal or vankaya. Mom used to say I was an insult to my roots. The Telugu roots. Maybe, I couldn't care. I found the cooked thing, slimy, tasteless, resembled the inside of a fish and the skin chewy. So I stubbornly refused to eat it, unless I was threatened, and then I'd scoop it out, hide whatever taste is left with some spicy dish and gulp it down. I would leave the skin out. So it would start with a juicy plump thing reduced to its skeleton. I still occasionally do that.
When you move to a country at a time when the nearest grocery store with familiar vegetables is a good 40 miles away, the adaptation part of our existence kicks in, strongly. You adapt by growing new taste buds to incorporate the new vegetables/cuisines, and then just to bring back the familiarity of home and mom's cooking, we start looking at the dishes (albeit grudgingly) that remind us of home.
Stubbornness or being picky about refusing to try narrows down our choices on our plate, and at the end of the day and how much ever we want to eat for that 6 inch tongue, the body wins the battle. Nourishment cannot be denied and our functionality is on line.
So we shut up and adapt.
I did the same, with eggplant, with cabbage, cauliflower, beans and even bittergourd. It may look like I was a picky finicky eater growing up, and you would be right. In India, one can afford to be picky with our foods. Things change when we cross oceans where the weather, environment and culture force us to rethink our choices.
Here is a recipe that I have grown to love, and I hope I lived up to my mom's expectations of a hearty Teluginti adapaduchu *meaning – a girl from the telugu household*
So, after loving it, I decided I needed to find a better, low-fat option, coz the taste depended heavily on slow roasting in some fair amount of oil. here is what I came up with and I'd say it's close to 80% as the original oily version. I can live with that.
Gutthi Vankaya:
Meaning – stuffed eggplant.
1. Choose small round/oblong eggplants. Try to keep them all similar size as they'd cook evenly. (I learnt it the hard way)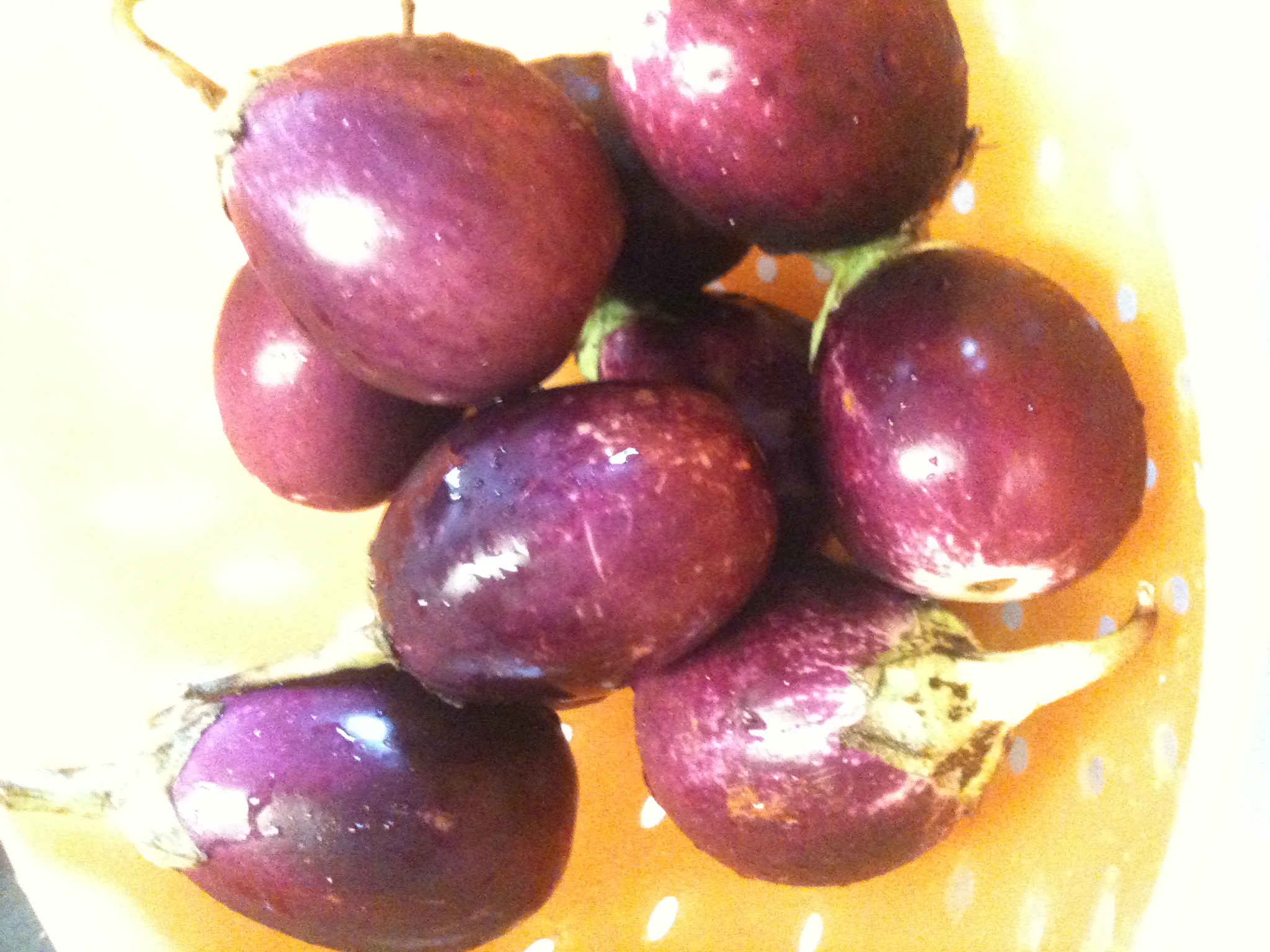 2. Wash and slit them lengthwise in a cross, like so. The stalk part should remain intact.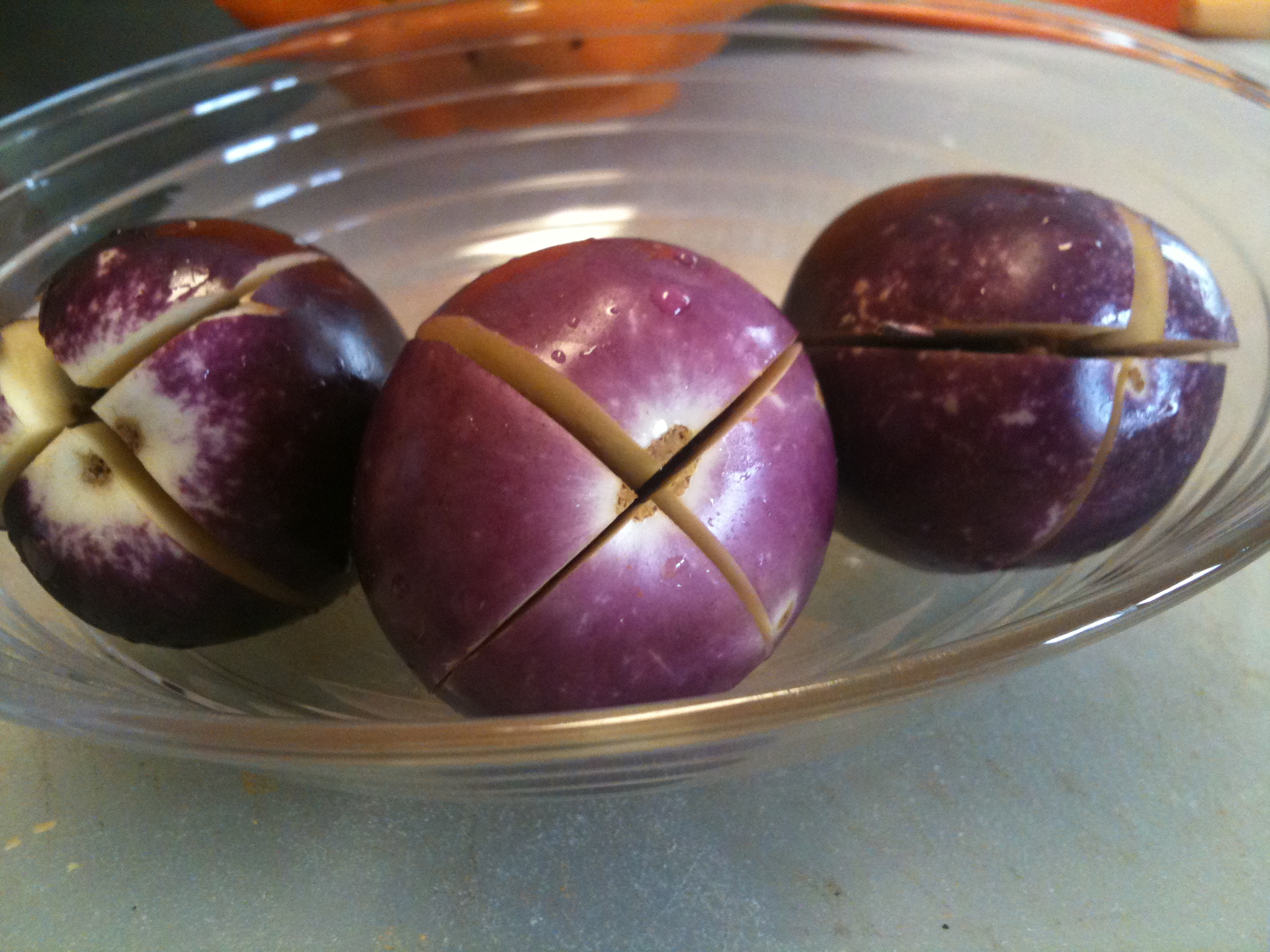 3. Shallow roast in 2 tsp oil and coarsely grind the stuffing *** (scroll down for a couple other kinds)
4 tsp channa dal
4. tsp dhania (coriander seeds)
1 dried red chilli for each eggplant – may seem like a lot, but you'll need it.
1/2 tsp jeera
Salt
4. Add the stuffing into cut pieces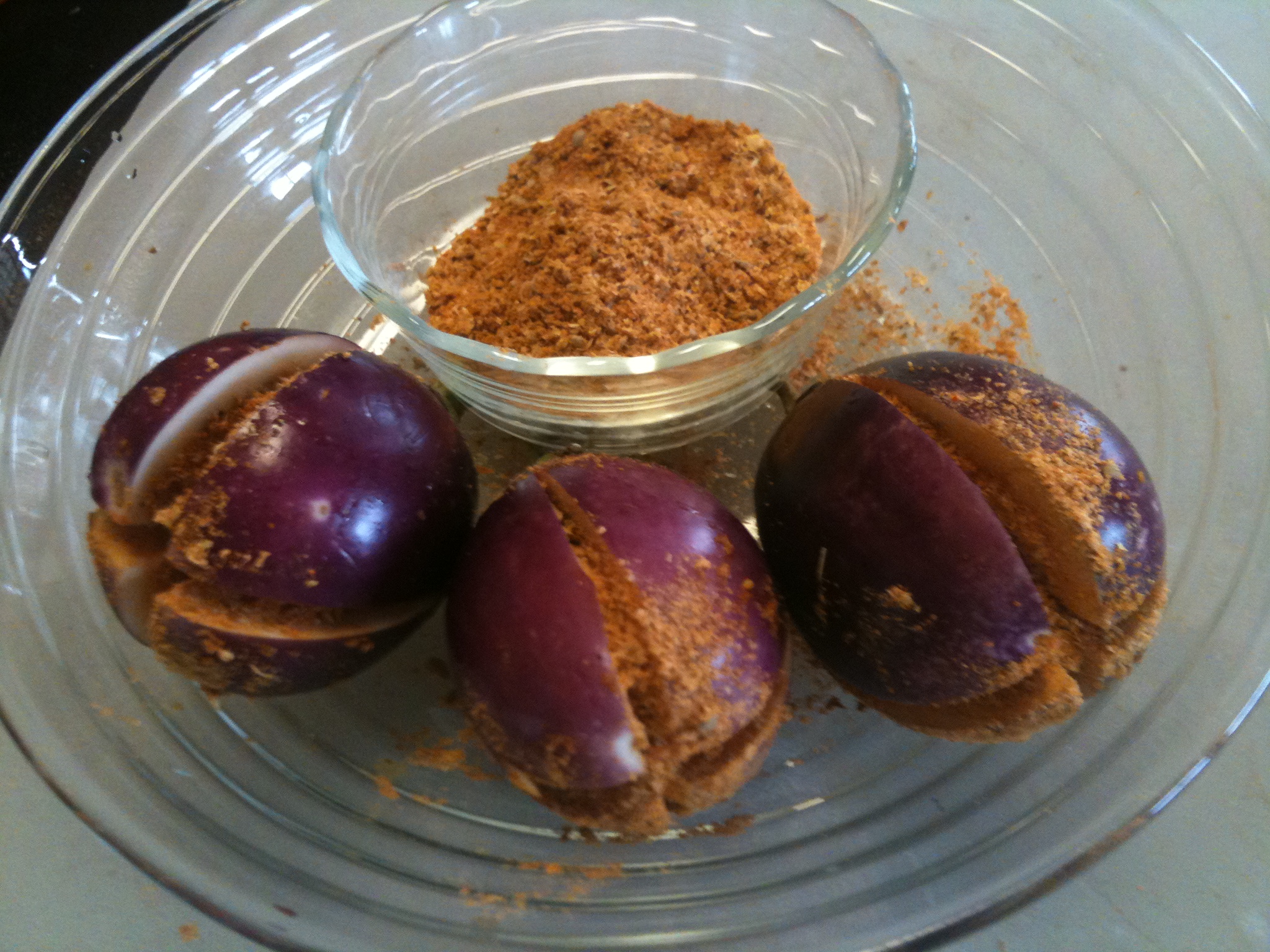 5. Here is the fun part!
Layer the eggplants in a glass or plastic dish, drizzle 2 tsp of oil over the eggplants MICROWAVE the entire batch. Cover with saline wrap so they get cooked. Leaving them open will dry them up completely. So if you had say 6 eggplants, I'd nuke them for 6 minutes, stick a fork and test. They should be al dente. Firm on the outside and not shriveled, and soft on the inside. I usually add in another 2 minutes to make sure they cooked through.
Beats the time taken to prep this dish too!
6. When cooled, scoop the insides out and mix with hot rice and eat. If the eggplants are tender, the skin would be good too, as they are meant to be eaten, but I have my reservations, so do what makes you happy. The insides is where the juice is.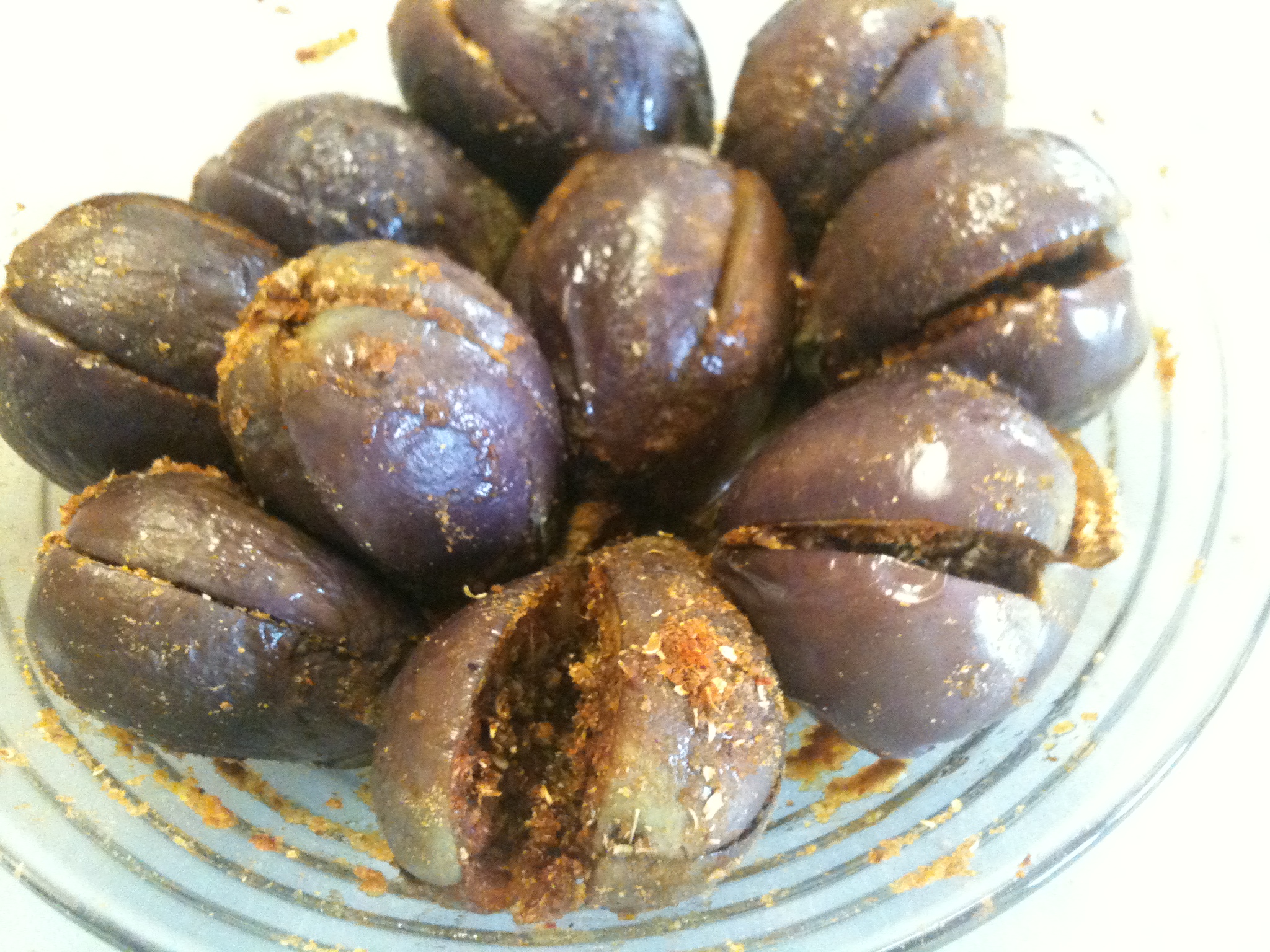 ***
Stuffing 1 – original Channa Dal version
Stuffing 2 – Add garlic to the above mix
Stuffing 3 – Make a paste of green chilli and coriander leaves (not cooked)
Stuffing 4 – Add a few leaves of mint to the above stuffing 3
Enjoy!