I have been told my blog's brilliant! Not once but twice! By two very lovely bloggers themselves. Yay! Yayy again!
Silvara awarded me this award saying "Love hearing about her everyday life – she's a fighter, a writer, a dancer and lots lots more. She is the epitome of the Supermom/woman and is a great read."
A few days later
Mystic Margarita awarded the same saying "A superwoman, if there ever was one, she manages her family, career, blog, and everything in between with the exquisite grace of a dancer."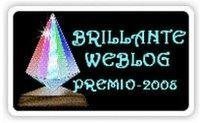 Needless to say am quite thrilled and happy. It brought a smile to my face when Silvara posted. She and I have been reading each other awhile now and though I feel honored to be thought of that way it was a warm fuzzy feeling. Good stuff. The timing couldn't have been more perfect and it gave me a reason to smile. Thanks Silvara. 🙂
When Mystic posted, I was shocked, thrilled, wowed all rolled into one. I couldn't believe my eyes. To think mystic felt me worthy of an award was flattering and embarrassing together. You see, mystic herself is an amazing woman. It made for sweetness. I don't strive to be a "superwoman" and I most definitely don't try to fit into roles defined out for me, and I pretty much do what I feel is right and proper. There are more out there, a tad crazy like me, pushing themselves and loving the adrenaline rush that such roles give us. So dear mystic, to think I am super is just your kindness and magnanimity. Really and thank you! 🙂
I felt like jumping up and dancing to this song, though, no I really couldn't move an inch never mind jiving to it. 🙂
Purpose of the award:

Before I start to list, I have to mention Krish Ashok's acceptance on this award. I laughed so hard it brought tears to my eyes. He wrote and I quote "When I first saw the logo, I thought it was a Telugu ad by an ink manufacturing company hoping to gain some cred in the blogosphere by sponsoring an award of some sort. Bril ante Weblog." . If you know a smattering of telugu you'd enjoy it better, or ask the telugu guy next to you. You may find it hard to get a good cup of coffee, but telugu chappies are all over, or aunties, whoever you may choose! 🙂
For the past few months Ive been sorta out of it and haven't been doing the rounds. Just started reading and commenting on blogs again, and now I hand this award out to seven brilliant blogs. I was trying to link to blogs I have not mentioned before, not that the previous mentioned ones aren't brilliant by any degree, but more to avoid repetition and showcase new ones on my reader.
The blogs I award this to: (in alphabetical order)
I thought this was going to be hard, but I guess I do read some fine people alright! 🙂
I also realize today – August 31st is 4th BLOG DAY. Couldn't have asked for perfect timing in promoting blogs one reads as asked and expected today. So read, enjoy, reflect, promote and spread the love people.