Second in my Wednesday Featured series is what most women usually frequent at least once a month. Get some TLC and groom themselves so we can go out and battle the world while looking pretty!
Ive known Lakshmi and Aruna since many years now. Coming from to US in early 90s from a place in India where one would never dream of going out without a neatly arched eyebrow and the fact that there was an establishment offering such services at every other street corner, it was like a heaven sent to discover someone who would do it and do it well!
A good friend introduced me to them and since then, they are my go-to in a rush, coz am as lackadaisical as them come when it comes to staying on top of such grooming. I wake up every couple of months with "oh God, I look like a bear" moment and then I frantically call them and get an appointment and once am done, it's like a new person emerges from behind all those shaggy 70s look eyebrows!
Plus they really are very nice and easy to talk to through all that pain 🙁
Known them since 10 years and Ive seen them grow ground up. From operating out of a small home-based apartment to now an established skincare spa in a busy location in Northern Virginia, they are the quintessential duo for what fantastic smiling customer service is all about. I was very happy when they decided to entrust the picture taking of their grand spa opening to me! Check some of the pictures I took for them here. 
They have worked hard with patience and waited their time and their success and growth is both inspiring and is worthy of emulation. The sister-in-law duo (Aruna is married to Lakshmi's brother) are warm, inviting and do a perfect job every time without compromising on quality and time. Always up for a chat, they sat down with me at their Spa, to tell me in a candid interview on how they started, and where they are and how they kept going.
Lakshmi and Aruna
Contact: Website Sthree Skincare (Northern VA)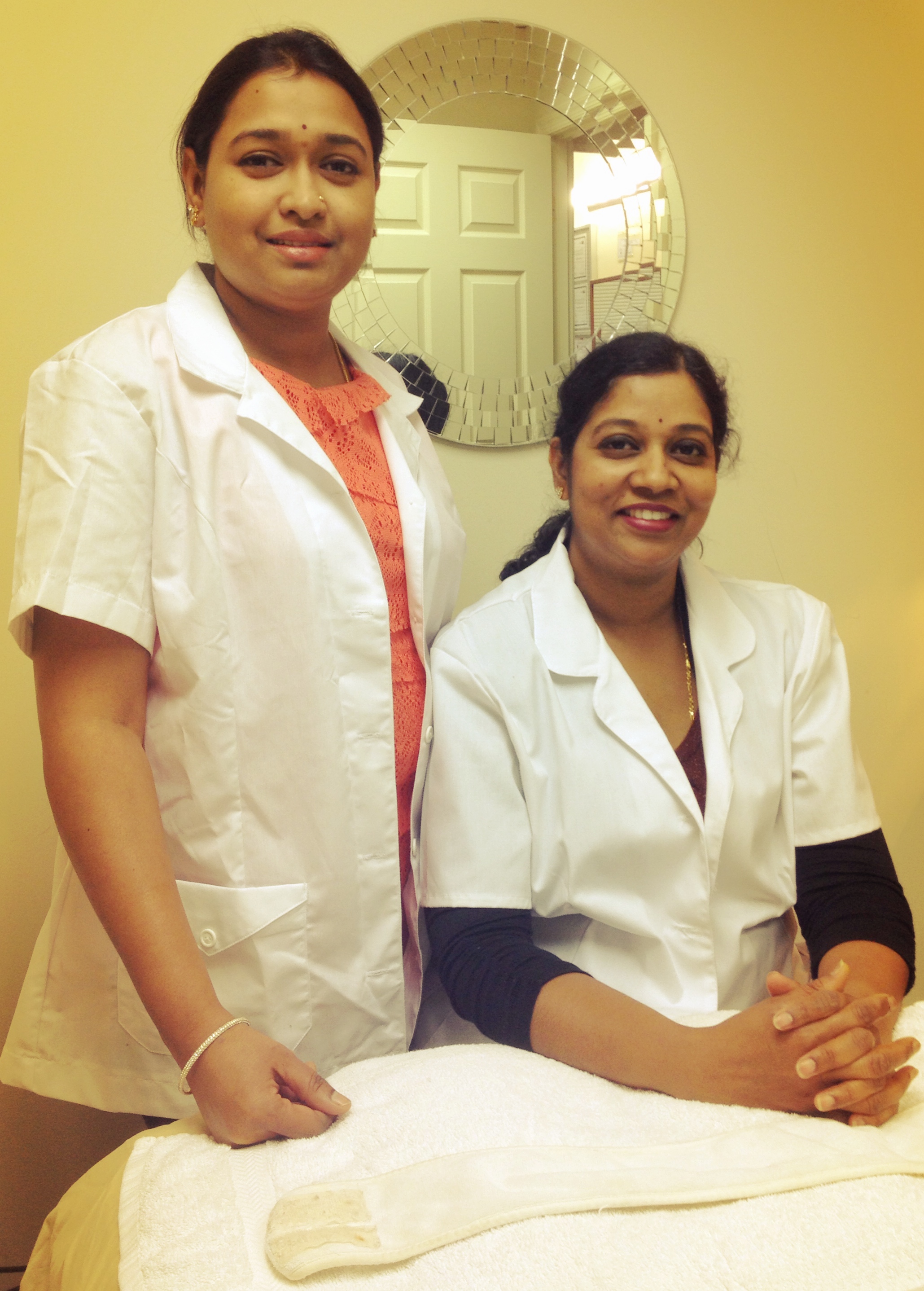 1. Tell us where you are from, originally and how you two got together.
Lakshmi – Born in India, and grew up in Tanzania, and after high school I wanted to learn beauty and cosmetology. Went to Zeenat Beauty School there. Finished my course in worked there for a bit before I married and moved to India. Got enough practice working on family members! Went back to Beauty school in Vizag and learnt the other side of aesthetics and discovered that Tanzania was way ahead of what was being offered in India.
I moved to the US because of my husband's job, and stayed close to my brother and sister-in-law. Aruna and I became such good friends with similar interests
Aruna – I grew up in Bombay and Vizag, Masters' in Bio Sciences and Bachelor's in Education. Lakshmi is my husband's sister and we hit it off very well personally and personality, so we are friends and family and we love to watch out for each other through support and care. 
2. How did you fall upon cosmetology and beauty? 
Lakshmi: Friends found out that we made each other's eyebrows so pretty and looked groomed, and so started asking us to do it for them. There was apparently no one in the immediate area who could offer this service. Then out of personal necessity, Aruna and I decided why not do this from home and make some money to pay the bills. Word spread and soon, we were kept very busy through the day with calls and clients!
 Aruna – Lakshmi was the one who led the way, and she knew how to do the basics of grooming, and she taught me and helped me get aboard. Since then, I picked it up and now I enjoy it and trained myself to become an aesthetician.
So did you train to get here or how does this work?
Lakshmi – My training started from East Africa, then in Vizag, and then I taught myself and practiced and then now in the US, we go over yearly trainings/certifications so we are current and certified and know exactly what's going on in the field.
Aruna: With Lakshmi's training, I got comfortable quickly and then I had enough backing to take that step to get a license.
So you did have family support? 
Lakshmi: I have a ton of family support and my brother was the one who advertised in the early stages and took so much interest and helped us take off the ground. Even now, he is the brain and strength behind our business and of course there is immense support and encouragement from the rest of the family – my husband and children.
Aruna: We have an excellent support system and husband is very encouraging and helps when I am busy. Kids also were supportive and stayed home with us while we worked with the clients. There was no need for a day care or sending them anywhere else while we worked. So, they did not feel left out, and I think that helps a lot.
Am sure it must have been hard juggling home, kids and work? How do you handle that? 
Lakshmi: Shut one door, wear another cap, open another door! Open garage door, enter kitchen and start cooking! Literally that's what happens. No time to think, just have to switch roles and continue. Yet, in my head am always thinking on what next for our business!
Aruna: Preparation ahead for the daily activities goes a long way. So making lunches and dinners ahead of times saves stress.
My typical day starts off early with getting the kids ready and having hot breakfast for them and once they leave, I take care of the house and leave to the spa at 9.45. Am here, multitasking with clients, pone calls, reception staff, scheduling, inventory, paper work up until 7 pm. Then I get home, get dinners going and spend time with family, cleanup and hit bed by 11pm! It's a long day! Same on Saturdays as well, except that we wrap up by 5.30 pm. It's a good thing that I am also occupied and enjoy what am doing. That way, everybody in the family has their own thing to do.
Why and what made you take that step to open a place instead of staying home-based business?
Lakshmi:  We were home because of the kids and our clients were scheduled according to our time. Once the kids grew older, we were able to focus on the business and take it to the next level. Now, we are free and able to concentrate on the business for a good chunk of the day.
Aruna: There was always a goal to open a more professional place for our business and we are glad we could do it.
How do you keep current with what's happening in the aesthetic field 
 Lakshmi – We attend seminars, get new certifications yearly, and make it a point that we re-take it again once every two years so we are current with the technology and happenings in the business that can improve aesthetics and knowledge towards our service to the clients. This is also to be able to answer the clients' questions and explore if we are able to offer that service or not at that moment.
Aruna – Things change really quickly and needs of the customers change, so we need to be on par with the latest! For instance, how I did skincare back in 1989 is so different and refined to what I am offering now.
What's the best part of your job?
Aruna – The happiness! The content and the happy eyes once we are done with working on the client. It makes us happy!
Lakshmi – We get to be with so many people and we are always social and happy being social because the job is that there is instant satisfaction and gratification both ways. So, the clients also love the positive energy we give out and they in turn also help us stay positive by their reactions and because we meet so many people in a day! We do a strenuous job being on our feet all day, but somehow our energy levels are the same throughout the day, because we enjoy what we do.
 So does your job also have its challenges? 
Lakshmi – We thrive on referrals, so when a client walks in, they already come with a positive recommendation, and that helps. Difficult clients do come in occasionally but there the challenge is that they can make it only at certain times and insist on being accommodated, and we try.
Aruna – Staying right on time on appointments is a challenge too, because if a client runs late, then it cuts into the next client's time (on certain days) and that is probably the only stressful part. We do accommodate as much as we can.
Where do u see yourself in 5 years time?
Lakshmi: I am a licensed and certified instructor in aesthetics, and now managing the beauty school and spreading the joy of beauty around! So in 5 years, that is how I see us (both Aruna and me), managing and running a successful skincare spa and academy!
Aruna – What she said. 🙂
 Parting shot to others who are debating on starting on their own in this field? 
 Lakshmi – This business is perfect for someone who is a people's person, who can multitask and be dedicated to your clients with respect to time. You will need to spend time getting the right certifications and education in the field, before you are taken seriously, at least in this country.
Aruna – Also, you should love doing this and be comfortable to touch and be allowed into your personal space. Also, communication skills are hugely important, own up when you make a mistake and learn to fix it! Goes a long way in building trust.