The serious long winding post I've been laboring through 2 weeks can wait. Am feeling very peppy and quite happy right now, and I haven't grinned like this awhile. Nothing grand, but just the fact that getting back in touch and sorta kinda arguing was ultra cool.
So yes, since am in a giggling teen mood, am gonna post something juvenile enough to go with it. Just to mark the day and all that.
Last week I was at Walmart. Yes, I do shop at Walmart for the basics. Tupperware, foil, stuff. So I was there and I had a contact lens prescription for daughter and a medicine refill for my dad to take care of. So I go in drop c/l prescription off and I walk straight down past the women's and men's coz the son desperately needed some socks for his scout camp.
I see this dude with a phone plugged to his ear and hovering around the delicates.
Nothing abnormal about it and I carry on. I wrap that, pick up a few earrings, a CD cover stack, and then to the pharmacy. Give in my prescription, and munchkin decides to throw a fit on wanting to eat a Sub. So round back up there and I see the same dude gently pushing things around, peering and all the whiel talking on the phone.
I continue to think it's okay.
Hop over, pick up some cards, some foil, a laundry basket, then go to crafts and spend another $10 on useless junk that only I can pick up at the craft section. Wind back to Vision center to check if the Optometrist was in. Speak with him and check pharmacy. They say 5 more minutes. Uselessly bored now and tired of scavenging around, I realized form the corner of my eye that the dude was still in the same aisle.
I had to double-take, come up from behind and take this picture.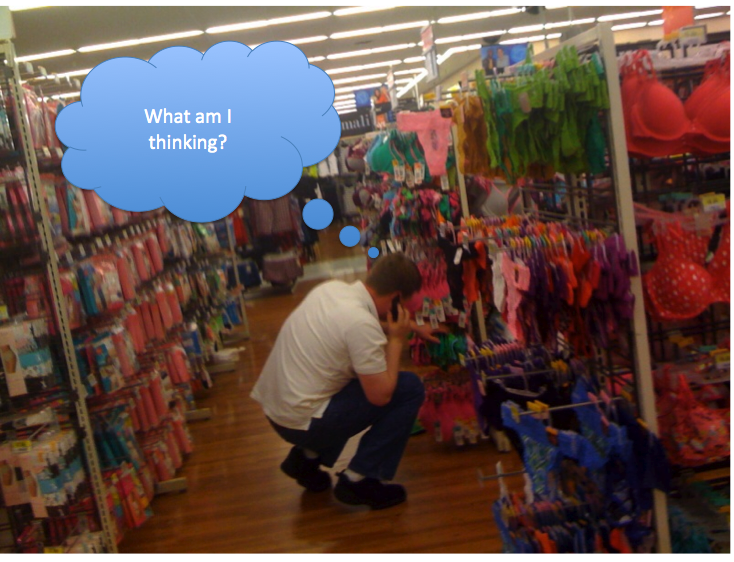 Now you worthy reader is left with the challenge of coming up with a tagline.
Clues to help you along:
The man spent close to 45 minutes in that section.
He was talking with a female on the phone. I just know, don't ask how I know, I just do.
He was clearly very indecisive.
Go for it. Just don't get icky unless it's witty and funny, then it's all good. Or maybe not, I reserve the right to chuck it if I don't like it. yeayea, am a bit of a prude unfortunately.
If you ask me, apart from shock to amusement, I felt sorry for the chap!