We had a DeviSriPrasad concert over the weekend at a local high school. After a bit of humming and hawing I decided I'd troupe the whole family (though I knew I was going to get an earful from dad once we reached home) out. It was the daughter's first concert and she had a whole bunch of her friends going, so she was excited enough to also realize that pretty much most of the telugu songs she listens to were composed by this DSP.
There was this annoying matter to be settled where on seeing that $25 tickets were sold out, I was forced to buy $40 tickets. No, I didn't feel rich or anything, but it was just one of those quick decisions you make and wonder what possessed you at that moment. Then I come to find out that it was a sneaky marketing strategy of the organizers to withold $25 to create a fake demand. I was maha pis*ed off and called one of them and told him that I didn't really enjoy being tricked this way what he did was well, sneaky. Quite reasonably, he then allowed me to switch to $25 and not sure of the return policy I traded in for more tickets at a lesser cost to avoid having to deal with transactions later. It worked, and I didn't feel too bad.
Of course on landing at the venue it was only about 75% filled. No surprise there, it was a Sunday evening and as usual not enough folks knew about it. On cue, the concert started at more than 75 minutes behind schedule and accordingly all of us moved closer. We were a huge bunch and there was comfort in company, not just fun.
Regarding the concert: The dude's an awesome entertainer hands-down! He can compose some excellent young and trendy tracks, write lyrics that aren't too shabby, sing very well, dance, maintain a witty repartee, entertain extempo, engage the audience without a single dull moment. Sometimes doing 2-3 at a time too! A complete one-man show.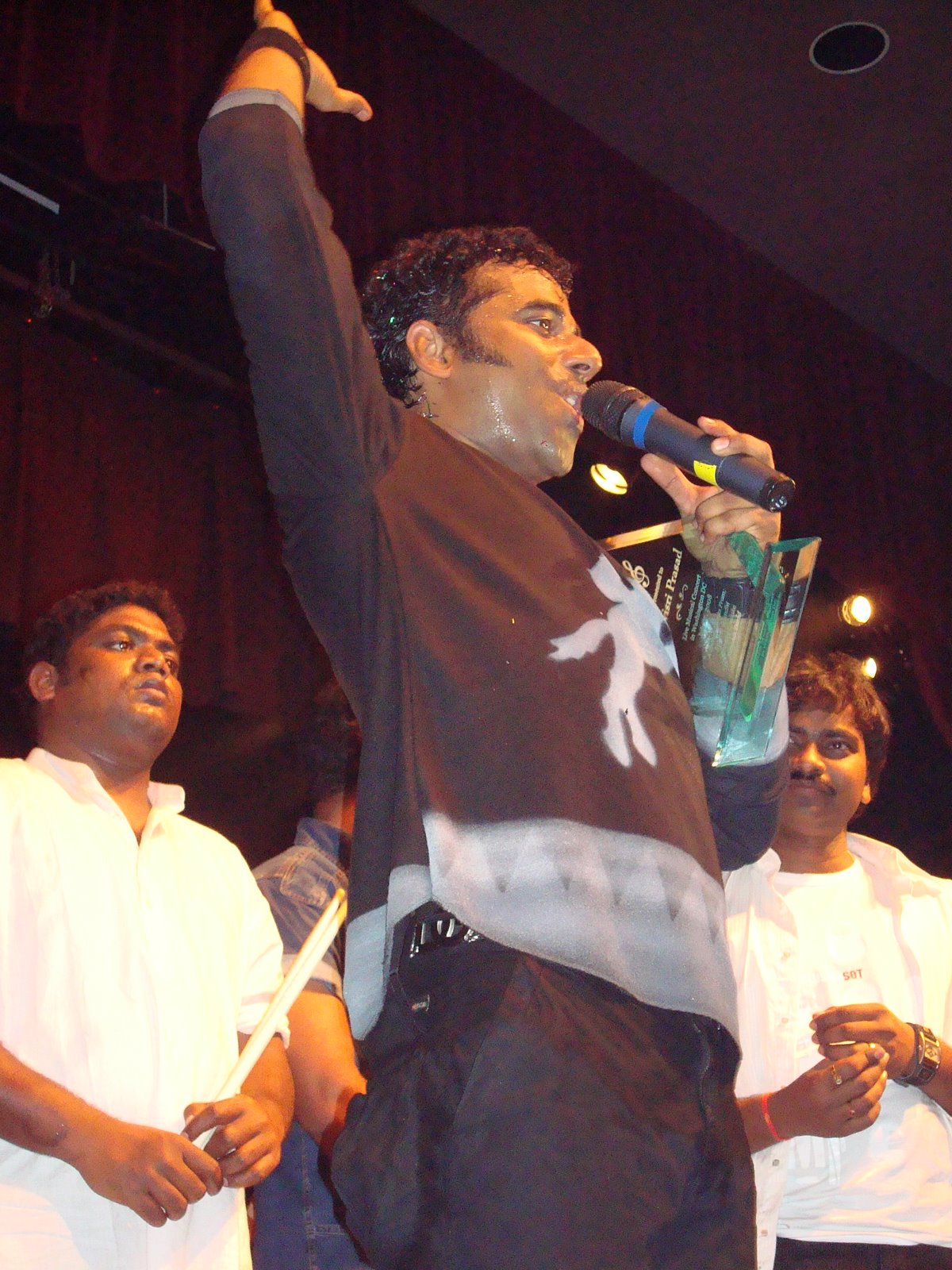 He not only awed the youngsters who were there aplenty, but also the older generaton for his power of sustaining the 3 hour show singlehandedly with absolute no waning of enthusiasm in that sweltering heat. Yes, the a/c was almost non-existent and the guy along with his troupe was sweating buckets enough to make me wonder if there would be a 911 call sometime. Serious. We at least had some huge powered fans brought in mid-way, but the stage with its harsh lights, the frenzied jumping, dancing and jiving to the music by him, a few singers and teh dancers must have felt like pergorming in a sauna. To the audience's obnoxious continued chanting to have the a/c turned on, he joked good-humoredly " Hot ga undi kada? Nenu washington DC challaga untundi anukunna, choosthe, ikkada aadapillalu antha hotga untaru maata" *Figured DC would be cool, but considering the heat now, DC girls must be hot!*  Sure, that was a nice opener!
So, dsp's concert could be more or less compared to a rock concert of sorts. Not that Ive been to a ock concert, but what I mean is that it's more of an entertaining span of time than say, a quiet sit back and relax Zakir Hussein evening. With all the energy flowing towards you from the stage, it's hard to sit down, stoned and not having all your senses are bombarded whether you like it or not.
The young man (he's only 26!) can work the audience well and had all the youngsters rocking to his music and voice. He packs quite a bit into that small 5′ something body of his. (I look a good 3 inches taller that him in the snap and am just average!)  Halfway through the show he walked through the audience singing all along, while he shook hands and then ultimately shoo-ed the daughter and her friend's group to go up front and dance! It was nice seeing the daughter letting go of her shyness and actually scream, clap and enjoy herself. The munchkin followed suit thinking that that is what was expected of her!
There were quite a few women jumping onto stage and up front of all sizes, shapes and ages. Of particular mention is one female in a blue kurti. Okay, her excitement was plapable, but seriously, if anyone wants to even shake their body even just a little, a sports-bra would be a wise investment just for the benefit of the onlookers and for greater good beyond!
..and o, I should mention the dance troupe. They were co-ordinated, tasteful and had amazing rhytm. Satya Dance Company is what I heard they are from. The dancers showed good form and despite the heat and sweat stayed professional and didn't waver from their dedicated energy throughout the entire show. One particular guy was quite cute though he wasn't the most attractive one. The moves, though a bit repetitive showed class with an underlying classical touch as and when the songs required it, and an amazing amount of flex in them. Provided the right amount of background without being a distraction.
Backstage, the girls managed a few pictures with him, and a friend asked if we the moms could get a snap with him and he goes in a true casanova style "Tappakunda! Enti, meerandaru moms aa? Ento, USA lo moms daughters kanna chinnaga kanapadtunnaru, kada?" *Sure! You are moms? In the US, moms look younger than daughters!* yea, sure and the daughters so liked hearing that even in jest don't they!
Couldn't help but join the little crowd upfront towards the end, limited only in movement by a painful sore knee. Came home literally dragging my right leg behind me, but quite happy I decided to go for the show anyway. Paisa Vasool no doubt!
Here are a couple of my favorites of his:
Movie: Varsham – Telugu.
[youtube=http://youtube.com/watch?v=06EawA10Pbk]
Movie: Nuvvostanante Nenoddantana-Telugu (Something Something in Tamil)
[youtube=http://youtube.com/watch?v=yNjMslkkBHI]
Movie: Bommarillu – Telugu
[youtube=http://youtube.com/watch?v=0etvgFdpOrk]
There are more, but I'll stop 🙂