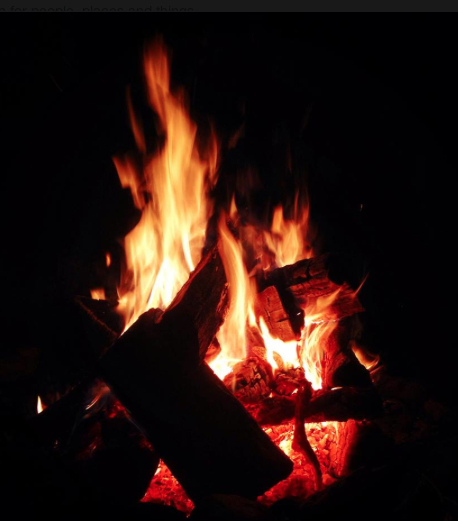 Bonfire: 
It was the first time I sat next to a bonfire. Really. I vaguely recollect bonfires of different kinds growing up, but this was the first time, I actually sat down along with other peers and adults and reflected into the glowing warm fire, under cloudy half hidden full moon in a forest on a cold chilly and windy night. 
Incredible experience indeed. 
We were asked to reflect on our lives, to think of the one thing that you didn't want anymore, something ugly, draining or negative that was holding you down and burying you and preventing you from being the best person that you can be. 
We would then write it down on a piece of paper and as a ritual throw it in the fire and watch it burn. 
I don't usually believe in rituals of any sort. That's coz they are a drag on my restless soul, asking me to go through  set motions while my playful heart and mind want to do a billion other things. This one was however different. Coz I think I did it for someone else than I did it for me. 
As in I had to let go of this emotion that was plaguing me, so that folks nearest me would  be comfortable and have a stress-free time around me. I needed to have more faith. Behave assured and remove doubt. I needed to bring in more positivity in my life and thus remove negativity. 
Yes, I am very positive when it comes to others. I am your cheerleader and spirited personality with a never say never attitude, but deep down in my heart, I also harbor negativity and doubt. It hurts the ones I am very close to. My intention is never to hurt them, but it is because I am disappointed as they do not live up to my high expectations of them. 
Life is never fair, but that doesn't mean we take an effort to make it unfair or ignore the unfairness if there was an alternative. To reign in our emotions so as to be fair, to be mindful of others perspectives and to let go and to be happy for them at that moment (even if deep down it hurts you) is probably the right thing to do. Not right for you, but right for the time, the moment and the situation. 
At times, the moment (or the situation) is much larger than you are.