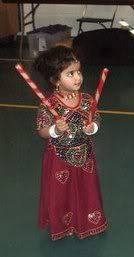 It was awesome. 4 hours non-stop, sweated buckets, laughed and danced the night away.
The best part of it all was the little one keeping her finery on and not ripping it off or complaining about it from 5 in the evening till we reached home past midnight. I almost dread her teen years. 😐
A lovely end to Navratri celebration.