When I was a young teen, just like the rest of the teens I hung around with, learning about our future, beau included was the default topic for an otherwise boring afternoon. Anybody and everybody who could pretend to translate the lines on the palm, sound and look wise on rattling off Linda Goodman's signs were hot in demand.
Then we grew up.
These days, along with the Saturday comics in Washington Post, I invariably quickly, out of habit, glance over Holiday Mathis' few lines for me. Then I laugh, scoff, or roll my eyes, or even read out loud for the sheer ridiculousness of the day's forecast, to the husband who'd only grunt a displeasure being disturbed from his own Business or Sports section.
***
Today's forecast did make a bit o sense. Then I login to igoogle, and see a whole new forecast there, and then I login to Wash Post online, and I see one more there!
Holiday Mathis:
AQUARIUS (Jan. 20-Feb. 18). You're impatient, and it works for you. Since you believe that you don't have time to wait for opportunities to be handed to you, you get busy making things happen for you right now.
Astrology.com
AQUARIUS January 20-February 18
It's time for you to give up a little control over some aspect of your life. It could be anything from diet to work assignments, but if you show you can give, you should get more in return.
WashingtonPost
AQUARIUS January 20 – February 18
Your energy is not going to be easily integrated into anyone else's today, so it's not a very good idea for you to get involved with a lot of different people. You are feeling so strong and independent that you don't want to compromise, and that could rub people the wrong way. But you have a vision that must be obeyed. This is a powerful phase for you, where you can put your ideas into action and start on those ambitious plans you've been formulating for so long.
***
All are weirdly sorta kinda in a way true (though the last one's a hoot – strong, independent, and powerful indeed!).
What are the chances of that happening eh?!
On a grander scale, surely though, this is me:
but then again, I could be this too: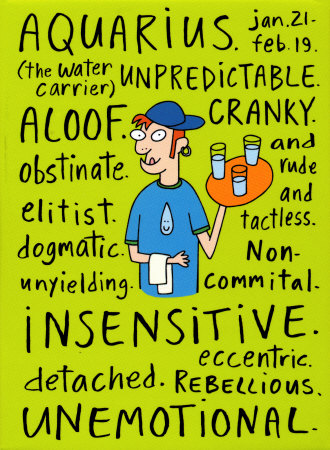 So, how are the charts treating you today?