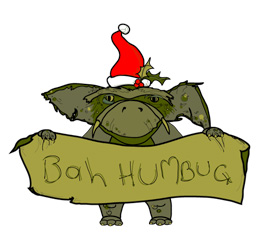 No, it's not Christmas, but I've been feeling like Scrooge for the past few weeks or so. Okay Okay, It isn't a surprise and I know all of you sensed it and have been quite the darlings waiting patiently (or maybe some of you were fuming silently who knows), but to come visit me ever so often and stand there wondering if this crazed woman was okay; all this is just touching!
So, now that some breakthrough has happened and life isn't all that bad and grumpy, I have decided to give the mood a big kick on its bottom and send it scurrying outa me. Yeah, I am so sick of seeing sad sack face every day (in case you are remotely wondering who sad sack is – it's yours truly) that I stepped out this afternoon, took a walk around the pond near work and drowned the sad sack in the waters and brought the can't-take-crap-no-more me back.
So yay!
How about a loud cheer and a welcome hug people?