I am super excited to launch this one of a kind Gratitude Journaling Workshop! Sharing what has made a remarkable difference to and in my life is a gift I do not take lightly. Read on further on how you can participate and reap its benefits.
I write a lot about gratitude, thankfulness and why I keep a gratitude journal. Here is where I have written about my gratitude journey and where I was and why this path brought me a lot of connect and peace to my inner self. It makes a difference and until you try it, you wouldn't be able to appreciate it.
Questions I've faced include: How to write and what to write and why we should thank, and I am unable to thank beyond the basics, and more and I figured this would be a good time as any to do this. I will be hosting a webinar/workshop, and to clarify the process of Gratitude Journaling as I see and do it.
What the gratitude journaling workshop will cover:
What is gratitude and how is journaling helping the practice.
Benefits of journaling
Setting the tone for the practice of thankfulness, breath work and environment
Time and effort involved to start journaling (hint: it's very little)
FREE PRINTABLES:

30 Gratitude prompts to start off the habit
A downloadable digital poster on Gratitude.

Open to questions and discussion
Details of the ONE HOUR workshop:
WHEN: March 13th, Saturday at 10:00 AM EST (8:30 PM IST)

WHERE: Zoom call. Link will be sent via email after registration
COST: $20 USD ( Or INR 750)
The workshop will be recorded and you may access it up till 6 months.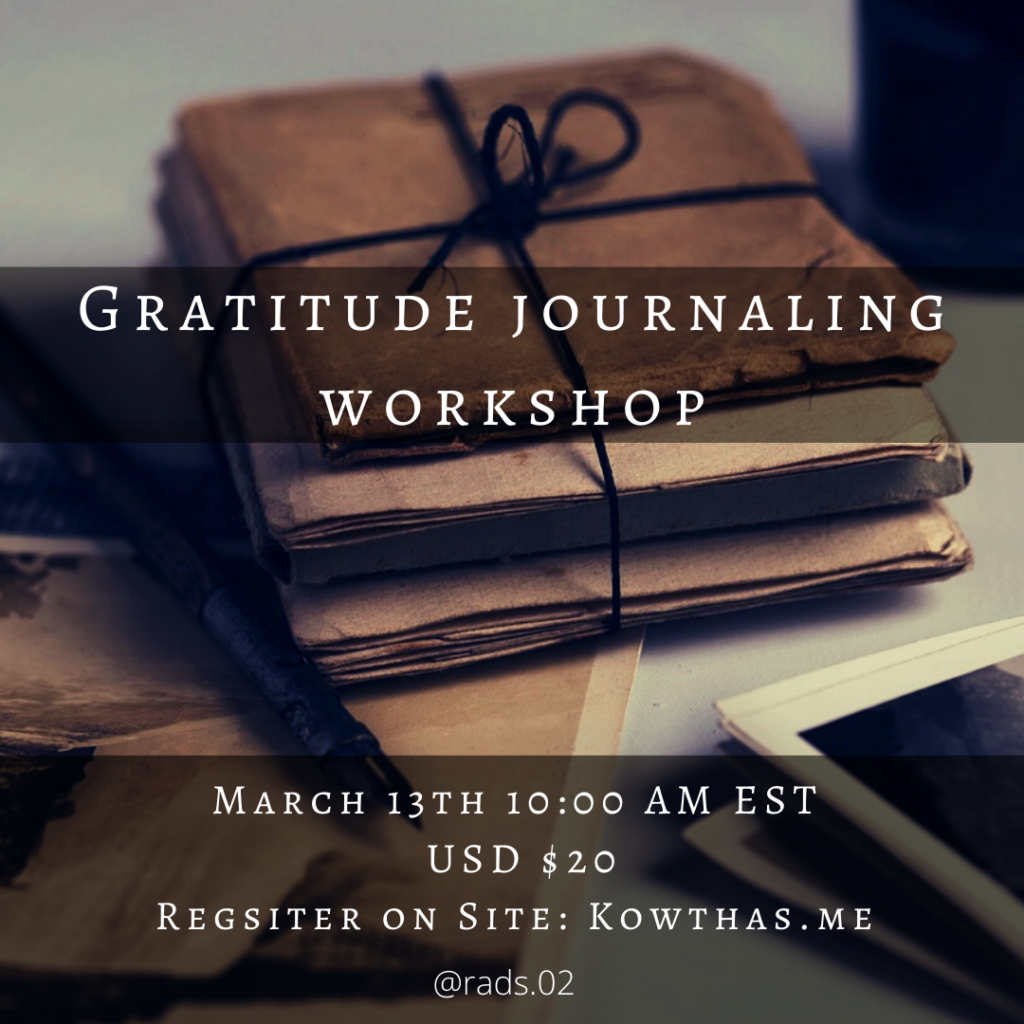 **If you are from India, please send me an email: rads.kowthasATgmail.com, and bank details will be provided**
Paypal users, please use link below: (If you would rather use ZELLE, then just email me for details)
Once you have sent in your payment, please wait for 24 hours before you receive confirmation and instructions. Thank you.