Guess the dish, or rather the ingredients and what went into that dish? Don't be mean now, of course it's edible.
This one's for all the foodies, but food lovers on the other side of the table may also play.
No.
No clues will be given. Will answer in 24 hours.
No prizes for guessing. See, am honest and blunt, instead of promising you something and then giving you a useless coupon or some such. Am just trying to make everyone's dreary Tuesdays brighter. Or rather delicious. Or pretend delicious as one may never know.
O, alright will post recipe Wednesday morning for me.
Give it your best shot and please try and have some imaginative, creative fun while you're at it?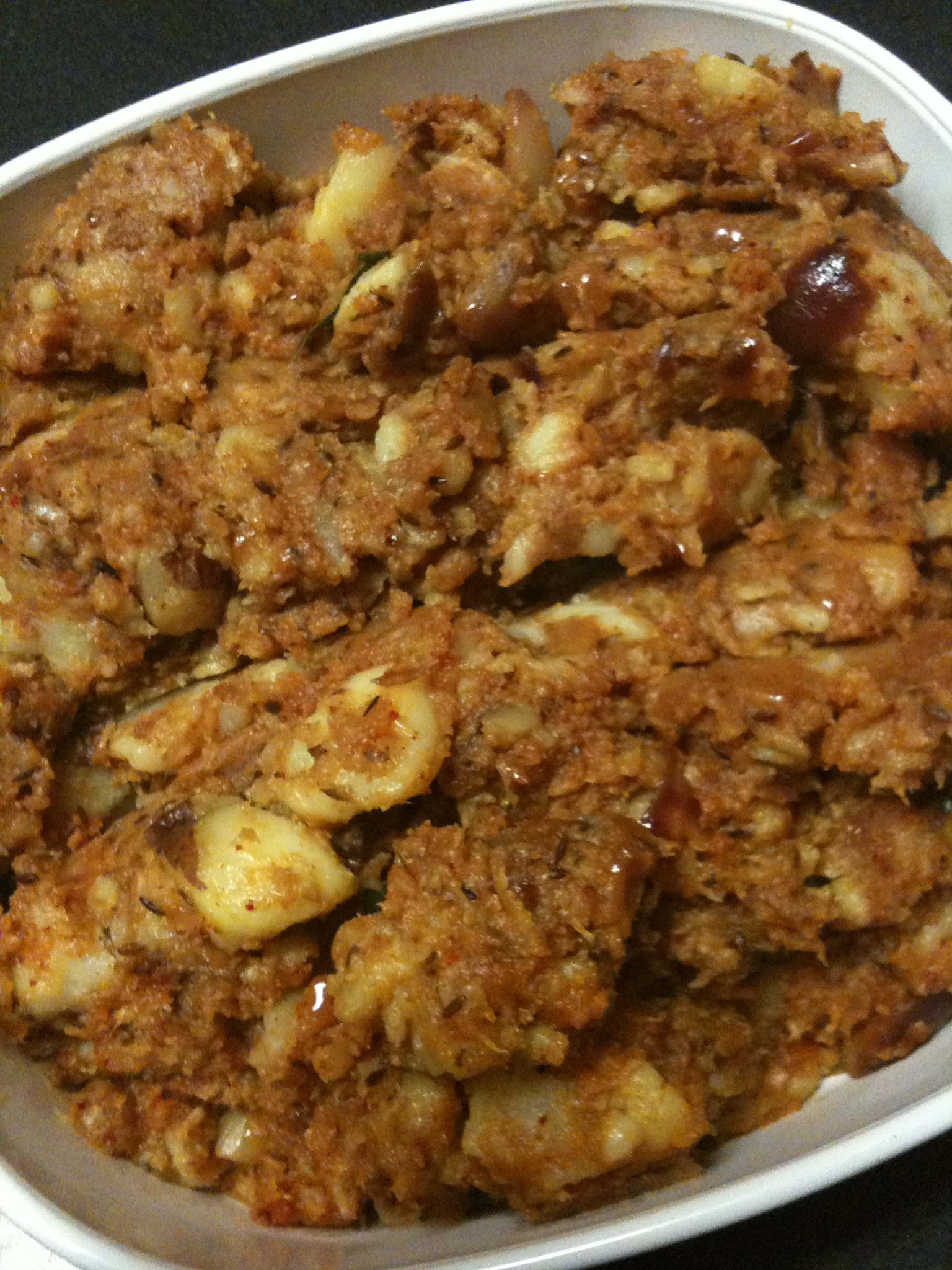 Ta!
update – Noon: I hope all of you realize that you are sub-consciously naming this dish as your own favorite? *Psych-Rads at work :-D*
***
The Answer and the Recipe:
So okay, the guessing game was so much fun eh? It was for me. The number of comments and de-lurkers were awesome! I knew food had the power but this is like mountain moving power indeed!
Ingredients: Potato, Onion, Jeera, Red Chilli Powder, Amchur.
Give yourself a pat for each ingredient you guessed correct. If you didn't get even one correct, give yourself a thwack on your behind. Spend more time watching what you eating and/or in the kitchen. :p
Method:
Take potatoes. Throw them into a plastic grocery bag and stick them into the microwave. One minute for each potato. If they large, add another minute to the whole. Do the math.
Take red onions. Roughly chop them. Don't like it, try the food processor. If you like garlic, add here. I didn't.
In a pan, add oil, add jeera, and add these onions. Swish them around happily for a while. They will look angry and then shrink into a shade of lovely pink. Add salt, chilli powder, some amchur (I like tang) and swish around some more on high. This is not the time to watch Oprah or Fear Factor. One should never watch Fear factor in the first place. makes chickens out of normal hearty warriors. Once the mixture's half its size (if you did this in high, it shouldn't take more than 10-15 minutes. I had 2 very large red onions and thye cooked down to what you see in 15. The same time the potatoes were in the microwave. ), reduce and remove from flame.
The potatoes should be done now, 12-15 is what I did, I had about 15 potatoes of varying sizes. Take them out, and slice them half, wait for it to cool. It's science. It's a heated round object. Energy dissipates if you cut it open and all that. So don't go burning your fingertips.
Pan, some oil, and add these cubed, small pieced potatoes. Let them develop that lovely shade of brown crust. Don't poke around with this. Give your arm a break and let these sizzle on medium. 5 minutes.
Add salt. Add the onion mixture over it. Add curry leaves. Mix it all around.
Eat.
In telugu, this is called "Ulli Kharam Pettina Bangaladumpa Koora"
Just learnt the recipe at 6.30 on a very long Sunday evening from a dear friend who took one look at my sad woebegone long face (I was out of the house since 9 in the morning, and jumping highways and various classes after dance class) and when I told her that am very beat and I hadn't cooked for the evning's potluck at 7.30, she gave me this quick recipe. (I added in the amchur and curry leaves btw)
She's a darling and a life saver in so many ways. Love her to bits too. *sigh.
Anyways, so I come home at 7pm, and we are out of the house by 7.45 with that dish in hand and me changed into a pretty green sari. Land at the host and the few ladies who giggled and snickered on the fact that I hadn't yet made a dish at 6.30 with an hour to go, hadn't yet landed there! Ha. People!
A lovely simple quick dish and the spice can be lowered or raised according to taste.
Thanks for playing and you do want more of such teasers don't you?