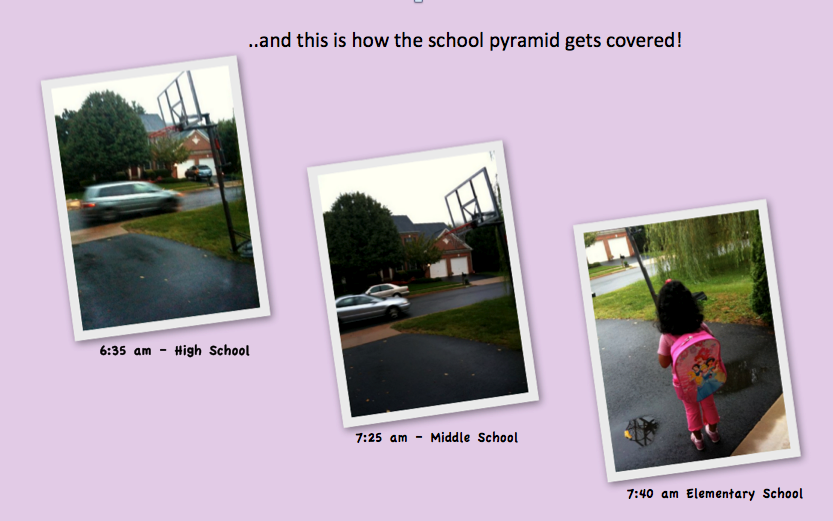 Three different schedules, three different temperaments, three different kinds of activities, three different lunches, three different stories to listen to and three different futures to look out for.
Daughter heads off to High school
Son stays at Middle School
Munchkin steps into Kindergarten at Elementary school. The one the older kids went to, the one where almost all the teachers and admin staff recognize me with warm hugs and grins (thanks to all those hours of volunteering) and into a class where the teacher once taught the daughter.
Each kid is within a short mile of each other, I head east 23 miles and husband heads south 10 miles. The home's empty by 8.
..and to end the post with a chuckle.
Since two days, munchkin is repeatedly told that she needs to get off the bus whens he sees her sister standing outside or me or both at 3.15. She also is shown this other kid who is a friend of ours and is in 1st grade. Told again and again that she gets off the bus whens he sees this kid get off. Not before.
Reality: I make it on time joyously to stand with the video that the iPhone offers, taping. I wait. Kid after kid gets down. No more kids get down. The bus driver engages the drive. I panic. Where's mine? I don't see mine getting down. Where is she? I yell. All moms stop and stare. I jump onto the bus, there are 4 huge 6th graders staring back at me. Oh gosh, where is she? You should know I ask the driver.
One pretty kid pipes in "Is she like a kindergartner?"
I nod.
Is she wearing pink and has black curly hair?
Yes! Yes! That's her.
Oh, she got down with her friend at the stop before.
What the heck?! She doesn't have a friend. She knows not a soul in the neighborhood who's her height. Her sister's age, most definitely yes, but her age, apart from this kid whom she was to get down with, no other pint sized little kid! 😐 Someone screams from teh sidewalk.
There she is!
I scramble down and indeed there is the munchkin.
Walking hand in hand with this another cute purple-hued little doll with a band of 5-6 kids a year or two older, marching down the long path. I see one mom behind them all, walking as fast as the ones ahead of her would allow.
Once in ear shot, I reproach her "Munchkin! You got off early?!"
..But I got off with my friend Livia!
Everyone starts to laugh
Livia chips in her support: She's my friend, and she didn't know where her home was, so she got down with me. Our home is right there in the corner."
The driver rides away chuckling. (though how she could have let her down without a parent to greet her is a rant for another day.) Everyone shake their head and the kids clamor around excitedly.. and suddenly my munchkin's made an entrance to all the elementary school kids of the neighborhood and the moms.
Not a shabby end at all to the first day at public school I say! If this is any indication of how her school years would be, I am in a big soup.