Just wrapped up an intense hugging session, and decided I'd write on it.
A hug, is cute, warm, loving, rapturous, passionate, safe, protective, soothing, casual and more depending on the situation and who you hugging ultimately. To a certain extent it's not how you hug that matters as much as how you are hugged. Conversely, it's a selfish random act of kindness as well.
Some time ago I had come across an article and some related material on the whole science of the action. It was a bit surprising to hear that there are folks out there who do not like to be touched or hugged. No, am not talking about the passionate or the more intense kinds, just the simple act of touching, and throwing your arms around someone dear enough, or casual enough. The non-verbal way expression of an emotion.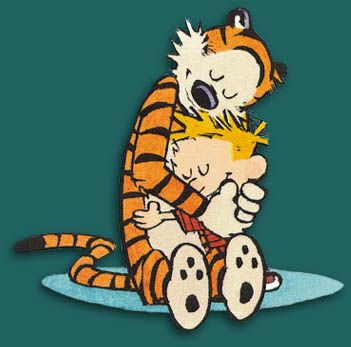 Coming from a culture where touch is akin to some kind of abuse (or even weirdly a sign of being considered weak/cheap) despite the fact that the concept of personal space is non-existent, it doesn't hugely amaze me that physical contact in a softer, demure, or even loving way bothers many. While growing up, I don't remember being hugged. Not by my parents, uncles, aunts, cousins. Friends, perhaps yes. That was when we were all grown up in high school in the late 80's. A time when India's youngsters were paving the path towards the west. listening to pop music, traveling and coming back home with goodies, and the western world and the habits weren't alien as much as they were. Welcoming the little nuances of living a newer life, in a lifestyle that would be frowned upon, but would nevertheless be fun and fulfilling despite it all.
So, wouldn't it come as a surprise when I say that someone my age, or younger have issues with 'hugging'? I can't begin to express clearly what I felt when I heard that. I've asked around and there are indeed many who have agreed that they do hug but rarely, hug only for a short frame of few seconds, and some in fact complain that they get hugged too much. I'd imagine just 'coz you didn't get much growing up, you'd actually want to go get more of it now that you can? Makes any sense?
I understand personal space, and I understand the intensities of a hug timed wrong, but am talking about the comfort and warmth that comes from the arms that go around you at various moments. Especially with someone you care about, and who in turn cares about you. It could be your child, friend, husband, significant other, parent anyone. Sometimes, the power of a hug can go beyond the boundaries of relationships. You must remember the youtube video of free hugs?
Today munchkin hugged me and hugged me tight. Many times over the past hour. She had a smug look on her face too, as if she was thoroughly enjoying it. Not just the usual smile and content that one sees, but a twinkle in her eye and a smile I can't begin to describe.
You can tell am bowled? I am. I love to hug. Am a touchy-feely sort of person, and no, I don't randomly start throwing hugs on anyone, but I like the concept of it. The feeling's remarkable.
There can never be a bad hug right? Wait. Actually, there is one kind. Not bad per se, but one that can do wonders and yet occasionally leave you a little short of satisfied. No, won't say, let's see if any of you can come up with it.
So, either way, did you get your fill today? Hug anyone today?
If it's a yes, tell me how you felt.
If you didn't what you waiting for? Find someone, and don't be shy. It's just a small hug, but it's what they meant when they said 'Good things come in small packages'. The little package that your arms
form. Then come back and answer this:
[polldaddy poll=1001458]