Last summer, my daughter performed her Ranga Pravesam (or Nrithya Sambhavana, as my guru, Mrs.Mrinalini Sadananda has named it). It is a Kuchipudi equivalent of an Arangetram in Bharatnatyam. After 10 years of learning, this was a form of graduation and it is decidedly a milestone in a dancing career. The real dancing starts after, traditionally speaking.
It was a big event at home, and I was beside myself with trying to arrange everything from home, as making a trip down to India was hard under the circumstances. There were many many hours of calling my mom and my sister and friends, taking pictures, choosing right shades and speaking with the tailors to make the costumes (I designed all of them), including ordering other pieces of jewelry and flowers etc. It was like a wedding!
Through all of this, costs were rocketing, and I had a budget in mind and I was trying to organize and balance the needs and wants. It's hard shopping for something so specific and precious while sitting thousands of miles away and trusting folks back home to be your eyes.
I was also looking for stage decor, as much as I wanted to keep things low-key and non-interfering so only she stood out on the stage, I just couldn't not do anything. Was talking with my sister in India and she mentioned her friend Latha who does some cool lamps and stuff. Check her albums out on FB she said. 
I did, and it was a quick easy decision.
I liked the colors, lamps, the designs and the fact that Latha was prompt about replying to my message, which to me is the biggest plus when dealing with a business. Customer service and the willingness to be available and work with the client and transparency of course. We went back and forth a few times and settled quickly on these gorgeous gold painted plates with little pot holder things in which I could place the tea light candles. The work on it was clear, neat and they looked the perfect decoration pieces for what I had in mind.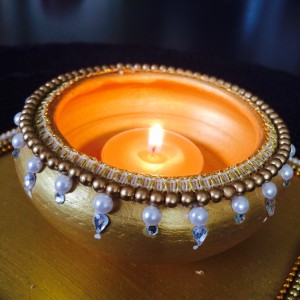 So, I ordered and they came, on time as promised, snugly packed without a dent or a chip. I used them to line the stage and people noticed enough to mention it later. I still use them as part of my Diwali decorations and other festive occasions around the house.
Over the course of time, we continued to talk for various reasons and my curiosity kicked in and especially more so because she is an entrepreneur. I was working on my site Ms.Chutzpah that focuses primarily on women making a difference and my antennae are always tuned to pick up unsuspecting women and pounce on them to see if they would oblige by sharing their stories.
So, I naturally asked her to tell me her story and she did. She is an engineer by profession. Did her Bachelors' in Engineering and worked in the telecom industry for 10 years before her son was born. During her maternity break, she indulged (like all moms on break and lot of free do) in some DIY and painting, and she found her love. From a hobby that went into overdrive and became a passion that spilled over! Latha found some under privileged ladies who could be trained and help her expand the work and designs that she dreamt up, and by doing that also helped the women to become independent. A gentle nudge that many a women need back in India, one that sets them off on the right path to a better life.
Latha and Just Light have come a very long way in a very short 2 year time. It takes focus and determination (and a pinch of luck, that all hard working folks are usually bestowed with) to take this one woman run space to where it is today. Latha ships pretty much everywhere. Facebook has been pivotal in getting the few leads which then got more leads due to word of mouth and well, that's how I got to know her!
Most of her clients are women like me. The large sect that live outside India but who have their heart strings firmly attached back home. We take pride in being Indian, our roots and culture and these small artifacts and decor pieces bring us closer to our home within our home. They make awesome gifts and affordably so for all those who are inclined towards the East Asian decor and colors. I even gave one set to a Buddhist friend and she uses it to light a candle near her place of meditation. Customization is king and when the product is made with your goals and your vision in mind from the base that she has created, each piece is unique! That's precisely what we all love anyway 🙂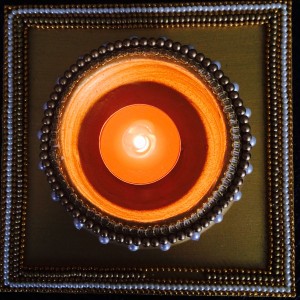 Check the Facebook page for Just Light and you will see the array of products that they offer. I know I will be getting some made for my next event soon enough. Apart from a product pull, what I love about a business (and especially an India based one) is their customer service. Treating your customer special and working with keeping their interests in mind is what draws the business in. Sometimes, it is as small as replying to a query promptly, and wanting to work with each as if they are the only customer they have. It's a challenge, and that's why very few etailers or businesses have it down pat.
Just Light is new and young, but she has that element down and I can only tell that if she continues the same way, well, it's good stuff all the way! Check their FB page out and reach out, you never know 🙂