We were at a picnic recently. Lovely place, lovely set of folks, lovely waters and well, great food and lots of it. Keeping with the tradition of all desi picnics, there were more gravy dishes than the dry kind. The kind that the rest of the world takes to picnics so that the maintenance is a no-brainer. We desis are the exceptions to all such rules. Rule-flounters and rebels no less. The size, folks, demographic can take long hikes, but there will be always be the dripping sloppy sambar, a few masala-drenched gravy-dishes, spicy red hot pickles and then the rest.
This time I was glad we stuck to tradition. I discovered this awesome tasting dish called Phool Makhani.
I placed a teeny bit on my plate and licked at it, and boy, the cells woke up and danced like they were unsupervised teens on soda. I hunted the cook down and without bothering to introduce myself asked her for the recipe and heaped praise on the dish she crafted. Very out of character for me I might add. As she giggled and blushed appropriately, I asked her what those soft round things soaked in all the goodness was. "Lotus seeds. Puffed lotus seeds." She explained with a tone seeped in a concoction of surprise and patience. Really, could there really be a full grown Telugu woman not knowing what a Hyderabadi famous lotus seed was? Then again, am not from Hyderabad, never mind the full-grown bit.
..and so I discovered that the pure white, light as a feather round things sold in packages in the desi store were lotus seeds (phool makhani) and not a desi version of fluffed popcorn on growth hormone. I come home satiated and with a determination to google this thing out and make it myself. No, not just for its taste, which I was sure I wouldn't be able to replicate (these were hardcore Hyderabadi top level chefs we talking about) but more excited that there was one other raw food item that I could incorporate into my cooking and thus saving me from death by boredom in the kitchen.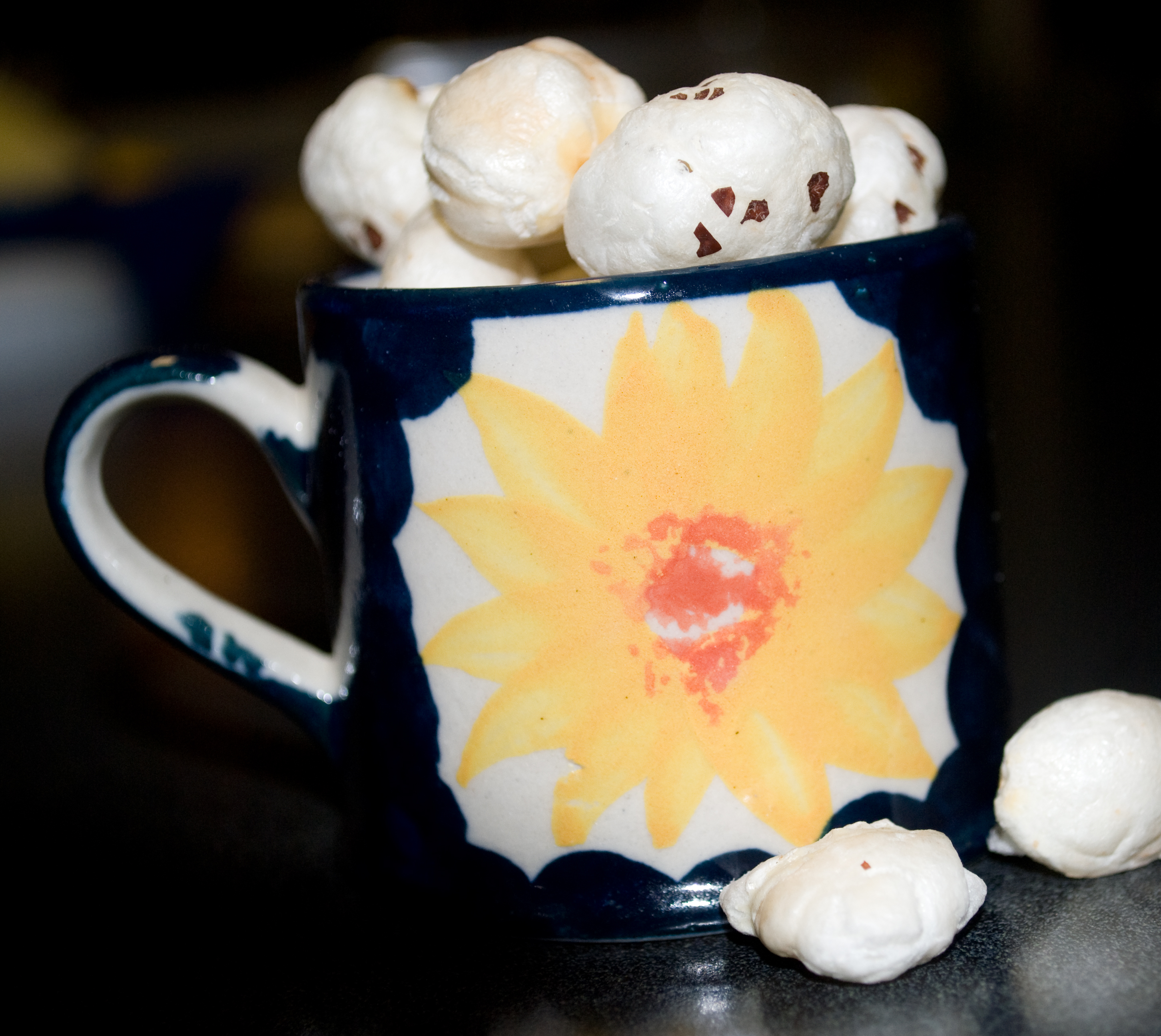 The package was duly purchased. One such package would last you through the great depression. A handful stretches a lot.
The menu: I searched and all I could find was the diligent kurma-based gravy that would eventually house these white round things. All with the coconut-poppy seed combination, which does taste heavenly as I know, but something that I was in no mood to grind up. Moreover, we aren't a huge fan of the ground masalas. Way too strong to make it frequently and also I avoid grinding stuff if I can.
Instead this is what I did. Considering that the lotus seed did not have a taste of its own much like tofu, soya curd; I figured the masala makes or breaks this dish, and thus there is so much room for growth. Make it your own, as they say! With this enlightened thought in my head, I went ahead and created thus:
Chop red onions (always red, they taste close to home), fry.
Add in jeera, bay leaves, green chillies (I used jalapeno) and then the secret ingredient – saunf.
Fry all together a bit, add chopped tomatoes and some amchur and let it all simmer and become a fine mush. Okay, it won't get fine, but more like an amalgamated harmony. It will be fine if you decide to grind onion and tomatoes. I didn't, but you could and it would most definitely increase visual appeal.
Dry roast (standard recipes asked to deep fry the white thingies, I didn't) those puffed thingies, and add it to the now mushed gravy.
Add salt, more of whatever you'd like (garam masala, red chilli powder or sugar)
Simmer for 10 minutes and serve with rotis or pulav.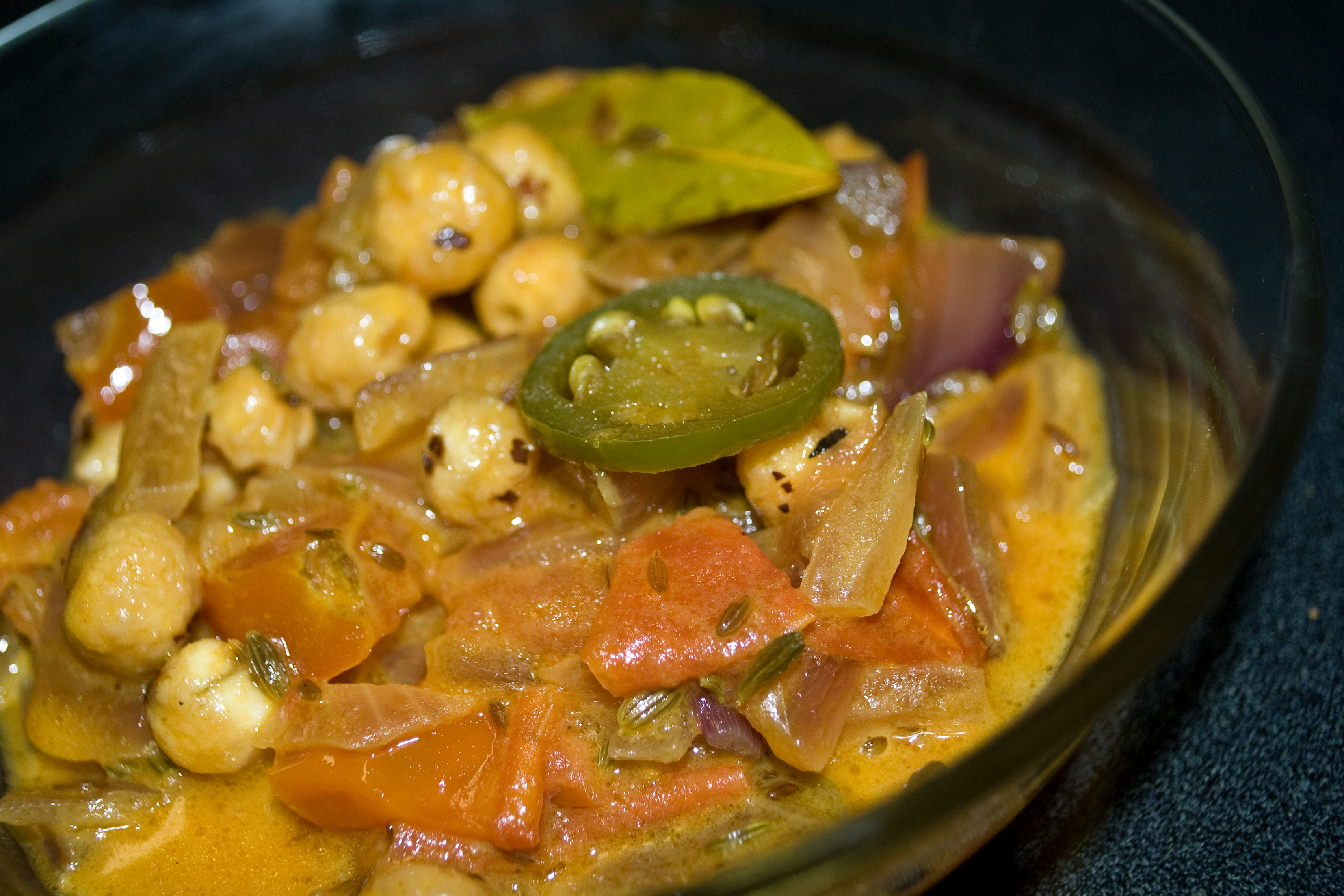 Mine had a slight crunch to it after letting it soak for under 15 minutes. Strange considering everyone said it soaks fast, maybe mine were dry or perhaps they do soak quicker with deep-frying? However, we liked it that way, and the original picnic dish was mushy and slipped right into the gullet.
So go ahead, make your own gravy, add these up and you have a new dish! If you'd rather prefer the kurma based recipe, head over to Sia, or just foodblog-google for phool makhani.